There are many body lotions for women and men on the market these days, but it is not easy to choose the best one for you that provides the best benefits to your skin at an affordable price. Every day, a new product is introduced into the market, causing considerable confusion. We have a difficult time deciding which products are best for our skin. As a result, after extensive research, we have selected only the top 10 best body lotions for you.
Here are our recommendations for the best Niacinamide body lotions in India
1. BeBodywise 10% Niacinamide Body Lotion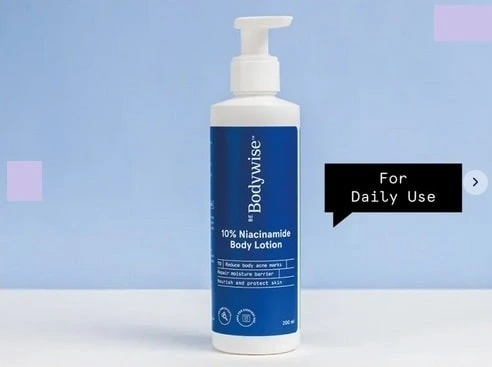 One of the best body lotions recommended by dermatologists in India is Be Bodywise 10% Niacinamide Body Lotion. This lotion reduces acne marks, blemishes, dark spots, and pigmentation by breaking down excess melanin in the skin. Furthermore, it reduces the visibility of enlarged pores and evens out skin tone. It also contains aloe vera, which improves the skin's ability to maintain its natural barrier and repair damaged ones.
Pros
Reduces the appearance of marks gradually
Chemical free
Suitable for all skin types
Non-greasy
Mineral oil free
Cons
Won't give you instant results
2. Parachute Advanced Deep Nourish Body Lotion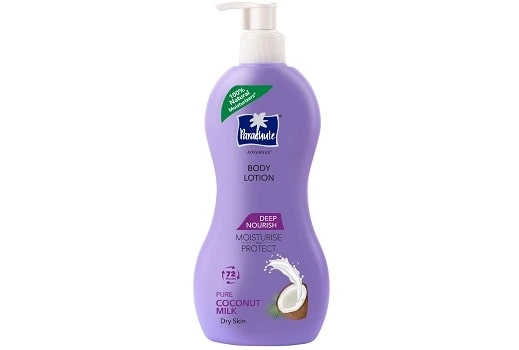 The parachute body lotion is one of the best for dehydrated skin because it contains pure coconut milk and 100% natural moisturisers. It penetrates 10 layers deep, replenishing the skin's moisture. This body lotion has a non-greasy texture and provides effective skin conditioning. You will notice quick absorption, soft and smooth skin, and no residue. It is natural, contains 100% natural moisturiser, and was created specifically for Indian skin
Pros
Moisture lock technology keeps moisture from escaping.
Coconut milk and natural moisturising properties
Non-sticky, quick-absorbing
Cons
Contains parabens
Packaging not suitable for its thick consistency
3. Vaseline Deep Moisture Nourishing Body Lotion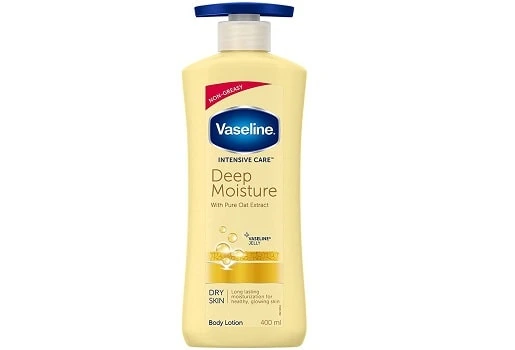 Vaseline Intensive Care's deeply moisturising formula provides effective, long-lasting moisturisation and is yet another best lotion for dry skin. The presence of formulated glycerine aids in the rehydration of your skin. It also has microdroplets of Vaseline jelly, which effectively locks in moisture. It absorbs quickly for a non-greasy feel and moisturises right away. Because of its deep penetration, you will have healthy, soft, and supple skin all day.
Pros
Non-greasy, fast-absorbing formula that penetrates five layers deep.
The pump easily unlocks and locks without making a mess, and it provides soft, smooth, and supple skin.
Cons
4. Lotus Herbals Aloesoft Daily Body Lotion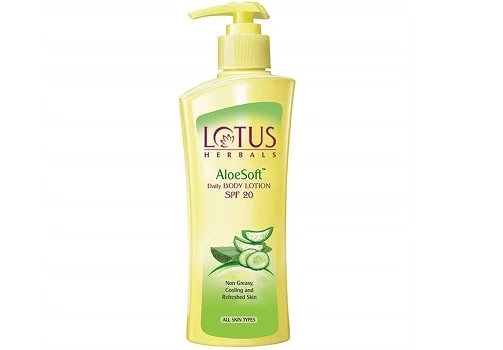 Lotus Herbals Aloesoft Daily Body Lotion nourishes and moisturises skin with Aloe Vera and Cucumber extracts. With its oil-free formulation, you will have non-greasy and allergy-free skin. It is yet another top choice among the best lotions for men and women. The lotion lightens the skin by reducing the intensity of pigmentation. The best part is that it soothes the skin and helps to tighten open pores.
Pros
Contains SPF 20
Suitable for all skin types
Infused with Cucumber Extracts and Aloe Vera
Non-greasy
Cons
5. BOROPLUS Body Lotion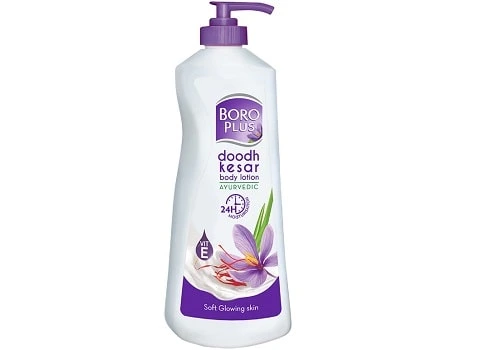 BOROPLUS Body Lotion is a one-of-a-kind ayurvedic formula that uses natural ingredients to leave you with soft, smooth, and healthy skin. Doodh and Kesar provide intense hydration while also imparting a radiant and youthful glow.
Pros
Ayurvedic lotion with antiseptic properties
Suitable for all skin types
Non-greasy
Parabens free
Cons
While travelling, the bottle design leads to spills
6. Joy Honey & Almonds Advanced Nourishing Body Lotion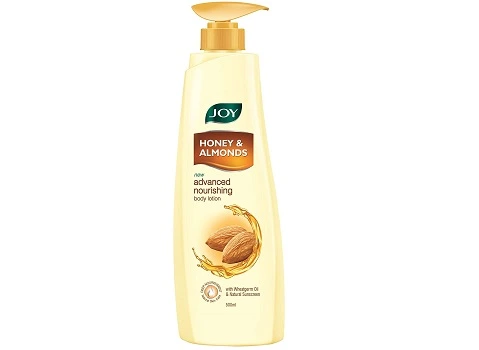 Another best lotion for men and women on our list is the Joy Honey & Almonds Advanced Nourishing Body Lotion, which provides complete skin nourishment with natural nourishing agents like honey, almond oil, vitamin E, and aloe vera. It improves firmness and elasticity while reducing fine lines and wrinkles, making the skin glow with health and vitality. You will have firm and healthy skin because this lotion absorbs quickly and is another best lotion for people with oily skin.
Pros
Contains a perfect blend of Almond Oil and Honey, as well as Vitamin E and Aloe Vera.
Deep nourishment and moisturisation
Light and non-sticky
Cons
Consistency is a bit on the runny side
7. mCaffeine Coffee Body Lotion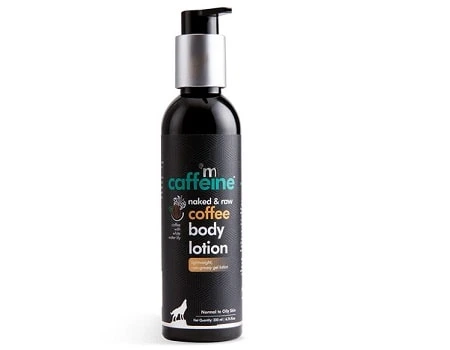 Enhanced with pure Arabica coffee, vitamin C, caffeine, and white water lily, this non-greasy is one of the best lotions for women and it also has the best-smelling body lotion. This lotion will take your hydration to a whole new level. The best part is that it is FDA-approved mineral oil, cruelty-free, and paraben-free, and it is suitable for all skin types.
Pros
Rich in antioxidants to help even skin tone
Rich in Vitamin C to provide sun damage protection
Mineral oil free
Cons
8. NIVEA Body Lotion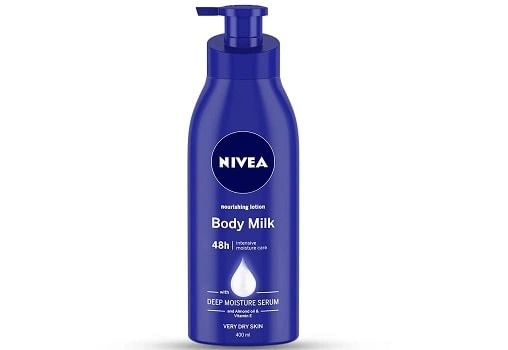 This new NIVEA Nourishing Lotion Body Milk includes a deep moisture serum. Because of its rich and creamy formula, it contains twice as much almond oil to deeply moisturise and soften your dry skin. It's one of the best body lotions for both men and women. After just one application, you will feel deeply moisturised for up to 48 hours. The presence of nourishing almond oil aids in the repair of extremely dry skin.
Pros
For up to 48 hours, it provides long-lasting moisturisation.
This product contains Vitamin E and a deep moisture serum to repair extremely dry skin.
Contains 2x almond oil
Cons
Thin consistency that can spill easily
Slightly higher in price
9. PONDS Triple Vitamin Moisturizing Lotion
It is a high-quality moisturising lotion for dry skin. Ponds Triple Vitamin Moisturizing Lotion is ideal for dry skin because it blends in seamlessly. It works even in harsh and dry winters to reveal amazingly smooth and glowing skin. It makes you feel pretty all over and gives you soft, smooth, and radiant skin. It hydrates dry, chapped skin and contains skin-loving vitamins B3, E, and C.
Pros
Works well on the skin's surface
Has a pleasant scent.
Has a non-greasy formula that absorbs quickly.
Provides 3X moisturisation to meet the skin's needs.
Triple Vitamin Formula. Provides Touchable, soft skin
Cons:
Does not comprise SPF.
Takes time to get mixed in sweaty summers.
10. Biotique White Orchid Brightening Body Lotion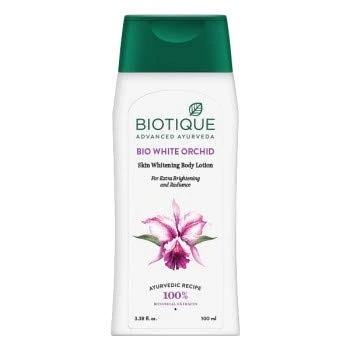 Biotique White Orchid Brightening Body Lotion contains White Orchid, Coconut, and Almond extracts. It contains antioxidants, multivitamins, and beauty enzymes that will aid in skin lightening and tan removal.
Pros
Lighten and brighten the skin
Contains coconut, almond, and white orchid extracts
Provides effective skin lightening with antioxidants and multivitamins
Cons