Top 10 Best Ayurvedic Hospital in Delhi
Ayurveda is a traditional form of natural healing and has been in practice for more than 5000 years. There are a number of Ayurvedic hospitals in Delhi and they help in relieving the stress and chronic disorders. The treatments of Ayurveda are helpful for the people who have underwent surgeries and also chemotherapies.
To understand this science, we can say that it works to maintain the balance of the energy of one's body. There are multiple types of massages, and diet which helps in rejuvenation of the body and mind. Some of their treatments include pouring hot herbal oils and liquids on the body and masking the body with a number of packs and powders. These treatments are all customizable and will reach out to the root cause of the ailment. Generally, it takes around 2-4 weeks of time to get the complete Ayurvedic treatment but now with the fast paced lifestyle, people are getting renewal treatments for themselves.
Let us explore the top 10 best Ayurvedic Hospitals in Delhi:
10. Santhigram Kerala Ayurvedic Hospital, Central Delhi
It is one of the best and renowned name among the Ayurveda hospitals in Delhi. Doctors here are practicing under various domains and specializations. This hospital provides a number of services to the patients such as:
General and ICU beds
Canteen
Pharmacy services
Ambulance services
You can make use of their valuable treatment at A2/32, Safdarjung Enclave, Delhi, Central Delhi, Delhi. You can also get more information on their website – http://santhigiriayurveda.com
9. BanarsidasChandiwala Institute of Medical Sciences, South Delhi
This Ayurvedic hospital in south Delhi is operating under the Shri BanarsidasChandiwalaSewaSmaraka Trust Society. Though this hospital started off as an Eye hospital, it now has a multitude of specializations such as Ayurveda, Homeopathy, Pathology and Physiotherapy, surgery and radiology. The facilities offered here are exceptional and at the best cost.
Board of Ayurvedic physicians
Ayurvedic therapies for curing the migraine, headache, and Chronic Uterine disease
The address is – Chandiwala Estate, MaaAnandmai Marg, Kalkaji, New Delhi, Delhi – 110019, South Delhi, Delhi. The website is http://www.chandiwalaestate.org/
8. Ch. Brahm Prakash AyurvedCharakSansthan 
This is one of the autonomous institute under the Government of Delhi. There are number of trees and plants which they use for their herbal treatments such as Guggul, Kalmegh, Chandan, Karpoor, Satavari, Aswagandha, brahmi etc. They are providing services such as:
Panchkarma
Leech Therapy
Herbal Garden
Yoga
You can reach out to them http://cbpacs.com/. Their address is Village KheraDabar, Najafgarh, New Delhi-110073.
7. Kurias Earth Ayurveda Hospital
The Ayurvedic treatment here involve medicine and science. The health care facilities here are preventive in nature and are called Swasthavritta. These include consumption of good diet and observing personal, spiritual and moral conduct. The treatment here is however divided into four parts:
Diet Correction – Ahara
Activity Correction – Vihara
Lifestyle Correction – Achara
Thought process correction – Vichara
You can reach out to them at Ground Floor 5, A-23, Behind Free Church, Sri Aurobindo Marg, Green Park, New Delhi, Delhi 110016. Their website is http://www.earthhospital.co.in/.
6. Dr. Sudha's Ayurveda Kendra
With state-of-art facilities this Ayurveda Kendra is one of the best one in providing the Ayurvedic treatments. You can also get the online consultation free of cost. The various therapies provided here are:
Healing therapy
Stress relief and relaxation package
Wellness package
Yoga therapy
Their address is B-5 / 99 Safdarjung Enclave,Near R.K. Khanna Tennis Stadium,New Delhi-110029. Their website is http://www.ayurvedakendra.in/
5. Aastha Ayurvedic Clinic
At AasthaAyurvedic Clinic, one can be assured of genuine ayurvedic treatments and therapies. The staff here are experienced and qualified. They also make their own herbal solutions for various problems and diseases. The various kind of Ayurvedictreatment available here are:
Piles – Hemorrhoids – fissure
Sexual disorders
Tonsilities
The web address is http://www.asthaayurveda.in/. They have two clinics at the addresses – C- 10/27 sector 15, Rohini, New Delhi, 110086, INDIA and WZ -1747, Near M2K, Rani Bagh, Delhi-110034.
4. Shri Kaya Kalp Ayurvedic Center
At Kaya Kalp Ayurvedic Center, you can expect relief from your ailments which have been troubling you for long now. They specialize in treating ailments such as PCOS, Vitiligo, Acne, Slip Disc, and Diabetic neuropathy. The services offered by them are:
Consultations and analysis
Panchakarma Treatments
Gynaecological treatments
Rejuvenation therapies
Leech therapy
Hair Treatment
Holistic beauty and skin treatment
The address is C-2/95, Janak Puri near kendriya vidyalaya,New Delhi – 110058, India. Their web address is http://www.ayurvedacoursesindia.com/.
3. Dr. Monga Ayurvedic Medi Clinic
If you want to feel the goodness of Ayurveda, this is the place for you. They offer a comprehensive range of treatments which include gastroenterology, hair and skin, diabetes and other counselling as well. The various ailments that they treat are:
Constipation
Piles
Relationship counselling
HIV Counselling
Sexual Problems
Their website address is http://www.drmongaclinic.com/. Their address is Dr Monga AyurvedicMedi Clinic (P) Ltd.,(Formerly DrMonga Clinic), 20, National Park (Basement), Near Moolchand Metro Station, Lajpat Nagar Part-4,New Delhi 110024 (India)
2. All India Institute of Ayurveda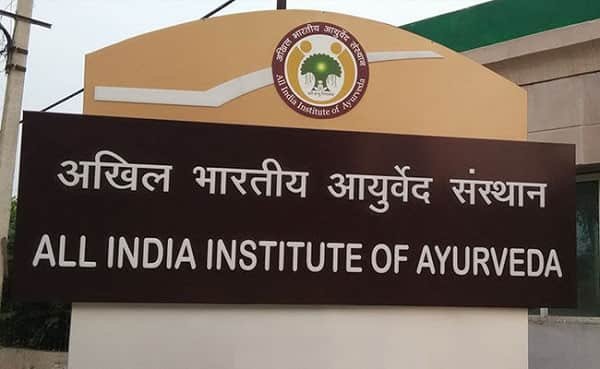 This institute is an autonomous organization under the Ministry of Ayurveda, Yoga and Naturopathy,Unani, Siddha and Homoeopathy. It is also known as AYUSH. Certified by the NABH, this institute provides the following services:
OPD/IPD Services
Panchakarma
Kriyakalpa
Ksarasutra
Para-surgical procedures
Diagnostic facilities.
They can be contacted at http://www.aiia.co.in/. Their address is Mathura Road, Gautampuri, SaritaVihar, Gautampuri Awas, Badarpur, New Delhi, Delhi 110076
1. Maharishi Ayurveda Hospital
Accredited by the NABH, this Ayurveda hospital is one of the oldest and well-known institution. The treatments offered are authentic and also offer accommodation to the guests and patients. It is accessible from International Airport, New Delhi and Old Delhi Railway station and Nizamuddin Railway Station. The facilities here are:
Caring and skillful therapists
Herbal therapies and treatments
Experienced Vaidya (Ayurvedic Doctor)
Efficient Ayurveda diet plans
The address is BP – Block, Shalimar Bagh (West), Delhi – 110088, India. The web address is
https://www.maharishiayurvedaindia.org/
Conclusion
Ayurveda classified individuals on the basis of the psychology which is controlled by the attributes and constitution of human beings. There are energies around us which govern the activities and reactions. Ayurveda, thus, understands all of these and accordingly treats the person as channelizing the essential energies of the mind is important. Once the energies are channelized, the human body starts healing. Some of the institutes mentioned above also train people through their courses. So if you are interested to explore the ancient science, you must enroll yourself as well.