Arun Jaitley is amongst the most influential politicians in India and he holds the vital portfolios of Finance Ministry, Ministry of Corporate Affairs and Ministry of Information and Broadcasting in the present Cabinet of the country. He can be rightly called one of the most trusted confederates of the Prime Minister Narendra Modi. Prior to the current BJP government, Arun Jaitley has also been a part of the Vajpayee government in its tenure from 1998 to 2004, during which he served as the Minister of Commerce and Industry and Minister of Law and Justice.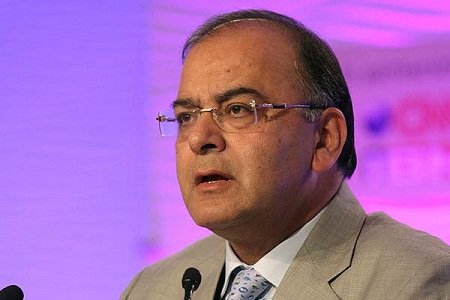 Net Worth: Rs. 113.02 crore
Income Sources: Arun Jaitley is a lawyer by profession, one of the best in the country but he stopped practicing law in 2009 after joining active politics. He fought and won several high profile cases during his illustrious career. He currently serves as the Finance Minister, Minister of Corporate Affairs and Minister of Information and Broadcasting.
Born: 28th December, 1952
Marital Status: Married to Sangeeta Jaitley since 1982. The couple has two children, Rohan and Sonali
Personal Background
Arun Jaitley was born in Delhi to a lawyer father, Maharaj Kishan Jaitley and a social activist mother, Ratan Prabha. He did his schooling from St Xaveir's School in the capital, following which he took a graduate degree in Commerce from Shri Ram College of Commerce and a degree in Law from University of Delhi. He was active in politics right from his young days, as he served as the Students Union President in Delhi University. Jaitley joined Jan Sangh and rose to the rank of Delhi ABVP President. He also became the president of BJP Youth Wing in a short span of time.
Career Graph
After completing his Law degree in 1977, Arun Jaitley has been practicing law with the Supreme Court of India as well as various High Courts. He has been a part of several prestigious political and corporate cases during his career. He has also served as the Additional Solicitor General of India under the V P Singh government. After entering into politics, he gave up his law career in 2009, when he served as the Leader of the Opposition in the Rajya Sabha. As a member of BJP, he was also the Minister of Law and Justice during the tenure of Atal Bihari Vajpayee. Currently, he is holding the vital portfolios of Finance Minister, Minister of Corporate Affairs and Minister of Information and Broadcasting. He is also the strategic planner of the Bhartiya Janta Party, having played a key role in the political campaigns of the party.
Assets
Arun Jaitley owns some residential houses in Delhi and suburbs and Gujarat, in addition to a fleet of luxury cars. He also owns a commercial property in Cyber Park in Gurgaon as well as a plot in Faridabad. The total value of assets owned by him, including cash and jewelry, amounts to a whopping Rs 113.02 crore. His fleet of cars includes a Mercedes Benz, a Porsche, a Honda Accord, a BMW and a Toyota Fortuner.
Save