The design of the test strip known as AccuSure is perfect, and the readings are highly accurate. The result is shown in a few seconds and helps people reach their target goal. There is no coding technology required, and on top of that, it is a breeze to understand and take it into use.
Just by inserting the strip into the meter, the results can be recognized from the display. Plus, with the help of these tests, strips you can handle the process of testing the sugar level with proper hygiene. The strips are compatible with accusure simple glucometer and help to monitor the blood glucose only. People can straightforwardly track and manage their blood sugar levels in simple steps.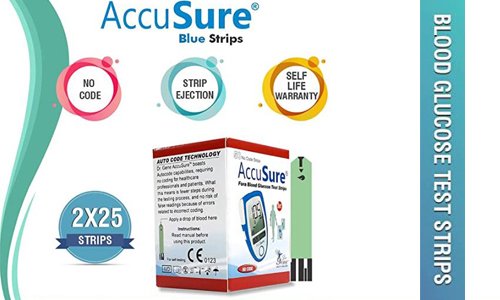 Key uses of AccuSure blood Multicolor test strips –
Self-testing the blood sugar level
Key Benefits
The design of the strip is impressive that can be used for self-testing the blood sugar level quickly.
The technology is quite favorable that does not consist of coding technology. It is accurate for using frequently.
The blood sample required for testing the sugar level is required minimal. As a result, there is less pain.
The concept of testing the blood sugar level by the strip is hassle-free without going to the doctor.
The single pack consists of 50 strips in total, but it is used for a single time only.
Direction for use
The accuSure test strips Are a valuable product for monitoring the glucose level in the blood. Take the following steps into consideration.
First of all, with the dry hands, insert the test strips into the blood sugar testing machine.
Examine the requirement of blood And break the finger accordingly to apply the blood on the edges of strips.
The result is immediately shown on the display of the Glucometer.
This is how the test strips work for Glucometer.
Safety Information
Keep the test strip out of the reach of children and pets since the test strip has pens that can hurt children.
Try to avoid physical damage on the test strip for accurate and precise reading.
Store the test strip in a clean and dry place. It will prevent infections on the strip.
Calibrate the Glucometer every time you start using the test strip for new reading.
Examine the test strip and its packaging carefully to confirm that it is within its expiry date.