People suffering from diabetes often face common problems by visiting clinics to get their blood sugar levels tested regularly. You can still live a rewarding life by opting for a glucometer. Glucometers available in the Indian market these days require only a small amount of blood from the patient's fingers; the result will be shown on the screen of the glucometer within four to five seconds with the highest accuracy, like some kind of magic.
Being convenient, it is easy for everyone to operate a glucometer. This way, you can save your money on blood sugar level tests and measure them with ease on your own at home. Here we have two popular glucometers from well-known brands namely Accu-Chek and Dr Morepen BG-03. Let's know their differences and similarities through this article.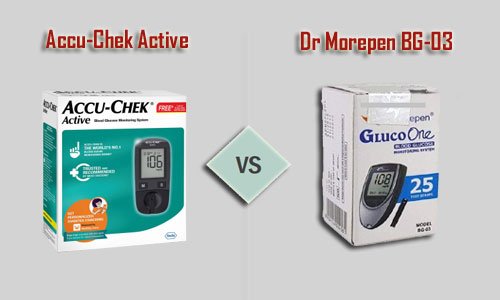 Table Comparison – Accu-Chek Active Vs Dr Morpen BG-03
To know about giving two glucometers, firstly you should go through a quick table comparison.
| | | |
| --- | --- | --- |
| Product Specifications | Accu-Chek Active Glucometer | Dr Morpen BG-03 |
| Test Time | Five Seconds | Five Seconds |
| Number of Test Strips | Ten | 25 |
| Blood Sample Size | 1.5 microliter | 0.5µ |
| Memory | 500 Test Results | 300 Test Results |
| Accuracy | 100% | 100% |
| Automatic Coding | Yes | No |
| Number of lancets | Ten | 10 |
| Warranty | 10 Years | Lifetime |
| Ratings | 4.2 | 4.1 |
About Accu-Chek Active Glucometer
Accu-Chek Active Glucometer is one of the premium models of the Accu-Check brand. It just takes five minutes to monitor the glucose levels. This lightweight, small glucose meter comes with several prevailing features such as pre-and post-meal reminders, accurate measurement of blood glucose, intuitive handling of two buttons, and visual double-check.
Salient Features:
It is a lightweight glucometer with 50 grams (including battery)
Testing can be done out or in of meter.
It has a large display for easy reading of blood glucose levels.
It is a user-friendly device as it comes with a two-button operation.
The results will come to the display within 5 seconds.
It has the capacity for 500 test results.
It can also provide averages of sugar results over 7 to 30 days.
This device features automatic power offsetting.
One of the cost-effective devices by Accu-Chek
About Dr Morepen BG-03
Dr Morepen BG-03 is an excellent option to buy for regular home use. The straightforward & monitoring with advanced technology make this meter easier to handle. It doesn't require a preset as it is ready to use after the opening of the packaging.
Salient Features:
The device is very easy to use.
It features a blood glucose level indicator.
The most ergonomic and compact glucometer by Dr Morepon for a better hold as well as high accuracy.
It can store memory of up to 300 readings.
Require a small blood sample.
Easy to operate by everyone.
No coding is required.
What is the Difference between Accu-Chek Active Vs Dr Morpen BG-03?
There are certain aspects to differentiate these two glucometers. Let's take a look:
All these two are considered to be the best in terms of accuracy and ideal option for several people who are diagnosed with diabetes. When it comes to what medical experts believe, AccuChek is their priority as it meets all international recommendations for scientific accuracy. On the other hand, Dr Morpen offers less accuracy but customers are comfortable with its results.
Both Accu-Chek and Dr Morpen have a large display, making it ideal to have a clear view during testing blood sugar levels. However, Accu-Chek comes with a segmented LCD while Morepen BG-03 has an LED screen.
A glucometer is useless without a test strip. So, it is an important aspect to keep in mind while buying a glucometer. Accu-Chek 50 Test Strips costs Rs 969 while Dr Morepen 50 Test Strips costs 704.
Based on Alarms and Alerts
Accu Chek features underneath detecting sensor which warns to put the right amount of blood samples. Dr Morepen, on the other hand, doesn't have these features.
In Accu- Chek, you can store up to 500 present results. These results can be also transferred through USB to any other device. In Morepen, you can store up to 300 present results.
Final Results:
Accu-Chek Active Glucometer is relatively better than Dr Morepen in terms of accuracy, sound technology, durability and storing results.