Power cuts at home can be irritating and throw a serious wrench in your plans to work or relax. They can also be uncomfortable – spending even fifteen minutes without your fan running in the summer is an experience most people want to avoid. The solution to power cuts is simple: investing in the best inverter for home.
Whether you're making your first purchase or looking to upgrade your current inverter, choosing the best inverter for home is easy. However, it does take some thought and research. Keep reading for some quick and easy tips to choose the best inverter for home.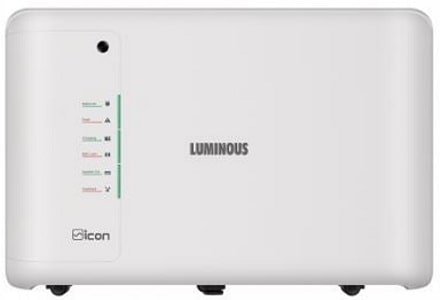 Image Source: Luminous India
Don't Follow Recommendations Blindly
Many people think they know exactly which inverter is the best inverter for home needs. This may be based on their own experience, a result of great advertising, or even a quick Google search. Though well-meaning, there is ultimately no one size fits all inverter that will be the same for everyone.
The best inverter for home may not be the right fit for your best friend; it's essential, therefore, to consider your specific requirements, budget, and other such considerations before taking the plunge and investing in one for yourself.
Chart Out What Your Power Requirements Are
This can vary for many reasons. If you, for instance, live in a place with long and frequent power cuts, the best inverter for home will likely be one that can offer a lot of power over a long period so you can run even heavy-duty appliances like fridges and TVs.
If, on the other hand, you deal with short power cuts, you can likely get by with only powering a handful of basic electronics, and the best inverter for home can be a low-budget inverter that doesn't need to offer a lot of power.
If you run a lot of electronically sensitive or expensive equipment at home, on the other hand, the best inverter for home will be chosen accordingly, keeping in mind the essential requirement of a reliable power supply in your home.
Consider VA Ratings While Looking for Inverters
Once you know what appliances you intend to run during power cuts – and approximately for how long – you'll want to find an inverter with the right VA rating for your needs. The VA or Volt Ampere rating of an inverter determines its efficiency and how much power it will supply to your appliances. The best inverter for home will have an efficient ratio of the power required by your appliances to the power supplied by your inverter.
Invest In a Good Battery for Your Inverter
Because you're looking for electricity backup during power cuts, your inverter's battery is one of the most crucial parts of finding the best inverter for home. Take the time to find a high-quality and robust inverter battery – such as those manufactured by Luminous – while keeping your specific requirements in mind.
The battery capacity of inverter batteries is measured in Ampere Hour, or Ah. Understanding your specific circumstances and power requirements is essential in finding the right battery choice as you find the best inverter for home.
Consider Your Budget and Inverter Size
Investing in the best inverter for your home doesn't need to empty your bank account. Excellent and versatile inverter options are offered by manufacturers like Luminous to cater to a wide variety of budgets and needs. Similarly, do consider how much storage space you have as you choose the best inverter for home.
The best inverter is undoubtedly an investment: it's worth taking the time to find the right fit for your needs and budget. As power requirements become increasingly essential to day-to-day life, so does finding high-quality solutions in times of need.