Dubai has been named one of the top family-friendly vacation spots in the world! The flashy and beautiful Dubai is known for its numerous tourist attractions and is unquestionably a paradise for adults and children.
Apart from visiting the different attractions in Dubai with your family, you can also participate in fun activities such as water sports at the numerous beaches, watching the Dubai fountain display, and enjoying a cruise around the city's coast. Enjoy quality time with your family through our Dubai Aquarium & Underwater Zoo tickets. The city has a lot to offer in terms of memories and fun for people of all ages; thereby, we have curated a list of 5 unique places that you must see in Dubai.
1. Dubai Aquarium and Underwater Zoo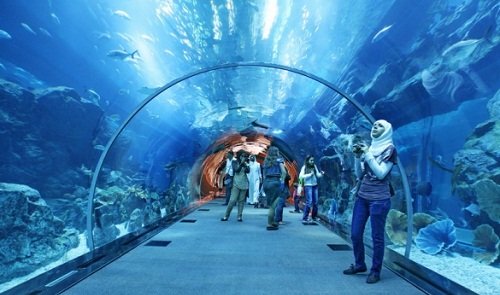 It is positioned on The Dubai Mall's Ground Level, making it an ideal choice for visitors looking for a mix of shopping and entertainment.
Here you can find over 33,000 aquatic animals, including the world's most extensive collection of sand tiger sharks, live in the 10-million-gallon aquarium tank. Alternatively, you can take a long trek and participate in water activities such as cage snorkelling and a range of memorable dives.
2. Wild Wadi Water Park
The well-known Wild Wadi Waterpark is undoubtedly one of the attractions you should visit while in the lovely city to have more fun. Amusement parks are always entertaining, and the rides in this park will ensure that you and your children enjoy the time of their lives during their visit to Dubai.
Here you can participate in water sports, ride the 120-meter tandem slides, surf at the Wipeout and Riptide Flow riders, or simply float at the Lazy River. Likewise, more than 30 rides are available to enjoy within a single Wild Wadi Ticket and have fun with your children at the waterpark Inside the park.
3. Dubai Miracle Garden
Explore the Al Barsha South region with your family to experience a miracle in a one-of-a-kind world of a giant garden in the middle of the desert. There are many tourist attractions in Dubai, and this flourishing garden is one of them, with over 45 million flowering flowers displayed in various styles and massive sculptures.
This is a site that will fascinate you with its incredible beauty in all of its configurations. Every floral arrangement is one-of-a-kind and a visual delight. Stroll through the flower garden with your loved ones and have fun beneath a sky of colourful umbrellas, making lovely moments to remember your family's stay in Dubai. If you need to buy Dubai Miracle garden tickets you should purchase them earlier to enjoy the place without waiting for tickets.
4. The Dubai Fountain
As one of Asia's most popular family vacation destinations, Dubai needed something spectacular to attract more guests, so they created the gorgeous and world-famous Dubai Fountain, located in the city's man-made Burj Khalifa Lake. The water fountain, accompanied by a variety of traditional Arabic music, appears to be dancing to the music while blasting colourful water 150 meters into the air.
5. Ski Dubai
Dubai isn't just about the heat and deserts, especially in the summer, and visiting the water parks isn't the only option to cool off. With your children, enjoy the winter and chilly weather at Ski Dubai, conveniently located in the Mall of the Emirates.
Combining a visit there with shopping and other activities in the mall is ideal. Allow your kids to enjoy themselves by tossing snowballs at each other or grabbing their snowboards and hitting the slopes.
Explore the most incredible locations to visit in Dubai with your family and create lasting memories as you are surrounded by the world's grandest monuments and most lavish culture. The luxurious metropolis welcomes visitors with open arms and offers them the opportunity to travel across its famous tourists.