10 Interesting Facts about Chandra Shekhar Azad
India's history has been unambivalently quoted throughout the books. It has a long herald of heroes and macular personalities liberating India to the modern day equivalent. But the history has been sitting idle on the shelves attracting dust and mite all along. We along with our team has geared up to unearth some interesting facts about the nation. Here's us with an entry into '10 Interesting Facts about Chandra Shekhar Azad'.
Chandra Shekar Azad was born on 23rd July 1906 in the Jujhautiya Brahmins family. His parents were Pandit Sitaram Tiwari and Jagrani Devi. He was born in the Bhavra village, equivalent to the modern day Alirajpur district in the heart of Madhya Pradesh.
A man who revolutionized the Indian free movement against the British Rule, Chandra Shekhar Azad is a name that echoes long into eternity. He adopted the last name Azad in a signified to be never caught alive by the British force. He lived along with his promise till his death.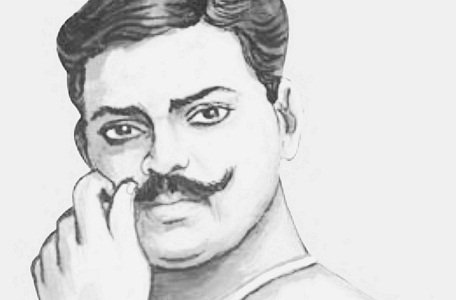 Let's roll back the time and have a look at some of the interesting facts about him.
10) Has Multiple Parks and Institutions named after him
Ahmedabad is home to the park where Chandra Shekar Azad breathed his last. The park, previously named as Azad Park is renamed as Chandra Shekhar Azad park.
Apart from that, several other parks, roads, and other public institutions have been named in tribute to Chandra Shekar Azad.
9) Pledged Never to be Captured Alive
Chandra Shekar Azad had pledged never to be captured alive by the British force. He kept his pledge till he breathed his last.
It was on February 23, 1931, that police surrounded him and shot him in his right thigh.
He was left along with one bullet and was outnumbered by the British Force. He chose to shot himself keeping his pledge of being never captured alive.
8) He trained Bhagat Singh and others in Covert Activities
Bhagat Singh joined the clan of Chandra Shekhar Azad after the death of Lala Lajpat Rai.
Bhagat Singh followed in the steps of Chandra Shekar Azad after he was beaten by police officers.
Bhagat Singh was trained by Azad along with other members in covert activities.
7) Emotionally aggrieved by the Jalliawallah Bagh Massacre
The massacre incident in 1919 at Jalliawallah Bagh, where the army units killed hundreds of unarmed civilians left a deep scar in young Azad's mindset.
He felt aggrieved upon the unnecessary exertion of power by the British force and was emotionally influenced by it.
6) A firm believer in Socialism
Chandra Shekar Azad was a firm believer of socialism and was constantly vouching for the free will.
He wanted the future India to be free of social and economic oppression and adversity.
5) He adopted his last name 'Azad'
Chandra Shekar Azad adopted his last name 'Azad' which means 'free' in Urdu.
A legend is strewn around stating that when Chandra Shekar Azad adopted his last name, he vowed that the police would never capture him alive. A promise that he kept till his last breath.
4) Was trained in Archery Skills
He had learned the archery skills from the tribal Bhils of Jhabua district.
This specific set of skill allowed him the comprehensive advantage when fighting against the British movement.
3) Joined Hands with the Mahatma Gandhi
A thing that many people are averse to or shall we say unknown with is the fact that Chandra Shekar Azad joined Mahatma Gandhi non-cooperation movement.
Chandra Shekar Azad was just a student at the time, yet he joined hands in the movement. That sums up his desire to be part of the change in the nation.
2) Was famed for his Kakori Rail Dacoit and Assassination of John Poyantz Saunders
He was one of the masterminds behind the Kakori Rail Dacoit and led the successful evasion of the loot.
The dacoit was carried out in 1925 and proved fruitful to the movement of Chandra Shekar Azad and Bhagat Singh.
He also carried out the assassination of the assistant superintendent of Police John Poyantz Saunders in 1928.
1) His Mother wanted to make him a Sanskrit Scholar
Chandra Shekhar Azad's mom wanted to make her son a great scholar in Sanskrit.
In a step to fulfill her prophecy, she persuaded his father to send him to Kashi Vidyapeeth in Varanasi to study Sanskrit.
Chandra Shekar Azad is someone who spreads off inspiration to the masses and alike. a man who lived only till the young age of 24, he had a significant impact on the way the free-movement went about. We wish you had a great time reading it through. We shall be back with some more the next time. Adios.