10 Hit Bollywood Movies That Are Copied From South Indian Films
Bollywood is one of the biggest industries for the movies especially in India. However, the other industries like Tamil, Telegu, Kanadda and Malayalam are not very small either. These industries are known for good movies from long time and they have the tradition of doing so even now. There are many movies that are copied in Bollywood from these industries. These industries are together called South Indian Film Industry and here are the top 10 Bollywood movies that were copied from here.
10. Force
Force starred John Abraham and Genelia D'Souza and was released in 2011. The dreadful vengeance of a drug dealer and the police action was the plot of the story. It was actually copied from a Tamil Movie Kaakha Kaakha: The Police starring Surya and Jyotika. It was released in 2003.
9. Dhol
The story of four friends featuring Sharman Joshi, Kunal Khemu, Tusshar Kapoor and Rajpal Yadav was good hit. The movie directed by Priyadarshan was released in 2007 was actually a remade from the Malayalam movie In Harihar Nagar, released in 2010. Both the movies were well accepted in the audience.
8. Billu
It was again directed by Priyadarshan in 2009. Billu was a story of a barber and his childhood friend. Irrfan Khan and Shah Rukh Khan teamed up for this movie. However, it was actually remade from Katha Parayumpol that was made in 2007 in Malayalam. The movie featured Mammootty, Sreenivasan among others.
7. Ready
Salman Khan paired up with Asin for Ready which was one of the biggest commercial successes in 2011. However, the movie was actually copied or remade from the Telegu flick of same name. The movie featured Ram and Genelia. It was a huge commercial success. However, the movie maintained the same in the Hindi version as well.
6. Bodyguard
Another Salman Khan blockbuster, Bodyguard was also copied or remade from Malayalam movie of the same name. The movie in Malayalam featured Dileep, Nayanthara and Mithra Kurian and it was released in 2010. On the other hand, Bodyguard was released in 2011 in Bollywood starring Salman Khan, Kareena Kapoor and Hazel Keith.
5. Wanted
The Salman Khan starred movie was one of the super hit movies of that time. The movie featured Salman Khan as an undercover officer who fights against the criminals by staying among them. This movie was actually a remade from the Telegu movie Pokiri starring Mahesh Babu. However, the same movie was also remade in Tamil in 2007, a year later of the Telegu version. Wanted was remade in 2009.
4. Singham
Singham is one of the most successful movies in Box Office. In 2011, Ajay Devgan starred in the action thriller of Rohit Shetty. The 2011 thriller where a cop fights against all the odds to reestablish the law and system is actually a remade of a Tamil Movie name Singam starring Surya. Singam was released in 2010.
3. Bhool Bhulaiyaa
Bhool Bhulaiyaa that created a huge buzz after the release was also a copied movie from a famous Malayalam movie. Directed by Priyadarshan, Bhool Bhulaiyaa was released in 2007. However, the original movie in Malayalam named Manichithrathazhu was released in 1993 featuring Mohanlal, Shobhana.
2. Hera Pheri
One of the most cult Bollywood movies released in 2000 by Priyadarshan was actually a remade from another Malayalam cult movie Ramji Dev Speaking. This movie was released in 1989 featuring Saikumar, Mukesh and Vareed Thekkethela in lead roles. Hera Pheri was totally remade.
1. Ghajini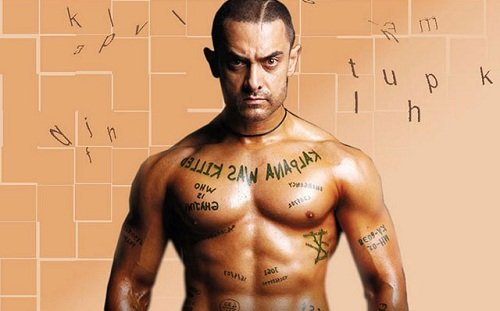 A man suffering from short term memory loss seeks revenge, Ghajini was a fascinating tale and Aamir Khan made the Box Office roar in the 2008 flick. However, the movie was actually remade of a Tamil Film of same name and same director featuring Surya. The Ghajini in Tamil was released in 2005.
Many of the movies were well accepted in both the languages. However, few failed to impress but the trend of movies copied from one industry to another is still in place and that gives the audience a wider range of choices as well.