Tripura is one of the hilly states located in the northeast of India with a diverse mix of tribal cultures and religions. The state has a mixed ethnicity of people from various religions like Hindus, Muslims, Christian, and Buddhists. All this provides the state with a diversified background which reflects in this culture, heritage, foods, dress, and lifestyle.
Since it is mostly dominated by tribal cultures, the major traditional dress of Tripura is inspired by a tribal look and has been adorned for many generations. The designs and the patterns on their clothes reflect the artisan work and the expert designs. The dress is worn further with a combination of various traditional jewelry which enhances the overall look and provides then an exquisite touch.
List of Traditional Dress Worn by Men in Tripura:
Here's a list of traditional dresses worn by men in Tripura. Many of these are still in use while some have gone the modernization to become a bit more modern style than the previous ones.
1. Rikutu Gamchi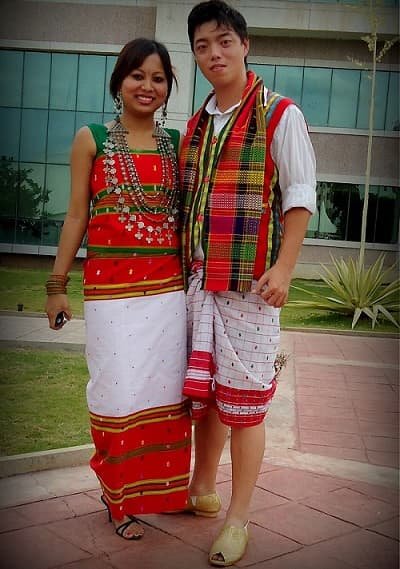 One of the major traditional attires of men in Tripura is Rikutu Gamchi. This has been an ever-present part of men's wear in Tripura and is mainly a towel. It is worn over the traditional shirt Kubai, of which we'll talk in lengths down below. The men across Tripura also wear this Rikutu Gamchi over their heads as a turban or pagri during the months of summer to protect themselves from the scorching heat.
2. Duti Borok
Next up is the Duti Borok another of the traditional dress for men in Tripura. It is a lion cloth worn on the upper part of the body by the men in the area. It has been around since the very beginning of the culture there and is widely reverbed. It even has been adopted into a modern style of dress in form of Gaffa recently.
3. Kamchwlwi Borok
Another traditional dress worn by men in Tripura is Kamchwlwi Borok. It is also a cloth designed for the upper part and is worn by people around there. It is significantly a major dress but has recently seen a downtrend when it comes to people approaching it and only a few wear it to this day.
List of Traditional Dress Worn by Women in Tripura:
Here are some of the traditional dresses and attires wore by the women in Tripura. These have been quintessential to the people there and are still adored by many.
1. Ringai
The first one on the list for the traditional dress worn by women in Tripura is the Rignai. It is the lower half of the dress and is similar to a draped skirt. The beauty of Rignai is that every tribe in Tripura has a different pattern of Rignai and is fascinating to see.
2. Rise
Next up is the Risa which is a traditional dress for the upper part of the body women. It is worn in a specific manner in that it is draped around the back twice to help provide support to the chest and also protection to the upper body. Tribal culture in Tripura wears a Risa mainly for bridal wear, such is its importance. It is designed with straight patterns and has both vertical and horizontal views in the same dress. That being said, Risa is slowly losing ground and many women are trying to blouse instead of Risa as the top wear there in the state.
Conclusion
The state of Tripura is majestic and simply beautiful. It is also home to one some humble people who adore their simple lifestyle, cherish their culture, and wear traditional dresses. Though the touch of modernization has arrived, people still wear traditional attires along with a few pieces of jewelry like coin jewelry, bamboo jewelry, and cane jewelry. This jewelry is usually worn by women in Tripura adding finesse to their overall look.