The first roller coasters were ice slides dating back to the early 1600's. Fast forward 400 years and roller coasters are wood and steel giants that give thrill seeking, adrenal junkies the ride of their life. If you like stomach churning, breathtaking fun then jump on, buckle up, and relax as we list the top ten roller coasters around the world.
10. Intimidator – Kings Dominion Park, United States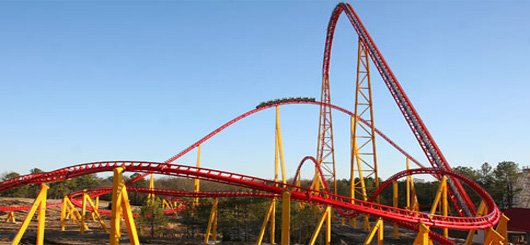 The Intimidator is the fastest and tallest rollercoaster on the east coast of the United States. At 305 feet tall, rolling in at 90 mph, the Intimidator will take you on the ride of your life in a quick 3 minutes. In 2010, this ride was voted the best new roller coaster in the world. With a NASCAR theme, the Intimidator was named after the late NASCAR driver, Dale Earnhardt.
9. Millennium Force – Cedar Point Park, United States
This first ever Giga coaster has a height of 300-399 feet. The ride is only 80 seconds long, but once named the tallest and fastest roller coaster in the world, Millennium Force will not disappoint.
8. Leviathan – Canada's Wonderland, Canada
Leviathan is the tallest and fastest roller coaster in Canada. The idea for it came from the Leviathan sea monster. With a height of 306 feet and accelerating at 92 mph, the Leviathan is an awesome ride for thrill seekers.
7. Superman: Krypton Coaster – Six Flags Fiesta, United States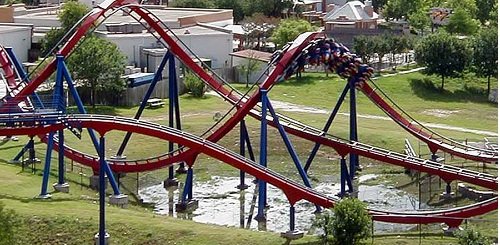 A floorless roller coaster, Superman has the biggest loop in the world; 360 degrees. Even though this ride has not changed in 12 years, it is still a favorite for riders around the world.
6. Dodonpa – Fuji Highland Amusement Park, Japan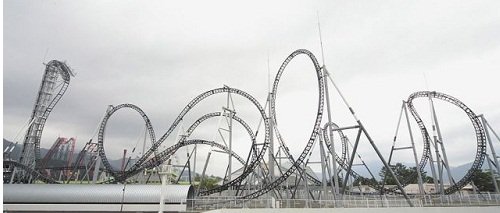 As the fastest rollercoaster in Japan, Dodonpa accelerates up to 107 mph. In 2001 Dodonpa held the fastest rollercoaster title, but since then other rides have surpassed this speed.
5. Silver Star – Europa Park, Germany
With a height of 239 feet and 220 foot drop, Silver Star ranks third on the list. There are three trains that fit 36 people each, allowing this roller coaster to ride 1750 passengers per hour.
4. Bizarro – Six Flags New England, United States
Always ranked in the first or second position by the Golden Tickets Awards and other polls, Bizarro is a comic book themed rollercoaster in the United States. Originally named Superman, this ride had a name change and makeover in 2009 to highlight Superman's evil clone Bizarro. This hyper coaster with lots of air time delivers a smooth ride.
3. Steel Dragon 2000 – Nagashima Spa Land, Japan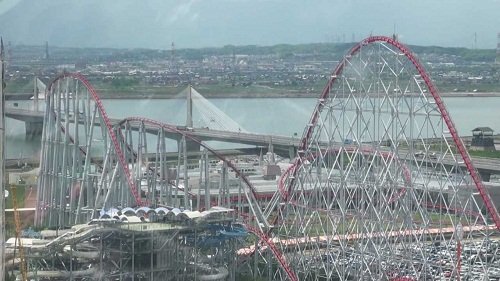 The Steel Dragon is the second fastest roller coaster in Japan. It was built with more steel than any other roller coaster as protection against earthquakes. With the height of 318 feet and accelerating speed of 95 mph, the Steel Dragon lives up to its tagline of "Race for the Sky."
2. Kingda Ka – Six Flags Great Adventure, United States
Kingda Ka is the world's second tallest and fastest roller coaster. With a mythical tiger theme, this roller coaster will shoot you horizontally, only to find you are 45 stories high in the air. As the fastest roller coaster in America, Kingda Ka goes from 0 to 128 mph in just 3 seconds.
1. Formula Rossa – Ferrari World, United Arab Emirates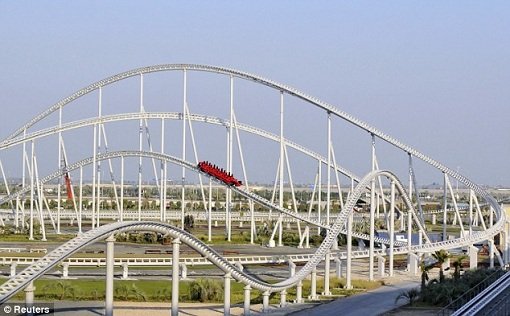 Holding the position as the best rollercoaster, Formula Rossa is the fastest and tallest rollercoaster worldwide. With speeds of 149 mph, passengers wear safety goggles while riding in the ultra sleek Ferrari styled Formula Rossa.
When traveling around the world, be sure to stop at these famous amusement parks and remember; jump on, hold on, and scream at the top of your lungs!