Women have been using bleaching products for ages, so that they can have blemish free glowing skin. In addition to the natural and herbal bleaching products, special kinds of face bleaching creams have been produced for women who want fast and effective results. Many leading cosmetic brands have launched such products in the Indian market.

How To Use Face Bleaching Cream and its Benefits
Facial bleaching is helpful to oxidize the skin by peeling off dead skin. This is helpful to enhance the youthful look beside getting rid of toxic elements on the skin. Using face bleaching cream is affordable when compared to the parlor. Bleaching of the skin is done on face, shoulders, arms, and back but face bleaching is the popular method liked by the youngsters. It saves time and money if you can use bleaching cream for the face at home.
How to use face bleaching cream?
Apply the cream using a spatula or fingers evenly avoiding areas like eyebrows and lips. Keep the face bleaching cream for 15-20 minutes and then clean the cream with the help of cotton or tissue and wash the face with cold water thoroughly. This procedure is useful to reduce sun tan and unwanted hair effectively and prepares the skin for a further makeover for facials and other kinds of a makeover.
Cost effective method
Using a facial bleaching cream is cost effective when compared to laser treatments and the parlor. There are many Oxy bleach creams available in the budget to reduce the tan and unwanted hairs on the face.
Cleanses the skin
Facial bleaching is helpful to remove unwanted hair and cleanse the dead skin cells and open the pores of the skin to add a glow to the face.
Here is a list of top 10 face bleaching cream brands in India:
10. Oxy Creme Bleach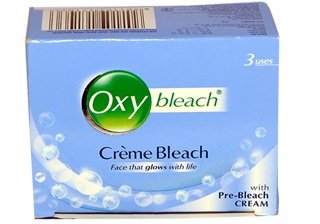 One of the most popular bleach cream brands in India is Oxy Crème Bleach, which brings high quality coupled with affordable price. The mild product is suitable for even the most sensitive skin types and makes skin lighter and brighter, besides giving it deep nourishment. Price begins at Rs 30.
9. Fem Gold Bleach Cream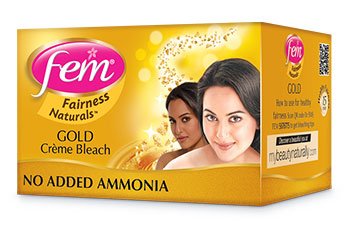 The next name on the list of top 10 best face bleaching cream brands in India is that of Fem Gold Bleach Cream, which has been catering to the needs of the Indian women for decades now. It contains natural ingredients, which act very quickly on skin, leaving it fairer and softer. The bleach cream is priced at Rs 50.
8. VLCC Insta Glow Herbal Bleach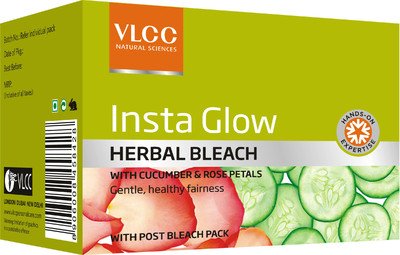 VLCC Insta Glow Herbal Bleach is an amazing herbal based product which lightens facial hair as well as reduces dark spots, without harming the skin like chemical products. It is priced affordably at Rs 45 and has the trusted name of VLCC attached with it.
7. Oxyglow Diamond Facial Bleach Cream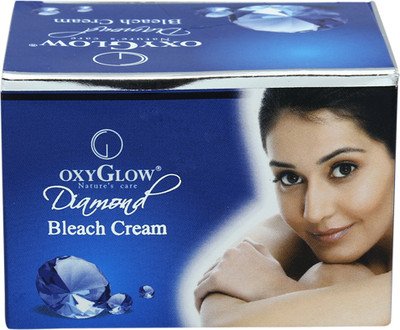 Next on the list is the high end product called Oxyglow Diamond Facial Bleach Cream, which gives a clean and clear skin by getting rid of oil and dirt from it. Not only does it give a fair glow, but also leaves skin smooth and moisturized. You will have to shell out Rs 270 for this bleach cream.
6. Jolen Creme Bleach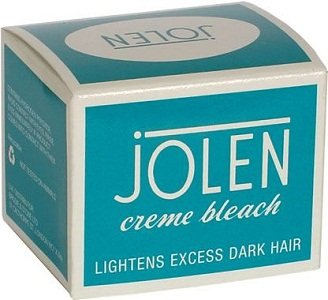 One of the oldest running bleach cream brands in the Indian market is Jolen Crème Bleach, which acts in minutes to give you visibly fair and beautiful skin. Moreover, it does not leave the skin dry. The price of Jolen Crème Bleach is Rs 80.
5. Olivia Herbal Bleaching Cream
Another wonderful product for women with delicate skin is Olivia Herbal Bleaching Cream, which gives you fair and radiant skin with its natural herbs, without causing any side effects. This particular product is priced at Rs 220.
4. Sally Hansen Facial Hair Bleach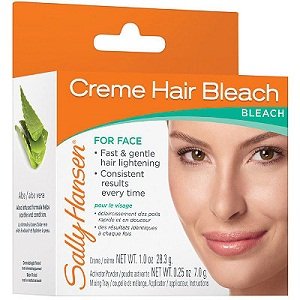 Sally Hansen Facial Hair Bleach is an excellent product, but is not affordable for all, as it is priced at Rs 1600. It contains effective natural extracts, which blend into the skin and act gently to make it fair and beautiful. Each use gives you better and better results.
3. Vantex Skin Bleaching Cream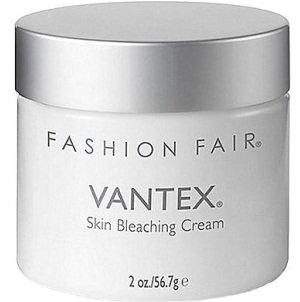 Featuring next on the list of top 10 best face bleaching cream brands in India is Vantex Skin Bleaching Cream, a light and non greasy product which works well on different skin types. It is the most expensive product on the list, priced at Rs 1900.
2. Nutriglow Papaya Bleach Cream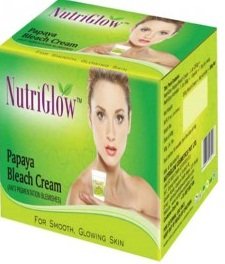 Another well trusted bleaching cream is Nutriglow Papaya Bleach Cream, which has the goodness of papaya extracts to give excellent results in just a few minutes. The price of this brand of bleaching cream is Rs 225.
1. Fabindia Vitamin E De-Pigmentation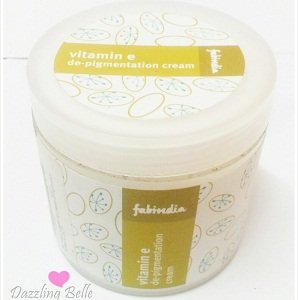 Priced at Rs 325, Fabindia Vitamin E De-Pigmentation might seem a bit expensive but it is absolutely worth it. This amazing product has the trusted name of Fabindia associated with it and lightens the skin without any chemical induced side effects.
All these products have a trusted name when it comes to reputation in being the best brands of face bleaching.
How to buy the best Face Bleaching Cream in India?
An alternative to facial has been discovered in the form of bleach which gives an instant glow before any occasion, party, or wedding. The question is how to choose the best face bleaching as every skin has its demands & requirement or is either sensitive or natural. Before going to make the final selection, you need to inspect what exactly it needs for face bleach that gives the best results. Here are various aspects that need to be taken into consideration while buying a face bleach cream.
Observing the essential ingredients of bleach cream is an important aspect that should be kept in mind. The ingredients in bleach reveal how effective it is and its properties and characteristics. More than that, you will be able to know if there is an allergic component. Examining the ingredients in bleach will help you get the results you want.
Skin type – Sensitive or Non Sensitive
The biggest factor is your skin type which should be considered while choosing bleach for your face. Any time bleach will work with any ingredient if you have non-sensitive skin but if your skin is sensitive, you need to be extra careful regarding the selection of bleach. Since bleach contains chemicals to lighten the skin air so people with sensitive skin need to think twice before going for a particular product. There are special bleaches for sensitive skin that are chiefly herbal and mild.
Be it a BB cream or any other cream for the face, SPF has properties as it is an important ingredient. Hence, it is advisable to look for bleach with SPF as it protects your skin from harmful UV and sun rays. Excessive exposure to these rays causes permanent damage to the skin. However, many dermatologists also suggest opting for a facial product with at least SPF properties.
As we mentioned, some of you have sensitive skin, so it's important to make sure your bleach is natural or non-natural. Herbal beauty products or bleaches made from organic ingredients do not cause skin allergies and reactions. It is always good to buy natural face bleach as your skin is not exposed to any chemicals and toxins. Also, it will make soothe your skin naturally without any side effects.
Along with glowing the skin, it is also important to stay hydrated. The bleach you look for should have hydrating properties to keep it rich and soothing with natural moisturisers. Well, face bleach cream dehydrates the skin during lighten up and brighten up skin. So, it is advisable to go for bleach that contains essential oils and hydrating properties to balance the pH level. It should also have antioxidants for the recovery of dull skin and keep it moisturized. Hence, you should keep all these points in mind when you wish to buy your favourite bleach for your face.
The cost doesn't matter when it comes to skin, especially face skin. But, going through with an affordable brand is a great option to save a lot of bucks along with getting premium quality.
Check Other Creams Also: