The modern man realizes the importance of personal grooming and knows that it is important not only to look good but smell good too. As a result, there is a booming demand for deodorants in the hot and humid country like India. There are some well known brands which bring a range of deodorants suitable for the skin of Indian men as well as the climatic conditions of India.
Here is a list of top 10 best deodorant for men in India:
10. Park Avenue
Park Avenue from Raymond is one of the leading brands of deodorant for men in India. It offers extremely effective range for Indian men to keep them fresh and fragrant from morning to night. Cool Blue, Imagine, Voyage and Storm are some of its deodorant variants.
9. Axe
Axe is a men's grooming brand which stepped into the Indian market in 1999 and has captured a fair share of the market since then. It brings a wide range in men's deodorants with effective products such as Denim, Dark Temptation, Marine, Apollo and Dimension.
8. Fogg
One of the most appreciated men's deodorant brands in India is Fogg, which claims to be all spray and no gas. It presents rejuvenating range of masculine fragrances such as Fresh Aqua, Fresh Spicy, Fresh Aromatic, Royal Fragrance and Napoleon Fragrance.
7. Yardley
Yardley is one of the oldest brands of fragrances in the world as it dates back to the 1770s. It presents an entire product range in deodorant for men and all these are known to give day long freshness and odor protection. Race, Gold, Arthur, Elegance and Adventure are some of the deodorants for men from this brand.
6. Old Spice
Old Spice is a brad loved by Indian men for its masculine grooming products suited for Indian skin and conditions. It brings long lasting fragrances in deodorant range like Original, Musk, Sport, Fresh Lime and Whitewater.
5. Garnier
Garnier is one of the best selling cosmetic brands in the country and presents a wide array of personal care products including men's deodorant range. The products are of great quality and boast of unique fragrances such as Anti Sweat Absolute Dry, Anti Sweat Extreme, Extreme Cool, etc.
4. Reebok
Reebok is the most suitable deodorant brand for men who love to stay active throughout the day but also want to smell great at the same time. Some of the most appreciated variants of Reebok deodorants are Reeplay, Reecharge, Reemystify and Reehypnotize.
3. Nivea
Featuring next on the list of top 10 best deodorant for men in India is Nivea, which caters to the need of young consumers looking for lasting freshness and no sweat results. It brings a wide range of deos including Nivea Active, Nivea Sport, Nivea Roll on, etc.
2. Nike
Nike is a world famous sports brands and presents effective deodorants for active men, to keep them fresh and fragrant for the whole day long. It comes in variants such as Cool, Magnetic Blue, Paranoia, On Fire and Wood Blast, and protects the users against odor and sweat.
1. Adidas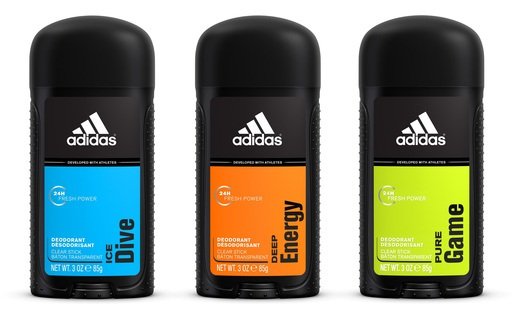 Adidas, another well known sports brand is another top runner in the men's deodorant market in the country. It caters to needs of men who sweat a lot or who are engaged in strenuous sports activities. The popular variants of Adidas range are Sport Field, Get Ready, Intensive, Team Force and Victory League.
So all the Indian men out there who want to look great and smell even better, one of these brands of deodorants would be the best for you!