Every fashion diva out there needs a pair of classic heels for women to adorn the perfect Desi look. Heels, are undeniably, the most essential aspect of women fashion. Therefore, women should own a diverse collection of designer heels -in all colors, patterns, and designs.
When it comes to wearing Indian or ethnic wear, every ensemble has a unique tint, tone, theme, motif, and a set of matching accessories to complement the entire look. Due to this, owning a wide variety of heels for women makes ample sense while serving as a crucial component of a well-organized fashion wardrobe. Ultimately, the right high heels for women can either make or damage your entire look in a matter of seconds.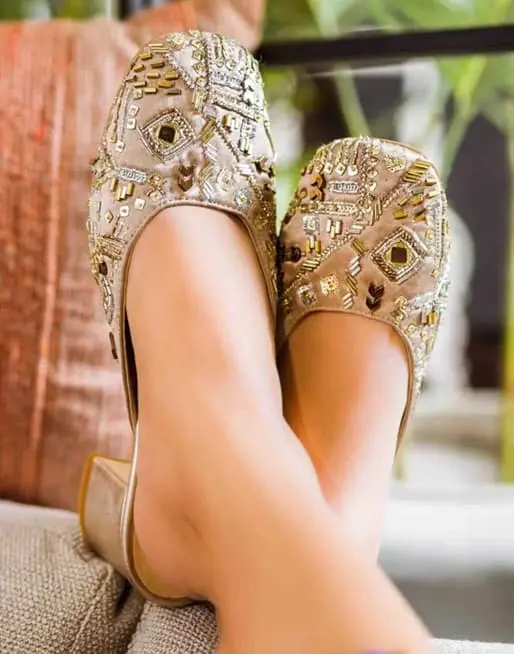 Best Heels for Women to Complement Ethnic Dresses
If you look forward to being stylish all the time -even while wearing ethnic dresses, it is imperative for you to choose the right heels for women to suit the occasion. Here are some of our top choices you can adorn:
Bellies
Bellies can be essentially flat or heeled footwear featuring a closed back and closed-toed design throughout. They are the best footwear options as they are immensely comfortable and easy to put on wherever you go. At the same time, you can also come across a myriad of trendy designs for bellies for women.
Ethnic designs for bellies are associated with traditional and vintage Indian footwear. Therefore, it is no surprise that ethnic bellies for women reflect true heritage. A number of noteworthy designs as well as trends have further imbued this must-have heel with ample sophistication and class.
Ankle Strap Block Heels with Pointed Toes
Own a pair of beautiful block heels featuring ankle straps and pointed toes to rock your ethnic look. Ethnic block heels are a great way to add a few attractive inches to your entire frame. They offer just the right height to help you stretch your legs comfortably. The best part is that they can be paired stylishly with all types of ethnic wear -ranging from a saree to kurtis, lehengas, and so more.
You can move forward with imparting your ethnic collection a flawless look with the help of designer block heels -whether you wear them to festivals, parties, workplace, or even a date night. Usually, ethnic block heels feature a thicker base while providing seamless support and balance to the wearer backed with the ease of ample comfort throughout.
Ethnic Block Heels
Block or box heels tend to be self-explanatory. They can typically range in height from a standard square heel to a flat shoe or slight heels or even stylish cylindrical heels. You can choose the ones based on your overall style preference and comfort expectations.
Ethnic block heels from a leading brand like Fizzy Goblet are appropriate for both ethnic and formal wear. You can pair them up for an eventful party or wedding as well. Depending on the occasion, you can choose from the wide variety of block heels available online at Fizzy Goblet.
Stilettos
A stylish stiletto heel is a high-heeled women footwear featuring an elongated, thin heel. The term 'stiletto' defines a heel for women -derived out of the term 'stiletto' signifying a dagger or a knife.
The heel height of a stylish pair of stilettos can vary between 1-10 inches. Stilettos are great options for designer heels for women to modify the posture of the wearer. Women in stilettos can think of walking stylishly as they flex their calves beautifully. Moreover, stilettos serve to be an important feature of leading fashion presentations across the world.
How can I Take Care of My Stylish Heels?
The right pair of women's heels -especially those worn with ethnic wear, can help in enhancing your overall confidence levels while also making you feel powerful. To ensure that your favorite heels last the longest in your footwear wardrobe, here are some top-notch care tips for your favorite pair of heels:
Ensure Good Cleaning
Polish your delicate leather or embellished heels with a soft cloth quite often. Suede heels are expected to be cleaned with proper caution. To remove stains or crusted dirt from the surface of suede heels, you can make use of a suede eraser.
Heels can get easily damaged by water and dirt in areas witnessing a lot of moisture or rain. The trim featuring leather to sole pattern will also garner ample dirt. Therefore, you need to clean it properly before storing.
Ensure Proper Repairs
Shoes help in offering ample support to our feet all day long. Therefore, they are highly prone to common wear & tear as we move from one place to another. Damages to high heels are inevitable. Heel stoppers can help in preventing damage to the heels' tips. However, it is difficult to avoid nicks and scuffs to the tips of heels.
Instead of avoiding them at the first glance, you should invest into affordable ways to restore them effectively and beautifully. Invest in some high-heel footwear repairing materials to correct them yourself.
Walk the Right Way in Your Heels
If you adore wearing high heels daily to your work or any other place, you need to be extra careful about its maintenance and your posture at the same time. Therefore, it is imperative for you to know about the right way to walk in your heels. Rather than stomping, aim at walking lightly into your heels.
It is easy for stilettos to get damaged or broken due to heavy thuds. If you walk unusually in stilettos, it will make them wear out quickly. Allow them to have a day off as you change your footwear.
Conclusion
If you are in search for style heels for women to complement your ethnic wear, you can invest in a pair of embellished heels at Fizzy Goblet. Here, you will come across a huge collection of stylish heels featuring hand embroidery, embellishments, sequins, and so more. Make a fashionable entry wherever you go.