Spy Bahu is an Indian Hindi Television drama, romance, and love story-based show, telecast on Colors TV.  It is one such serial that has an inspiring and beautiful concept. The show was released in March 2022. Spry Bahu show is being made under the banner of Viniyard Productions of Ashvini Yardi. Sehban Azim and Sanna Sayyad are playing the lead roles of the protagonists in the serial along with other supporting roles. Here is a complete description of the serial Spy Bahu on Colors TV, its storyline, Wiki, Timing, Cast Names, concepts, and many more.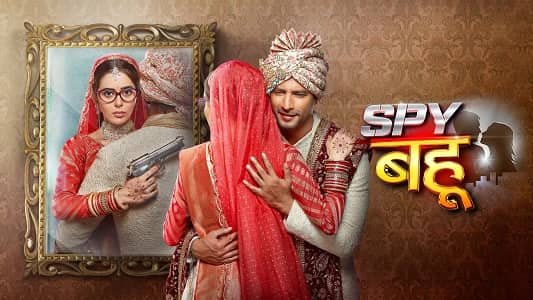 Wiki
Colors TV's Serial Spy Bahu is a different yet interesting TV serial, unlike other regular family dramas. In this show, a girl named Sejal is a spy while Yohan is suspected of being a terrorist. Indian famous actress, Kareena Kapoor while promoting the show spoke about how Yohan and Sejal got together and their love story began. The show follows the unique story of a female detective girl who falls in love with a terrorist during the mission.
Story
The storyline of this serial revolves around the leading roles of Yohan and Sejal acted by the actors Sehban Azim and Sana Sayyad. In this serial, Sejal is a spy who has been appointed to keep an eye on Yohan. Yohan is a young boy who belongs to a very wealthy family and has some daddy issues. Sejal and Yohan's love story begins just as any other love story begins. Sejal intentionally gets trapped by pretending to be at fault with Yohan. Her cuteness attracts Yohan to her.
Another encounter occurs when Sejal accidentally falls into the swimming pool from where Yohan saves her. Continuous events lead to Yahan falling in love with Sejal, but Sejal aims to spy on Yohan under the guidance of Kiran Karmakar, who plays Sejal's mentor and guides Yohan through her journey of spying. In the meantime, Ayub Khan, who plays Yohan's father, makes Yohan hate him. Though sejal falls for Yohan while she is standing on a pathway where she has to choose between her love and duty. Watch out for Spy bahu's latest episode to know more about it and its coming twist & turns.
Timing
Colors TV's popular show Spy Bahu is airing on Colors TV, Monday to Friday on 9:30 Pm (from 14 June 2022). The approx time of running is 20 to 25 minutes. To know more about the show, download the Voot App or go online on Voot.com.
Cast
Here is a detailed list of serial Spy Bahu's cast names:
Sehban Azim as Yohaan ( Male Protagonist)
Sana Sayyad as Sejal ( Female Protagonist)
Ajub Khan as Yohaan's father
Kiran Karmakar as Sejal's mentor