Sneakers were once viewed as footwear only worn by sports enthusiasts and athletes. In the past few decades, sneakers for men have left that tag beyond and evolved beautifully. Now, they are loved by people of all ages and walls of life as they provide comfort, protection, and style. Whether a sports person or a sneaker lover, these versatile shoes can prepare you for any occasion or event.
7 Trending 2023 Men's Sneakers You Need In Your Collection
A good pair of sneakers can elevate your style quotient and provide several other benefits. It can prevent your feet from shock and injuries and help alleviate pain and other foot issues. In this post, we bring to your attention the 7 best sneakers for men every man must have in his footwear collection.
RS-X Geek Unisex Sneakers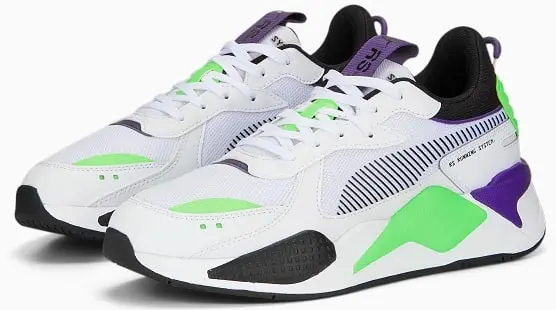 These sneakers for men belong to the RS Collection. The running system collection includes retro shoes, modern features, and technology. It has a future-retro silhouette with aesthetic and angular details. The mesh upper with synthetic leather overlays gives it the much-needed ventilation and breathability required in all sneakers. The lightweight PU used makes this shoe sustainable and eco-friendly. It has a zoned rubber outsole that provides excellent stability and traction. The EVA midsole provides ample cushioning to protect the foot from shock and sudden injuries. The nubuck and suede overlays give this shoe an appealing and durable look.
Key Specifications:
Style: 391174_04
Heel type: Flat
Shoe width: Regular fit
Colour: Black Strong Gray
Formstrip on lateral and medial sides
Brand detailing
TRC Blaze Unisex Sneakers
This sneaker belongs to the Trinomic series, which brings you the most advanced form of shoe cushioning. The technology uses a hexagonal system in the sole, giving it fantastic cushioning, stability and flexibility. It comes with a blend of textiles, making these sneakers for men a hit with the stylists. The mesh upper seamlessly blends with the suede toe and heel overlays. The embossed detailing and the TPU eyelets add an aesthetic charm to the footwear. The Lycra collar and tongue with mesh lining have pull tabs on them which makes putting on and removing the shoes an easy task.
Key Specifications:
Style: 384958_13
Heel type: Flat
Shoe width: Regular fit
Colour: Black Fast Gray
Low boot
EVA midsole
Rubber outsole
Formstrip and Logo on lateral sides
TRC branding on tongue and heel
Available in six colours
Rider Future Vintage Unisex Sneakers
The Rider collection initially consisted of elite running shoes. They have become an elite street-style icons with a raw, edgier look. The tagline for the shoe reads, "One foot in the past, one foot in the future". It incorporates old-school throwback upper with new details such as suede toe, heel and eyestay overlays. The nylon tongue on these sneakers for men is woven with the label. It provides great comfort and functionality for running as well as daily activities.
Key Specifications:
Style: 387672_18
Heel type: Flat
Shoe width: Regular fit
Colour: Black Cayenne Pepper
EVA midsole
Ripstop nylon upper
Formstrip with Nylon pipings
TRC branding on tongue and heel
Available in six colours
Scuderia Ferrari Carbon Cat Unisex Sneakers
Designed for adrenaline seekers and super racers, the Scuderia Ferrari Carbon Cat sneakers for men belong to top-class racing shoes. The trendy look and amazing technology ensure you do not go unnoticed behind the wheel. It is made with 30% recycled materials, which makes this shoe better prepared for the future. The PWRTAPE in the synthetic upper provides better stability and durability. It has an ultra-thin Carbitex frame in high-stress areas, making these sneakers lightweight and flexible. The speciality of this shoe comes in the form of nitrogen-injected foam, which gives it superior responsiveness and cushioning.
Key Specifications:
Style: 307546_02
Heel type: Flat
Shoe width: Regular fit
Colour: Red and Black
Shoe pronation: Neutral
EVA midsole
Rubber outsole
Formstrip on the lateral side
Branding of Scuderia Ferrari on the heel
Available in two colours
MB.02 Unisex Basketball Sneakers
Signature basketball sneakers for men with a unique and eye-catchy design. It has a NITRO-infused midsole and a nonslip rubber outsole that provides the exact amount of cushioning, traction and stability required in the game. The flexible and lightweight foam gives you superior responsiveness and comfort. The full-coverage nonslip rubber compound provides an enhanced grip that is perfect for quick cuts and jumping. The engineered woven mesh provides breathability and moisture-wicking properties necessary during the sport.
Key Specifications:
Style: 378287_01
Heel type: Flat
Shoe width: Regular fit
Colour: Black Sunset Glow
Shoe pronation: Neutral
Mid Top cut
Mesh upper
TPU heel clip
Nonslip rubber outsole
Branding details
Available in five sizes
Xetic Sculpt Electric Storm Unisex Sneakers
These beautiful sneakers for men provide ultimate design and performance. These colourfully printed shoes have an EVA midsole that gives superior lightweight responsiveness. The XETIC bottom layer uses an innovative cushioning system that increases stability and comfort. It has a mesh upper, and synthetic overlays provide enough breathability to keep your feet dry and comfortable at all times. The lace enclosure and the lenticular heel design on the sole give it a rustic yet stylish look.
Key Specifications:
Style: 390198_01
Shoe width: Regular fit
Colour: Black Ravish
Shoe pronation: Neutral
Mesh upper
Synthetic overlays
Pull Tabs on the back
XETIC midsole
Rubber outsole
Formstrip on the sides
Available in six sizes
Extent Nitro Tech Unisex Sneakers
The Extent, Nitro-Tech sneakers for men has colours and textures layered and contracted across the upper of the shoes. The NITRO midsole has a foam heel stabiliser, providing daily comfort. With ample cushioning and superior responsiveness, this sneaker becomes a lightweight package. It has a two-layer mesh upper with good breathability and synthetic overlays.
Key Specifications:
Style: 390192_02
Shoe width: Regular fit
Colour: Black Clementine
Mesh upper
Hotmelt synthetic cage
Neoprene collar and tongue
Formstrip on the sides
Rubber outsole
Available in two colours and six sizes
Conclusion
Whether you prefer to walk, run, go to the gym or play a sport in your sneakers, you need shoes that provide the right style, support and functionality. So, when you buy the trendiest sneakers for men, choose the ones designed for style, engineered for performance and built for your lifestyle.