Regular monitoring and managing blood glucose levels is essential to keep diabetes under control. Most experts recommend that monitoring glucose levels regularly after exercise, after meals, and after a workout will provide accurate results.
For a regular workout and diet plan, people with diabetes should opt for a glucometer instead of going to a clinic. The only way to confirm blood glucose or glucose levels at any given time is to test blood sugar levels, which can be done via a glucometer.
There are many benefits to having a glucometer, including allowing testing of low and high levels and their effects, helping to determine how diabetics control their diabetes through exercise, meal preparation, oral medications, and insulin therapy. Additionally, regular monitoring helps in efficient diabetes management and reduces the risk of complications.
Through these readings, your doctor will better understand whether to change in overall treatment plan or not. If you are also suffering from diabetes, then you should bring the right glucometer to monitor your blood sugar level. Whenever you buy, you will find many innovation meters that improve patient care.
Take extra safety precautions, after all, it's all about your health. In this article, we will discuss two popular glucose meters by a well-recommended brand called OneTouch. These meters are Select plus Simple Glucometer and Verio Flex. Let us discuss how they are different from each other and which glucometer is best and give accurate result.
Difference Between OneTouch Select Plus Simple and Verio Flex Glucometer
The table below will help you to know about both the glucometers at a quick time.
| | | |
| --- | --- | --- |
| Product Specifications | One-Touch Select Plus Simple | One-Touch Verio Flex Glucometer |
| Connectivity | – | Bluetooth® Smart or standard micro USB |
| Automatic Message | Audio Alert | NA |
| Blood Sample | 0.5 μl | 0.4 μl |
| Test Time | 5 Seconds | 5 Seconds |
| Accuracy | 100% | 100% |
| Battery | CR2032 | CR2032 coin cell |
| ColorSure Technology | Simple Color Range Indicator | Simple Color Range Indicator |
| Warning | – | High-Low Colour & Audio Alerts |
| In the Package | Blood Glucose Meter with two batteries, User Guide, 10 One TouchSelect Simple Test Strips for Free, 10 Sterile Lancets for free, Lancing Device, Carrying Case, One high Low Alarm reference Card | One-touch Verio Flex Blood Glucose Meter with two batteries, Carrying Case, Lancing Device, User Guide |
About OneTouch Select plus Simple Glucometer
For fast and accurate results, you can consider this device by OneTouch. It is one of the best and highly recommended glucometer. As the name suggests of products, you need to just switch on the machine and get accurate results. The product is also known as ColourSure One Touch Select plus Simple Blood Glucose Monitoring System.
Salient Features of One Touch Select Plus Simple:
The meter comes has 10 strips and 10 lancets with it.
It features an audio alert mechanism and an LED display.
To test the blood sugar level, you need to keep 0.5 Microliters of Blood in it.
Within five seconds, the result of blood sugar will be visible on the screen.
It is able to keep ten previous glucose tests in its memory.
It doesn't require a set-up mechanism and coding before operating.
It is used via the battery.
The machine is portable and a bit small.
The device is user-friendly.
You do not need to set the range of the instrument as it has already set minimum and maximum measurement limits.
In terms of accuracy, it is one of the best meters.
About Verio Flex Glucometer
The white frame & compact size make Verio Flex classy and handy. It will enable you to test blood sugar levels through a colour range indicator. The meter's built-in Bluetooth Smart Technology make it compatible with Smartphones and iOS. In simple words, it is invented to be a super-simple device. But, the disappointing thing about the meter is that it doesn't have wireless whistles and bells.
Salient Features of Verio Flex Glucometer
Its compact, sleek and light design makes the Glucometer handy and portable.
The display large size helps to read numbers easily, even in daylight.
It will allow taking 500 test results with accurate time and date.
Ensure 100% Accuracy.
You need to use a replaceable lithium coin battery to operate the device.
The Bluetooth technology of the meter connects the meter to Onetouch automatically. The application is compatible with both Android and iOS.
To test the blood sugar level, you need to keep 0.4 Microliters of Blood in it.
It will underline trends found in your BG patterns and offers pattern recognization.
Which one is better?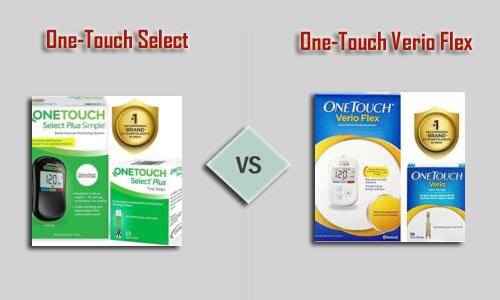 After reading about these two glucose meters, you must have understood that the Verio Flex is a more upgraded version but it does not have any advanced features as compared to the simple model.
Final Words:
Both Simple and Verio Flex glucometer enables accuracy within 5 seconds. The Simple glucometer is a bit pricy and has various advanced features as compared to Verio Flex.