Namitha Wiki, Age, Height, Biography, Boyfriend, Net Worth
Namitha is a well-known South Indian actress. She has worked in movies like Billa which helped her in gaining a lot of fame. At present, she is also a contestant in Bigg Boss Tamil – Season 1.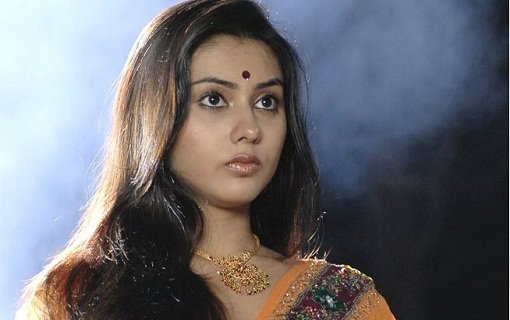 Net Worth
The net worth of Namitha is not known.
Income Source
The major source of income for Namitha is Telugu and Tamil movies that she works in.
Real Name
The real name of this famous South Indian actress is Namitha Mukesh Vankawala
Date of Birth: 10th May 1981
Age: 37 years
Height/Weight
Namitha is quite tall when it comes to height. She is known to be 6 feet tall and she weighs about 68 Kgs
Marital Status
Namitha is known to be unmarried and there is no information available about her boyfriends.
Personal Background
As per the information available, Namitha was born and brought up in Surat, Gujarat and she completed her education from there itself. As far as education is concerned, she received her degree in Bachelor of Arts in English Literature. In addition to this, her father is a Businessman and her mother is a homemaker. She also has a brother who lives with her. She had been fond of acting and modeling since her college days and that is one of the reasons why she decided to be an actress. She had also been fond of Karate and she is a black belt in Karate.
It is known that in 2010, one of her fan tried to kidnap her in Tamil Nadu but she was lucky enough to escape uninjured. Lastly, she also promotes safe driving and she is often seen delivering seminars and lecture about the same.
Career
Namitha started growing interest in modeling since her college days and that helped her in winning the title of Miss Surat in 1998. This encouraged her to participate in Miss India and she was the fourth runner up but she got a lot of fame after this. She worked in several advertisements after 2001 and some of the advertisements she worked in were of Manikchand Gutka, Nile Shampoo, and Himani Soap.
In 2002, she also got a chance to work in her first movie and the name of the movie she worked in was Sontham. It was a Telugu movie. She was widely loved by her audience and because of that, she got a lot of offers for movies. In total, she worked in over 43 movies and she worked in Tamil, Kannada, Malayalam, Telugu, English and Hindi movies. For her work in movie Billa, she was also nominated for Filmfare Award however she didn't win the award. One of her upcoming movie is Pottu and the movie is due for release in 2017. At present, she is also a contestant in the Tamil version of Bigg Boss and she is presently in the Bigg Boss's house. Her fans are supporting her every week to ensure that she wins the show.
Properties and Cars
The details about Namitha's cars and properties are not listed.