Travellers always find only interesting and fascinating places to travel where they find something interesting. However, the village is also a place that attracts tourists and travellers a lot. Breathtaking scenes, fresh air, natural beauty and all the way peace, this is what people actually look for while travelling to a new place. Thus, villages also hold importance among other places for visiting and discovering new in them. As compared to many villages, which are in India, there are few villages, which are popular among tourists in many ways.
Let us go and check about those villages and explore some beautiful points about them.
15. Mawlynnong, Meghalaya
If you are travelling to this village, you will find cleanliness in your surroundings. Mawlynnong is a village in Meghalaya which is the cleanest village of Asia and is also considered as the God's own garden. Located in the East Khasi Hills of the state, this village is popular for its matrilineal society.
14. Kila Raipur, Punjab
Among other villages in India, Kila Raipur is a village in Ludhiana Punjab which is popular for its annual rural Olympics. Through this way, this village got its popularity and many of the sports enthusiasts travel to this village during the Olympics to participate in different events.
13. Khonoma, Nagaland
Travelling to this village will offer you immense pleasure as always. If you are travelling to Khonoma, you will find greenery everywhere. This village is known as the first green village of India. Located in the Kohima district of the state, this village keep focusing towards their environment and cleanliness along with sanitation facilities too. Jhum is cultivated here in large and this is what the village is popular for.
12. Malana, Himachal Pradesh
Himachal Pradesh is a state where you will find natural beauty all over. Thus, there are many villages which are popular for scenic beauty. However, Malaga is different because this is the ancient Indian village. Along with that, this village is also considered as being the first democracies in the world. This is isolated from rest of the world.
11. Punsari Village, Gujarat
This village comes under the Sabar kantha village of Gujarat and is not only popular for its cultivation but also popular for advanced technology. This technology is providing support to education system along with power and water supply. This village is also awarded as the best village in India.
10. Kathewadi, Maharashtra
This village is located in the Nanded city and Deglur Tehsil. If you are visiting  this village, you will be amazed to see the transformation from alcoholism to normal lifestyle. People have adopted Art of Living so that they can get peace and live life easily and this is a modern village of India.
9. Pothanikkad Village, Kerala
As we all know that Kerala is a state where literacy level at its best, there is a village in Kerala, Pothanikkad which is having the best literacy rate as 100%. This village is also popular for wild animals and dense forests but the village has transformed itself as a village offering literacy to its children.
8. Kokrebellur, Karnataka
Visit this village once you are coming to Karnataka as it will offer you a bird sanctuary. He villagers here have adopted these birds as their heritage. There are many species of birds available and you can see them as it is the best breeding birding sites in India.
7. Chappar Village, Haryana
Among many villages where we hear that they kill infant baby if born as female, Chappar Village is the only village which celebrates actually on the occasion of the birth of a female baby. The Sarpanch here distributes sweets among people as a celebration. This village is becoming the role model for other villages for this revolutionary step.
6. Dharnai, Bihar
This village is located in Bihar and is the only village that is a solar-powered village. It offers electricity through the solar power which is the first village in the country. Through this initiative, 2400 residents are getting benefits of electricity.
5. Ralegan Siddhi Maharashtra
The transformation of a village from being highly degraded to the richest village in India is into Ralegan Siddhi. This village is of social activist, Anna Hazare and through his movements and activities; this village got its identity among other villages and is considered the richest village in India.
4. Raghurajpur, Odisha
Our land is very much talented and many artists are located everywhere in the country and offering special handicrafts to the people who are travelling to their place. In this way, Odisha is popular in making handicrafts products and Raghurajpur village here is offering some monumental handicrafts to the tourists. Palm leaves engravings, Tussar paintings, are the special handicrafts that they basically do.
3. Kuldhara, Rajasthan
Welcome to Kuldhara, the haunted village of Rajasthan which is very close to Jaisalmer. It is one of the most beautiful abandoned places but also is very haunted too. Step yourself very carefully here.
2. Shani Shiignapur, Maharashtra
Even today also, there is a village which do not close their doors even if they are moving out of their village stating as per the rituals that Lord Shani is taking care of their homes. Shani Shignapur is a sacred place in Maharashtra where people do not lock their home with anything and keep their doors open always.
1. Hampi, Karnataka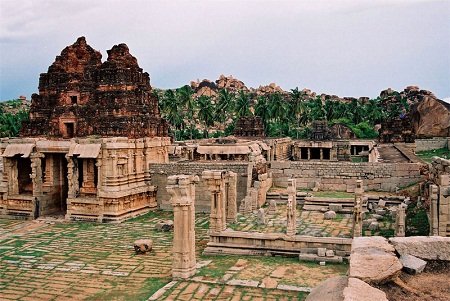 Hampi was the ancient lifestyle of India and was the richest city and the largest city of India. Today also, Hampi ruins with the largest historical monument and even today it is the largest and richest village of India. Not only this, Hampi is also searched as the historical places most of the times over Google these days.
Thus, these are the most beautiful villages of India. As a traveller, you should visit  these villages at least once so that you can explore the different and many new things here.  All in all, they are also provided with good transportation services and well connected to the main cities of India.