Many people in India get enticed by the idea of opening a pre-school to earn easy money but this should not be the only motive to open such a prestigious business enterprise. This is about imparting education and broadening the horizon of little ones, making them future ready, and enabling this cope with the difficult system of education. So, this should be taken seriously and functioned in a moral and dignified manner.
Every locality in every city of every part of the country houses a preschool or a creche (growing concept). Businesses and Pre-school brands like Bachpan Millennium, Treehouse, Shemrock Feathers, Hel Kids, Kangaroos Kids, Jumbo Kids, Wonderkids, and Blossoms are some of the well-established preschools in India who offer franchises to interested starters.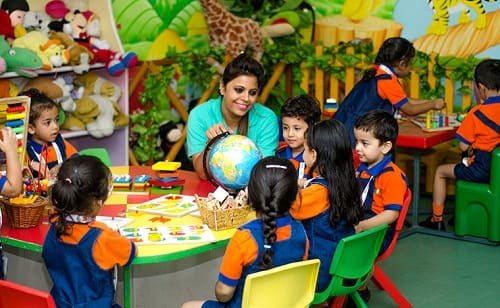 What is a Preschool?
A preschool can be a Not for Profit entity and it can also be operated as a Private Enterprise which invites an investment in the form of franchise cost and infrastructural expenses which motivates people to initiate start-ups in the field of pre-schooling education.
There are three levels of the Preschool Business:
Seekers – People who take the initiative of starting a new pre-school business.
Users – People who are ready to send their kids to the newly established pre-school.
Franchise or Company offering its services and brand name – Normally, Revenue Sharing is 15% royalty charged by the franchise on the fees collected and remaining 85% will be the share of the new businessman.
Anybody – a teacher, visionary, or even a parent can indulge in opening a pre-school. But certain factors need to be considered to stay organized and streamlined before taking the vital decision.This requires investment of capital, time, effort, and careful management of the start-up initiative.
Pre-Requisites of opening a Pre-school
There are many factors to be considered and certain pre-requisites that need to be procured before taking the decision of starting up a new Pre-school in India:
School Requirement:
Content and Curriculum to be followed in the school
Teaching Equipment and Teaching Staff
Training, Commercial, Counselling and Orientation staff
Competitors Details
Regular Visits and audits by Academic experts
Branding, Marketing and Positioning
Providing Operational Inputs
Product Up-gradation
ERP for managing day to day operations of the school
Digitized curriculum
Guidelines -Traffic Building, Hygiene, Safety, Marketing and Promotional Material
Nutritional Inputs
Continuous Value Addition
Capital funding and pre-school loan if required
Project Requirement
Preferably should be on the ground floor with 2500 – 3000 sq. ft. of built-up area.
Should be in a residential locality.
Open space for play area
Procedure to start a new business
India is developing constantly with its enhancing levels of literacy, social awareness, and a flourishing and favourable environment for pre-school businesses. Education in the formative years of a child as per The Right to Education Act, enabled in 2009 by the Government of India is imperative. Children above 6 years of age are entitled to a valuable education facility which will shape their future. There are certain pre-school plans to follow before opening a Pre-School Business:
Informative and Practical Business Plan Required
The Preschool business plan should have the following:
Number of children, the pre-school plans to cater to.
The kind or mode of Business: Daycare, Creche, preschool, playschool with after school activities, etc.
Staff for teaching, admin, and support.
Capital or application for a pre-school loan to be raised for the school transport system, renting, salaries, leasing, equipment, etc.
Space and Location.
Whether it will be a full time or a part time pre-schooling facility.
The indoor and outdoor area.
Should it be a Franchise, Residential School, or a Day Boarding Institution.
Plan for a pre-school loan if need arises.
Types of Pre-schools:
Franchise
Own Institution
Residential Playschool
A parent organization administers the pre-school according to pre-set terms and conditions of the same.
A new institution is set up as a proprietary concern, Partnership or a company.
Setting up a residential school needs permission of cooperative housing society or apartment association.
Regulated and Governed by The Indian Contract act 1872
Regulated by the Ministry of Corporate affairs. Governed by The Companies Act 2013.

A Partnership deed is regulatedunder The Partnership Act 1932.

The purpose of using the residential area for running a pre-school should be specified in the lease agreement.

Involves less risk as they already have an established brand name
It is usually easier, cheaper, and quicker to form a partnership.
The agreement needs to be carefully drafted in accordance with the interest and profitability of both the parties

Investment is lesser as no amount must be paid as royalty and there is absolute control on the functioning of the business.
Legal requirements
There are certain legal formalities or certifications required to open a pre-school like adhering to the Private School Education Acts enabled by the State Government for the licensing and registration of playschool.
Formalities related to the Municipal Corporation and education department of the city where the play school is being set up and registration fee is to be paid.
It is mandatory to follow the 'Early Childhood Care and Education (ECCE) Policy' plus regularizing the curriculum and learning tools for children, in adherence with the terms and conditions of the policy.
No registration is required under the Shops and Establishments Act.
The start-up must adhere to Labour Laws.
Employees Provident Fund schemes and Payment of Bonus Act, 1965 also should be considered.
Service Tax Applicability for Schools
Application for a Pre-school is included in the list for which no service tax is applicable as per clause (l) of Section 66D of the Indian Finance Act, 1994.The following are also a part of the service tax negative list and thus exempt from service tax:
Pre-school education
Education to a higher secondary school.
Education for obtaining a qualification recognized by any law
Education of an approved vocational education course.
Registrations & Licenses
Preschools can be defined as 'for-profit' (mandatory to be represented as a private limited company or a partnership) or 'not-for-profit' enterprise (Registered under Section 8 Company or a Trust). Adherence to "Private School Education Acts" and the State Education Act is a must which regulates the operations of a school.
Pre-school Loan for Starting a Pre-school
It is crucial to arrange for funds to invest in pre-school business.If a person has enough capital to open a school, it won't be necessary to be obligated with a pre-school loan as many banks and NBFCs provide easy and convenient loans for starting up a preschool business at low rates of interest.
Choosing the Right Location & Infrastructure
Location should be a child-friendly area
Space should be adequate
Infrastructure needs to be modern and UpToDate.
Location should be clean, hygienic, and well maintained
No health risk should be present.
To have a legal lease in case the place is rented.
Steps to follow before starting a Pre-school Business
Write a pre-school business plan – It is a huge task, but application of due diligence and hard work will fasten things up. Before starting a school, a thorough research must be made in the field and one must be ready with:
The pre-school's mission statement
Marketing and organizational Preschool plan,
Staffing
Operations
Budgets
Learn about pre-school licensing requirements – One should follow the local norms, rules, regulations, and licensing formalities as per the local government as a preschool owner.
Get permissions to start a preschool –Presently, there is no central law regarding the registration to start a preschool, but many state laws exist.The most popular consultant is 'Pre-school for Child Rights' and one can always refer to a Pre-school Consultant regarding this.
Name your preschool – Thename holds a lot of relevance and it is imperative to keep a catchy yet informative and ethical name of the pre-school. It should not be copied but legalized.
Define your budget –Budget comprises various points of estimating financial requirements like business research, rentals, project know how, toys and equipment, staffing, furniture, etc.
Select a location – Location is an integral part for opening a pre-school. A few things should be kept in mind before deciding the perfect location of the pre-school like a good pre-school, good location, quality accessories, and its availability, curriculum, crowd of parents, and no harsh competition.
Be ethical and carry high moral values – Safety equipment must be applied for and while opening a pre-school, understanding the moral responsibility and liability of the young children should be fully taken up.
Develop policies and procedures – Writing out policies, procedures, and handbooks for staff, children, and families and to develop health and safety norms, nutritional protocols, and a disaster or crisis management plan under the guidance of local pre-school licensing requirements.
Hire staff – Pre-school licensing requirements should be adhered to regarding the staff ratios and teachers' educational backgrounds keeping a stringent check on their criminal background, relevant proofs, fingerprinting, and to verify references and education levels.
Prepare curriculum – A carefully chosen pedagogical curriculum should be designed and approved which is crucial to the quality of your pre-school program. The government of India is in the process of making new laws regarding the curriculum of the children, making it compulsory for pre-schools to have a well formulated and uniform curriculum.
Seek accreditation – Accreditation to various boards available in the state should be adhered to like CBSE, ICSE, State Boards, and even International Boards. An inspection will be conducted to get the approval for accreditation.
Invest in pre-school software – It is mandatory to be technologically sound and to have the best streamlined administrative, pedagogical, and management tasks.
Market your pre-school and seek applicants – Brand presence needs to be created and maintained by following a stringent yet fair means of marketing the pre-school and inviting more and more children to be part of the initiative.
Starting a preschool can be challenging, making it a successful preschool is extremely rewarding. One should always be motivated to help young children achieve their potential and be just what a community need.Starting a play school is not a mere business but lives of young children are at stake and so it should be processed and planned carefully and ethically.
Start-ups in pre-schooling require personal guidance and a mindset to shape the minds of little toddlers which is a must for their holistic development and growth.