There are certain cases when people lost their Enrollment Slips. In such a scenario, it became difficult for the people to track the status of Aadhaar card and once the issue was highlighted to the concerned authorities, the government made a provision to retrieve the lost Aadhaar card enrollment slip. The slip basically has the enrollment id along with the date and time of enrollment and it also works as an acknowledgment slip. If you have also lost your enrollment slip then you may not worry as in this article, we have listed the process to retrieve the enrollment slip.
Steps to Retrieve the Lost Aadhaar Card Enrollment Slip
– The first step of the process is to navigate to the UIDAI Portal and then you can click on Find UID EID. Alternatively, you can also click here to navigate directly to the retrieval page for EID.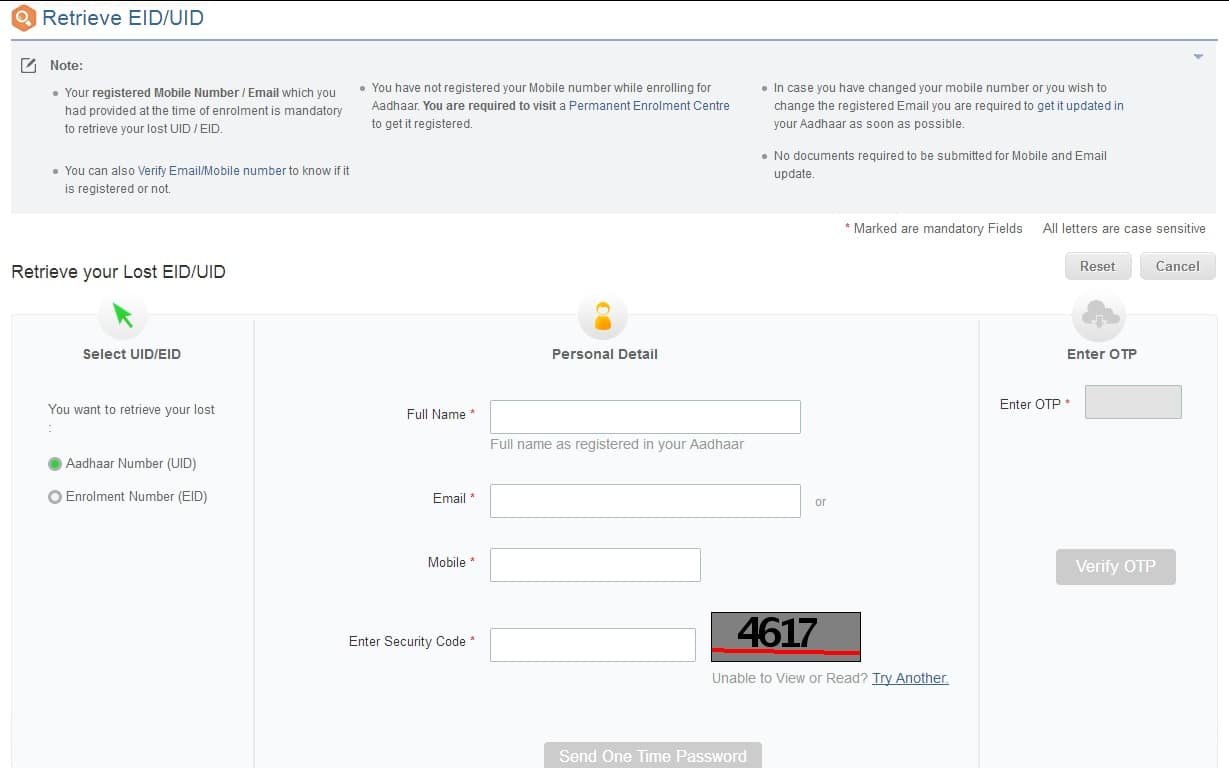 – Once the page has been displayed, you will be able to see two options. The first option would be to retrieve the Aadhaar Number and the Second option would be to retrieve Enrollment Number. Click on Enrollment ID.
– Now, you will be prompted to enter your name, email address, and the mobile number. You should enter the number and the email address which you provided during the enrollment as that would help the system in finding your enrollment id.
– You would also need to enter the captcha code from the security image and then you can click on Get OTP. An OTP will be shared on your registered mobile number. Enter the OTP in the designated area and click on Verify OTP Button.
– Upon successful verification, the enrollment ID will be shared on your mobile number and you can now track the status of your Aadhaar using the same enrollment id. It is also possible to download a copy of Aadhaar card using the enrollment ID.
If in case you do not have access to the registered mobile number then you would have to visit one of the Aadhaar Enrollment Centre to retrieve the information. You can also wait for some time as the Aadhaar card is sent to your residential within 60 days of enrollment but if still haven't received the Aadhaar card even after 60 days of enrollment then you should visit the enrollment center to seek information about the status of the Aadhaar card.