Top 10 Hottest Female Bodybuilders in the World
Bodybuilding is not an easy career to pursue. One requires a lot of endurance, hard work, and sheer determination to succeed in this career. Bodybuilding has always been associated with men. However, there are many women who are into the field of bodybuilding. They are not only doing great as bodybuilders but also manage to look sexy and attractive.
Here is a list of top 10 sexiest female bodybuilders in the world today
10. Jane Mukami
Jane Mukami realized the importance of staying fit only in the year 2008 when she was a 27-year-old girl. Her passion for fitness was initiated by her desire to lose weight fast and post that it was never looking back for this Kenyan girl. She is dedicated towards weight training and has a number of certifications to her credit. Some of these include Certified Personal Trainer by the American Aerobic Association International and Certified Wellness & Nutrition Consultant by American Fitness Professionals Associates. She has been trained into bodybuilding by the very famous Rashid Shabazz of Roc International Federation of Bodybuilding.
9. Brigita Brezovac
Born in 1979, Brigita is a professional bodybuilder from Slovenia. Inspired by builders of great repute namely Anja Langer and Cory Everson, Brigita got into body building at a very young age. In 2009, this talented and sexy bodybuilder stood second in the world women championship held by the International Federation of Bodybuilding. In the same year, she was also awarded the most coveted IFBB pro card. The young bodybuilder has won a lot of championships and has several awards and accolades to her credit. She certainly deserves a place in the list for the sexiest female bodybuilders in the world today.
8. Jennifer Broomfield
Jennifer Broomfield took up bodybuilding seriously only in the year 2002. Since then, there has been no looking back for this young star who loves weight training like most of her family members do. Born in Massachusetts, this teenage bodybuilding sensation had to really fight her way to get where she has reached today.She has competed in a number of bodybuilding events and has won several awards and accolades. Jennifer, in order to maintain her body, supplements her weight training and cardio routine at the gym with a proper diet as well as other health supplements.
7. Debi Laszewski
Although Debi has a great body and physique, the sexy and hot bodybuilder got her pro card from the IFBB only after competing for as long as 18 years. She is into the profession of body building for 27 years now and is most recently eyeing to get the title of Ms. Olympia. Currently, she is ranked third in the list of the best women bodybuilders released by the International Federation of Bodybuilding. In spite of starting late in her career unlike most of her competitors, she is today one of the most followed female bodybuilders in the world.
6. Moorea Wolfe
Having started her fitness and bodybuilding career at the young age of just 19, Moorea Wolfe is a trained dancer and gymnast. She wanted to pursue her career as a gymnast but owing to a back injury had to give up the same. She, therefore, pursued bodybuilding as a career option as she loved being fit and propagating the benefits of fitness and having a great physique has always been her passion. She has recently joined the field of bodybuilding and has shaped up a good career till now. She is undoubtedly one of the most beautiful and hottest female bodybuilders in the world today.
5. Anne Marie Lasserre
This Australian bodybuilder is a household name today. Thanks to her beauty combined with a sizzling hot and toned body. Anne has always been very good in all types of athletic events and credits her great physique to athletics. The first contest into the world of bodybuilding was won by this Australian star in the year 2009 after which there has been no looking back for this sexy bodybuilder. She has made a very notable place in the industry of bodybuilding and also has several awards and accolades to her credit. Besides, she is also an accomplished and popular model. Finally, today she is seen sharing her fitness secrets online through videos, DVDs, etc.
4. Brooke Holladay
Brooke Holladay is an American bodybuilder who started her journey as a dancer and as a part-time gymnast. The sexy female, with an amazing physique, has not only participated in a number of bodybuilding events but has also won most of them. The fitness model today has her own apparel company and also works as a trainer in one of the most renowned gyms started by the company named "CrossFit." With a height of 5 feet and 7 inches, her latest achievement includes finishing third at the 2016 fitness game organized by CrossFit games in California, United States.
3. Jennifer Rish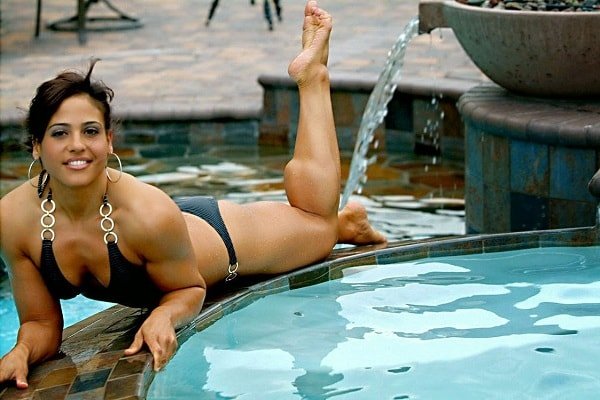 She is undoubtedly one of the hottest bodybuilders in the business today. Hailing from California, this talented and beautiful bodybuilder has lean and toned muscles. What makes her one of the toughest competitors is that she is extremely comfortable on stage and in fact, owns the stage once she poses and displays her toned body. Rish took up bodybuilding at a very young age. Before getting into this profession, Jennifer Rish was a trained dancer as well as an enthusiastic gymnast. She is unique in the way that even though a bodybuilder, she has not lost the feminity and is certainly one of the hottest in the business today.
2. Eva Andressa
While compiling the list for top 10 sexiest female bodybuilders in the world today, it will be criminal if we missed out on this Brazilian beauty. At age 32, this sexy bodybuilder has become a raging sensation already in the world of bodybuilding. She earns her living as a fitness model and has a huge fan following on social media where Eva shares her fitness regimen, diet secrets, workout routine, and several other secrets with her fan base. This young hot bodybuilder has already won several championships as far as bodybuilding is concerned.A few of the championships won include IFBB overall champion Brazilian in 2009, 2006 NABBA Brazil, Parana, Figure, 1st. Starting her career at a young age, Eva never had a very smooth ride into the world of bodybuilding. In spite of all that, she is a huge rage today in the world of bodybuilding.
1. Oksana Grishina
This Russian gymnast and fitness competitor is certainly one of the sexiest bodybuilders we have in the world today. She started training at a very early age and since then has won a lot of competitions and awards as far as fitness is concerned. This talented bodybuilder won her IFBB pro card in the year 2007. She was driven into the world of fitness at a very young age and even has a degree in which she has specialized as a gymnast and in physical training. No doubt she has a wonderful physique and is one of the most famous bodybuilders Russia has ever produced. Some of the championships she has won include 2012 Arnold Classic Europe in the fitness category, 2015 to 2017 IFBB Olympia in the fitness division.Currently, the reigning queen of Ms. Olympia contest certainly deserves the first place in the list of sexiest female bodybuilders in the world today. In 2016, this fitness celebrity also released a documentary on her life titled "Winning Strength.". the young and aspiring bodybuilders can take a cue from this documentary and pursue their passion.
These are the top 10 as per my research and review. There are plenty of other female bodybuilders who are both sexy and attractive. These women are someone to look up to and each of their lives serves great inspiration for all the aspiring and young bodybuilders!