People in India rely heavily on two-wheelers as a mode of transport within the city. They offer multiple benefits like convenience, hassle-free parking, and help save time. Increasingly, individuals are now opting for two-wheelers – this particularly holds true in cities high in automobile congestion and traffic. Along with their benefits, two-wheelers also come with a set of risks and problems. One of the major disadvantages of a bike is the number of accidents we see. The statistics regarding bike accidents and damage to automobiles are alarming – leading to a need for protection and safeguarding against damages.
A recommended way to prepare and mitigate damages incurred would be with the help of  two-wheeler insurance. Any sort of damage to the rider, pillion rider, two-wheeler, or a third party can become a huge financial burden. If you buy two wheeler insurance, this burden can be reduced significantly, depending on the policy you have invested in.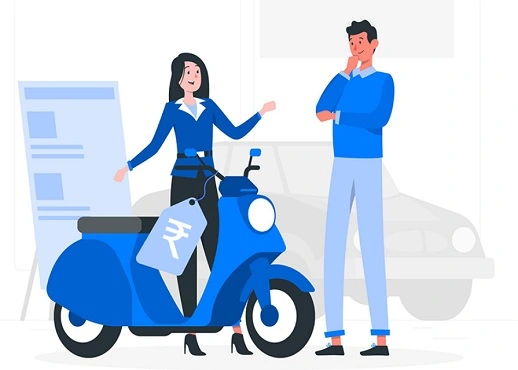 Some of the important reasons why you should opt for two-wheeler insurance are:
1. Government rules – According to the Motor Vehicles Act, if you have bought a new bike, it is mandatory for you to purchase insurance for it. Every bike owner is expected to have at least a basic insurance policy that will safeguard their property according to Indian law. The regulations state that you should have at least a third-party liability insurance policy that will cover any damage to a third party in case of an accident.
2. Reduction of financial burden – The condition of Indian roads in multiple cities is not optimal. Potholes, manholes, construction on the road, etc have increased leading to more accidents. Moreover, cases of rash driving, not following the rules, by not wearing helmets, etc have contributed to far more critical damages to the people and the automobile. These accidents can inflict a severe financial cost. Repairing the vehicle, treating the injuries, and paying third parties is a draining thought. If you buy 2 wheeler insurance online, the repair and other expenses can be taken care of by the premium in your policy, thus significantly reducing the hole in your pocket.
3. Protection against other issues – Not only accidents but insurance policies can also cover the damages that you may have to face due to other issues like vandalism, theft, natural disasters, acts of terrorism, etc. You will be able to get your vehicle back on the road as fast as possible as you do not have to worry about incurring these expenses. Reduce your mental stress in case of an emergency by having a plan in place.
4. Wide types of coverage – Browse through the different insurance policies offered by various companies in India and get an idea of the types of policies and packages they are offering. You will be able to mitigate any damages to a great extent if you choose a package that is holistic and helps you prepare for unforeseen circumstances. Personal accident coverage, third-party liability coverage, comprehensive coverage package, etc are some of the options. Certain policies also give you additional benefits like roadside assistance, coverage for pillion riders, etc.
5. Mental peace – Knowing that emergencies, accidents come without prior warning can create mental discomfort. Having to deal with any injuries, payments, repairs, etc can only make matters worse. Therefore, having a secure insurance policy in place will also go a long way in reducing your mental stress as you know that you are safeguarded in case of emergencies. Without an insurance policy, another stressor could be having to figure out all the further procedures by yourself. Most insurance companies have tie-ups with a network of hospitals or garages – this feature can play a huge role in making the steps that need to be followed less taxing. Reduce your stress by not having to worry about major financial and logistical implications.
Investing in two-wheeler insurance is mandatory by Indian law for a reason. It provides protection and coverage on multiple different fronts making your lives as stress-free as possible. It is important to keep in mind that specific coverage policies, insurance terms, and conditions may vary depending on the premium package you choose and the region in which you reside. It is always recommended to carefully read the policy documents and consult with respective insurance professionals to understand the coverage provided by your two-wheeler insurance policy. Choose renowned and reliable agencies to assist you during situations of duress and emergencies and leave the experts to handle the procedures for you.