There is a saying that marriages are made in heaven, and some Bollywood couples have made it prominent through their strong bonding that eventually made their relationships able to stand the test of time. Here is a list of some Bollywood marriages which have set an example in the era of short marriage spans. Let's have a look-
11. Javed Akhtar and Shabana Azmi
This couple considers themselves as friends more than a married couple due to their understanding of each other. Shabana Azmi is Javed's second wife, and Javed married got to Shabana when he was already married with his only son Farhan Akhtar at that time. Javed and Shabana married in 1984, and both are now leading 32 years of happy married life together.
10. Dilip Kumar and Saira Banu
Most probably, this is the longest standing Bollywood couple among other B-town celebrities. When Saira Banu was just only 12 years old, she started falling for charming Dilip Kumar. At that time, Dilip Kumar was one of the rising actors and Saira too was able to attract popularity with her innocent looks. At the peak of their career, the couple married. Since then, they have completed 46 years of their married life without any tantrums.
9. Amitabh Bachchan and Jaya Bachchan
When the "feeling loved" to "falling in love" creates the buzz in both of the in reel life and real life, this is the couple who would strike your mind first. Even, this golden couple never has to imitate being in love for each other on the screen; they feel it for each other naturally. During the making of film Sholay, both of the lovebirds came together and during the shooting of Zanjeer the feel for each other. Dating back to 1973, Amitabh Bachchan married to Jaya Bhaduri keeping a small gathering. Though, there were a lot of rumors that Amitabh was dating Rekha at his early years in Industry but Jaya put a lot of effort which let their marriage work and keeps it blossoming with 40 years of togetherness.
8. Rishi Kapoor and Neetu Singh
The bond between Rishi and Neetu denotes the couple who did their love work through their marriage during their times in Bollywood industry. At that time this marriage raised a huge storm by breaking a number of hearts, as both Neetu and Rishi were the heartthrobs during their times. Even, numbers of media geeks stated that this marriage wouldn't work more than 2 years. However, leaving all the bad words behind, the couple managed to prove everybody wrong.
7. Dharmendra and Hema Malini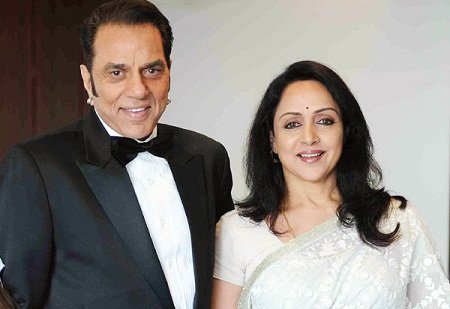 This evergreen couple set the example one again that the love agrees to no boundaries. Superstar Dharmendra fell in love for Hema Malini. On the sets of Tumsa Haseen Main Jawan, they both fell for each other.  Though, Dharmendra was already married with sons (Sunny and Bobby), it took time, but their love and commitment to each other let them marry each other in 1980.
6. Boney Kapoor and Sridevi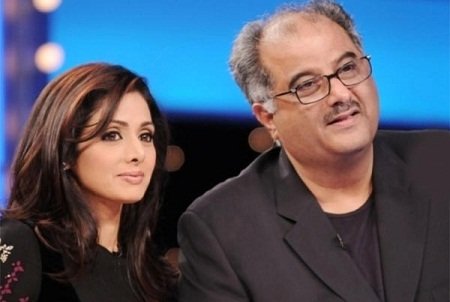 Sridevi was a southern charm and one of the top actresses during her time, i.e., early 90's. With the killer looks and jaw-dropping acting, she managed to attract a lot of eyes. This is when Boney Kapoor met Sridevi and fell for her in their first fight. He kept putting his effort for 15 years before hearing "yes" from his dream girl. Though, Boney Kapoor was already married having 2 kids, they both managed to last their marriage almost 16 years and now have two daughters from their marriage.
5. Shah Rukh Khan and Gauri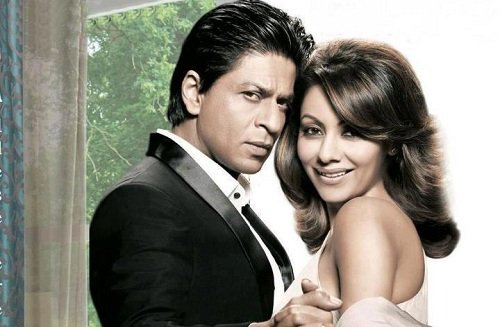 This Bollywood couple proved the love agrees to no bounds, whether it's age, nation or race. The Muslim boy Shah Rukh Khan fell for Hindu Girl Gauri Khan and rest what they set, is known to all. After 6 years of their closeness, Shahrukh faced a strong hindrance from girl's family, which he managed to fade by his charm. After both of their family's consent Shah Rukh and Gauri had a fairy tale marriage in 1991.
4. Akshay Kumar and Twinkle Khanna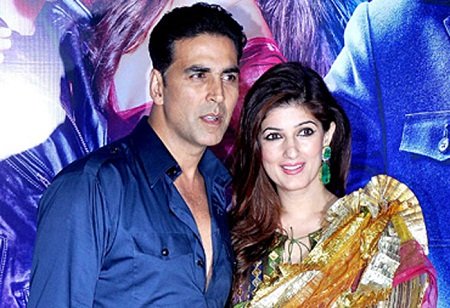 It was January 17, 2001, when this golden couple tied knot. Akshay posted a cute picture giving a heart melting caption to read on their marriage anniversary for his Mrs. Funny Bones. Twinkle is known as Mrs. Funny Bones, after the popular pen name, with which she writes her blog for times of India. Their bond had 13 years of successful marriage life and stood against the taste of time.
3. Ajay Devgn and Kajol
The saying "opposite attracts" got prominent through their relationship. In this relationship, Ajay was completely introvert, and Kajol got a total extrovert and cheerful personality. In 1999 Kajol and Ajay married giving a surprise to the entire nation. It's been 15 years when both of them are charming with their happy marriage life having two beautiful kids (Nysa and Yug).
2. Sunil Shetty and Mana Kadri
It was a party, where Sunil Shetty met her better half. At that time Mana was just 17. Since then the duo started dating each other, and after the 9 years of resistible commitment to each other, the couple tied knot in 1991. While Mana is a Muslim, Sunil Shetty is a South Indian.
1. Anil Kapoor and Sunita
During Anil Kapoor's initial days, Anil has no means to contact Sunita than her contact number. Both of them fell for each other when they started talking over the phone. Once in the evening in 1980, they met each other for their official date and guess what, Sunita said yes upon Anil's proposal. The duo got married on May 19, 1984.