Dubai fascinates globetrotters. How a simple fishing desert settlement became a megacity is beyond anyone's comprehension. One of many explanation is that it did not want to become another desert landscape in the Middle East. Dubai's grit and vision have enabled it to rise above the odds and become one of the world's most recognized cities.  When Middle East holidays are mentioned, every traveller thinks of Dubai. In fact, the UAE visa is commonly referred to as the Dubai visa. Dubai persists with its grit and delights its visitors with its uniqueness year after year. However, many tourists are overwhelmed by the multitude of attractions and experiences Dubai has to offer. To help you decide how to spend a couple of days in Dubai, here is a short guide on what to see and do. Read on to know more.
View the cityscapes from a bird's eye view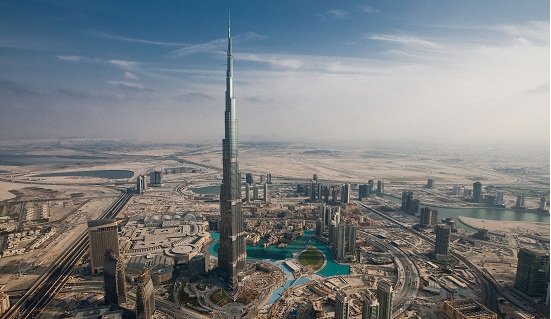 Dubai looks phenomenal and you will be in awe of Dubai the moment you step foot in it. Nonetheless, Dubai's city skyline is best viewed from above. Aerial views of Dubai offer a more expansive view of Dubai's gorgeous vistas as far as the eye can see. One of the best vantage points to enjoy a bird's eye view is from the 124th level of Burj Khalifa – the tallest tower in the world. Ain Dubai offers unparalleled views of Dubai city and the Persian Gulf from various angles as you take a 40-minute trip on the world's tallest observation wheel. At Dubai Frame, you get a glimpse of Dubai's past remnants and the thriving and ever-modifying city skyline of modern Dubai. Dubai's skyline may also be admired from the air with flight tours. In addition, if you feel adventurous, you can dive down a plane at Palm Jumeirah on a skydiving trip and feel the rush of adrenaline and exhilaration while taking in the breathtaking panorama of Palm Jumeirah.
Take a serene Dubai cruise
A cruise on Dubai Creek, Dubai Canal, or Dubai Marina is another wonderful way to take in Dubai's city skyline. Each spot captures a different image of Dubai and will serve as a beautiful memory of your Dubai trip. The Dubai Creek cruise shows you the humbleness of Dubai in its Bedouin era. Nevertheless, the Dubai Marina cruise reveals the sophistication and ostentation of modern Dubai. A cruise around the newly opened Dubai Canal illustrates Dubai's ever-increasing ambition to be the best metropolis in the world. There are also options on what type of cruise you would like to experience. Dhow cruises – traditional wooden sailing ships in the UAE – are often the most desired choice for a cruise in Dubai. The experience is enhanced by superb entertainment and a sumptuous dinner.
Go on a shopping spree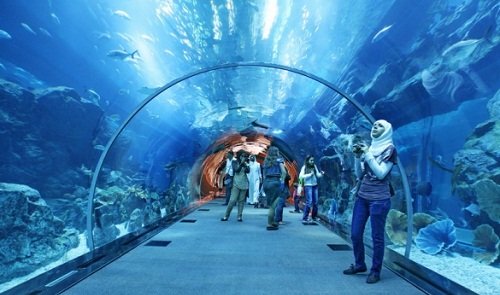 In Dubai, there is no shortage of shopping options and there is no way you can resist the urge to go shopping. A multitude of malls like Ibn Battuta Mall, Dubai Mall, and The Mall of the Emirates are available for your shopping pleasure. In addition to being a shopping mall, the Dubai Mall is itself an attraction. Besides shopping from a variety of high-end brands and labels, you can also explore the underwater world with Dubai Aquarium tickets. In addition to being a huge shopping mall, it features an ice rink, multiplex, go-karting tracks, and a virtual reality gaming zone. A great place to go for budget shopping in the emirate is the Dubai Souk; the traditional bazaar of Dubai.
Explore the food scene
For a foodie, Dubai is a haven offering eclectic cuisine. Dubai has some of the best restaurants and food chains in the world. In Dubai, you can discover Arabian cuisine and Middle Eastern delights, as well as cuisines from around the world. Fancy a French, Italian, or Oriental meal? You name it and you can satiate your taste buds at some of the finest restaurants catering to these cuisines. Dubai also has a wonderful afternoon tea and brunch scene and you can opt for those as well as experience refined hospitality and service with tours to Al Bayt at the Palace Downtown Dubai, Raffles Salon at Raffles Dubai, and Sahn Eddar at the Burj Al Arab Jumeirah. No time or money for haute cuisine? Explore the streets and shopping arenas for tasty local food and lip-smacking delicacies. Some of the best places to check out are Al Mateena and Muraqqabat Streets, Meena Bazaar, Sheikh Zayed Road, Downtown Dubai, and the streets lining the Dubai Creek. If you are visiting Dubai during the cooler months, check out Global Village for an array of cuisine from over 100 nations.
Venture beyond the modern city
Dubai city hypnotizes you with shimmer and suaveness. Break the trance and venture beyond the city borders where you get a breath of fresh air away from the maddening vibes of modernity. The Dubai desert safari and Hatta Wadi Hub are two wonderful excursions you can take from Dubai to get away from the city vibe and see what the real Dubai was before it became a megacity. On a desert safari, you can go dune-bashing, camel riding, and quad biking on the vast expanses of golden dunes. A trip to Hatta Wadi Hub, on the other hand, takes you to a rugged terrain filled with stunning views.
Discover  wondrous attractions
It is common for Dubai to add landmark architecture with pioneering engineering every couple of years. The last thing you want to do is miss some iconic attractions in Dubai. Your Dubai itinerary will undoubtedly include a visit to the Burj Khalifa. See the past, present, and future of Dubai at Dubai Frame. Take a step further and see what the future holds for the world at the iconic Museum of the Future. Soothe your soul with refreshing performances from two spectacularly gracious water fountains – the Dubai Fountain and Palm Fountains. Dubai Miracle Garden is also a must-see – a seasonal attraction filled with millions of flower blooms that will leave you in awe, as to how a desert city can produce such natural beauty. You have to see it for yourself to believe it.
Conclusion
It is impossible to imagine any other place on earth offering experiences like those offered by Dubai. Additionally, Dubai's reputation as a popular pit stop for international flights as well as its easy application process for a Dubai tourist visa online makes it a convenient destination to plan a vacation and execute it without hassle. This list of things to do in Dubai enables you to enjoy the best of what the city has to offer while you are there, ensuring you do not miss out on anything in this stunning emirate.