About a century ago or half, singing was by default, meant for sons and daughters of persons who were already voice maestros. However, much has changed in all these years. Now if you have a knack for the musical notes and the passion to follow them, limits are beyond skies.
With increasing number of singing competition reality shows, now you don't need to break mountains to reach where you want to. These shows and series offer are a well-off chance for budding singers, composers and musicians to highlight their talent and bring it to limelight.
Following is a list of the Top 10 singing competition shows on Indian Television, for Number 1 scroll down to bottom.
10. India's Raw Star
To be Aired on: LifeOK
Though just one season old, India's Raw Star quickly became one of the top famed music shows in India, especially after featuring a Grand opening ceremony by singer-rapper YoYo Honey Singh, who was also the judge in Season 1. Show's second season was planned to hit anywhere between August to September 2016, however, it was postponed due to some schedule issues. Season 2 will probably feature Shraddha Kapoor along with hitmaker Ariit Singh, as confirmed by DNA.
9. Rising Star India
To Be Aired on: Colors
With all its boom and zoom, this show is much awaited by audience of all ages alike. The show is expected to go live in first quarter of 2017. Rising Star India is the Indian extension of a popular international musical show called Rising Star that is based on Israeli singing contest Hakokhav Haba. Being a high profile music show, it features celebrity experts as judges including Shankar Mahadevan, Monali Thakur and Diljit Dosanjh.
8. The Stage
Airs On: Colors Infinity
The Stage is the first ever Indian music reality show that featured English songs sung by the participants. Sharvi Yadav, the winner of Season 2 of the show said her entire personality was transformed during the show. The musical competition showcased Ehsaan Noorani, Monica Dogra, Vishal Dadlani and Devraj Sanyal in the esteemed panel of judges.
7. Voice Of Punjab
 Airs on: PTC Punjabi
Launched in 2010, Voice of Punjab is a famous singing reality show in which some of the best singers from Punjab and Haryana participate and compete with each other. Since its launch, the show has successfully completed 6 seasons and the 7th one is in run, being judged by Jazzy B. According to show's concept, two winners are announced, one boy and one girl. Both the winners get a chance to record a music album.
6. Padutha Theeyaga
Airs on: ETV Telugu
Padutha Theeyaga is perhaps the first ever musical reality show in South India that set itself in motion in 1996. It was launched with a purpose of discovering best singing talent in Andhra Pradesh and Telangana. So far, the show has aired over 400 episodes and nearly 11 series. Among various eminent personalities from the South, the contestants are judged by Award winner S.P. Balasubrahmanyam.
5. Airtel Super Singer
Airs on: Vijay TV
Sponsored by Bharti Airtel, Airtel Super Singer is a popular Tamil singing competition aimed at hunting best playback recording voice in Tamil Nadu. Its first season was premiered in 2007 and hosted by super-singer Chinmayi. Winners of the competition have reported to get a boost in their singing career by landing directly in recordings with composers like A.R. Rahmanand D. Imman. Another version of the show is Airtel Super Singer Junior, in which participants are from the age group of 6 years to 14 years.
4. Dil Hai Hindustani
Airs on: Star Plus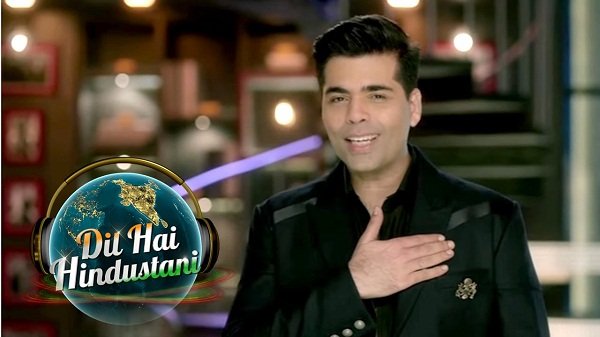 True to its name,Dil Hai Hindustani is truly a pioneer of Hindi music amidst hundreds of musical shows airing on Indian television. This is the reason the show, in a little time span has wooed millions of Hindustani hearts, as indicated by its TRPs. What makes this show stand out is that the participants are handpicked not just from India but worldwide and that too without any restriction on the performance;be it solo, duet or group. Besides, the panel of judges consisting of Karan Johar, Shalmali Kholgade, Shekhar Ravijani and Badshah gives an unmatchable composition to the show.
3. The Voice India
 Airs on:&tv
Much frenzy is on board with the news of recreated version of oldie hit 'Roop Tera Mastana' by Benny Dayal on the show. Based on one of the versions of a program created by John de Mol, a big Dutch business tycoon, The Voice India is one of the highest viewed reality shows on Indian television. The ongoing season 2 is judged by Benny Dayal, Shaan, Neeti Mohan and Master Saleem.
2. Sa Re Ga Ma Pa L'il Champs
 Airs on: Zee TV
Being a sub-version of the oldest musical sensation Sa Re Ga Ma Pa series, this L'il Champs also feature state-of-the-art connoisseurship in every musical note. The show started back in 1995 and has been hosted by many popular voices like Amaan Ali Khan, Ayaan Ali Khan, Shaan, Sonu Nigam, Javed Ali and Aditya Narayan. However, the competition for young teens has been launched in 2006.
1. Indian Idol
Airs on: Sony Entertainment Television
No wonder, these days weekend to most of Indian families mean hooking up to Sony TV with their eyes (and ears!) glued to their television sets with the mesmerising voices singing in this epic Singing show called Indian Idol. Past its 8 seasons, this 9th season of the show experiences same judges trio that was when the show started years ago. And how can we forget the humming tunes of 'Mohabbatein Lutaunga' sung by its first winner Abhijeet Sawant.