Well, summer's here, and the rising heat these days is not showing any signs of slowing down anytime soon. And what's better to cool your mind and body down than a chilled glass of sharbat? In India, Sharbat isn't just another sweet generic drink, it is seen as a remedy to cool down your body, quite literally. And if you are an Indian resident but still don't know anything about sharbat, you must be living under a rock for a very long time.
Let's say you do know about this amazing drink, but the thing is, there are literally dozens of brands that you can opt for. So the main question is, which Sharbat brand should you choose or trust? Well, that is what today's post is all about. Here, we will be taking a look at the top 10 best sharbat brands that are quite literally the best of the best. So let's get down to this list without further ado.
List of Top Sharbat Brands In India
1. Hamdard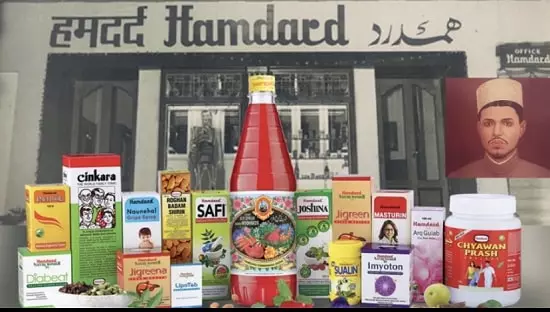 First up is the brand that has been ruling this particular segment of the market for a century now. We are talking about the Hamdard brand, the brand behind Rooh Afza. Hakeem Hafiz Abdul Majeed was the man behind the incredible formula of Rooh Afza. He started his business in 1906, and after making quite a name in Delhi, Hamdard became a phenomenon all over India. The sharbat formulas offered by the Hamdard brand aren't just typical sweet sharbat, they are actually the Unani medicinal formulas to cure a lot of things and give relief to the body when it is scorchingly hot outside.
2. Patanjali
After getting a pretty good start in 2006, Patanjali soon became a recognizable Indian multinational conglomerate company. Currently, this brand/company is known for its superb Ayurvedic products which are affordable options as well. Patanjali sharbat syrups are also becoming more and more popular these days. Since the brand's image in India is of an Ayurvedic Medicinal brand, that's why people prefer their sharbat over other brands. Patanjali offers many flavors of Sharbat syrups in India, and they have kept the prices way too competitive, and that is another reason why many people prefer Patanjali Sharbat. However, among all the other flavors, the Patanjali Gulab sharbat is the most favorite in India.
3. Baidyanath
The Baidyanath brand revolves around Ayurvedic formulas and remedies, and this brand is all about offering these formulas and remedies to people in the purest form. And in this segment, in our opinion, there is no other brand that can compete with Baidyaanth. Since sharbat is also known as an ayurvedic remedy, that's why Baidyanath also provides sharbat syrups. However, in comparison to the other brands mentioned previously, you may not like the aroma or taste of Baidyanath, but these sharbat formulas are the most effective ones in India right now.
4. Dabur
Dabur is this multinational FMCG company, which along with any other consumer goods or products, also offers Sharbat syrups in India as well. The most popular sharbat by Dabut is the Sharbat-e-Azam. This sharbat syrup isn't just a normal one, you get a tasty formula that comes in many extracts or flavors like rosewater, mint, basil, apple, etc. According to Dabur, they use various medicinal herbs and fruit/vegetable extracts to make the concentrated formula, which is sold to you as a final product. And because of many medicinal herbs, you can easily drink or consume this sharbat every day if you want.
5. Haldiram's
Many people don't know this, but Haldiram's also sells packaged food items all across India. And other than just sweets or snacks, they also sell a lot of other products, including sharbat in many different flavors. In many big cities, you can also find Haldiram's restaurants as well, where you can eat food and enjoy beverages. And if you want, you can taste their sharbat there before buying their sharbat syrup.
6. SGR 777 Foods
Now, you may think of 777 brands as some generic company that was just started a few years ago, but no, its history dates back to 1933. However, it was actually in 1954 when the brand 777 actually started selling packaged food to the general public. And among all the other items this brand sells, their sharbat does stand out. You can get various naturally flavored sharbat from SGR 777 Foods, which aren't really highly concentrated, which is why people prefer their sharbat over the others. Making the sharbat drink is super easy with SGR 777 sharbat syrups, just add cold water, squeeze a lemon, add sugar only if you like, and there you have it.
7. Krishna's Herbal & Ayurveda
Krishan's Herbal & Ayurveda isn't as popular a brand as the other ones listed on our post today, but still, we have included it. And the only reason behind that is when it comes to pure Ayurvedic sharbat concentrates, there aren't many brands that sell pure ones, there are always some additives and other things mixed up in the final product. But that's not the case with Krishan's Herbal & Ayurvedic sharbat. This is one of the prime selling points of this brand. According to the brand itself, you can drink their sharbat every day and it can help improve digestion, boost immunity, and balance up the metabolism.
8. Mapro
Just like Dabur, and Hamdard brands, Mapro is also a brand with a rich history dating back to 1959. You may have seen or bought Mapro's fruit jams, beverages, crushes, snacks, or similar food products before. But did you know they also sell some really good sharbat syrups in India? Particularly the all-time famous rose sharbat or theirs is making quite a wave in India. Just stir up some rose sharbat syrup in chilled water or milk, drink it and you'll be feeling refreshed in no time.
9. Gulabs
Did you know that the famous Gulabs brand was a brainchild of a 15-year-old girl? Now we know her as Gulab Maa, who kickstarted this brand from scratch and brought it to this level. This is one of the few brands that is specifically dedicated to offering the best sharbat formulas in India. Gulabs offer unique flavors like Chilli Khus, Cardamom, Paan, Saunf, etc. However, there are other common flavors also available like Rosewater, Lemon, Jeera, Mint, Kesar, etc.
10. Shreeji Home Products
Last but not least is another famous brand that only specializes in making the best sharbat syrups in the country. We are talking about Shreeji Home Products. This is one of the very first brands to popularize the Kala Khatta flavor in the country. Along with this flavor, you can also get others like Rose, Paan, Orange, Paan, Jeera, etc. Unlike other generic sharbat syrups, Shreeji's sharbat flavors don't require you to add sugar, they are already concentrated and loaded with sweetness. As per the brand's claim, they only use the highest quality ingredients to make these sharbat formulas, that is how you know you are getting the highest quality and tasty sharbat at an affordable price point.
Conclusion
There you have it! Now you know which are the top and best sharbat brands in the Indian market. But if you are still confused about which one to buy, we'd recommend you do a bit of Sharbat hopping. Just buy sharbat syrup or concentrate from some of these brands, use them one after the other, and see which suits your taste and pocket as well.