Top 10+ Best Pasta Brands With Price In India
If you are a fan of Italian food then I am sure you shopping cart is never complete until you sneak in a packet of pasta. What we love best about this form of food is that it is easy to make and healthy too. So, when your child or hubby get those crazy hunger pangs in odd hours of the day or night, the best way to please them is make them a bowl of delicious and saucy pasta.
When it comes to buying pasta you will a wide range of brands to choose from. When some of them are ready to cook, others might take a little extra time.
How To Choose Good Quality Pasta?
When we talk about pasta, the first thing that comes to your mind is Italy. But you need not have to go to Italy to taste the best pasta. You just need to pick the best one when you are looking for pasta. If you have no idea about how to pick the best or good quality pasta, then here are some tips that can help you pick the right one:
One of the simplest things that you can check for is the Made In Italy tag. Yes, you can buy those packs that are made in Italy if you wish to get the real taste of Italian pasta. Just look for these details on the package before you finalize one, and that can be helpful.
The next point that you need to check is the list of ingredients in the pasta that you are picking. The best pasta or the good quality pasta is made using Semolina or Durum Wheat. So, just make sure that the pasta pack that you are picking is made using these two ingredients. These two ingredients are high in protein and hence one of the best options for you. They are easy to digest and also good for your heart as well.
The color of the pasta is another important factor that can help you in making the right choice. Some of them come in transparent colors, while some come in bright colors. If you see that the packet of pasta that you picked is very bright in color, then you should never go for it. It is better to place it back on the shelf. If you are not sure about the color, then it is always good to go with the one that comes in white color. The starch makes the pasta white in color.
The texture of the pasta is another factor that can help you in picking the best pasta. Most of you might pick the one that comes with a smooth texture and even edges. But that is not the right way to pick one. You should always go for pasta that has the right texture and has uneven edges. That will help in retaining the sauce in the pasta, and that adds more taste to it.
The shape of the pasta that you are selecting is also very important. They are available in many different shapes, and each type is suitable for some kind of dish. So, depending on what kind of pasta you are making, you will have to decide the right pasta shape.
The sauce type it is suitable for is also an important factor to keep in mind. You should always make sure that the sauce that you are preparing is perfect for the pasta that you are buying from the supermarket. It is the shape of the pasta that will help you in deciding which is the best option for you. So, check out the details before buying the pasta.
Here are is our list of best pasta brands with price in India.
11. TAK Pasta Grandi, 500g
When you want the high quality pasta TAK Pasta Grandi is a great option. It is a purely vegetarian product and it does not contain any form of maida. It is made from purely natural ingredients. It does not contain any trans fat which means that it is cholesterol free and it can be safely consumed without fearing the risk of health. This pasta can be prepared by adding fresh vegetables sucha s tomato, carrots, beans and capsicum to enhance the taste.
10. Di Martino FARFALLE Pasta
This lip smacking brand of pasta comes from the hose of Di Martino and it boasts a short cut of the hand-made pasta. These are square shaped and they are pinched in the mid to give them a butterfly pattern. The awesome design of the pasta adds to the taste and makes it look scrumptious. You can choose from the wide range of variations of this pasta depending upon your taste and preference. You can add vegetables like cherry tomatoes, basil, mint and even cheese to enhance the taste.
9. Chef's Basket Pasta Box, Cheesy Alfredo
When you want a delicious and healthy mid day meal or an evening snack, Chef's Basket Pasta Box is the perfect choice. It can be cooked in 10 minutes so it's a favorite of moms around the world. You can serve healthy food to your child that is tasty and fulfilling too. Each pack of Chef's Basket Pasta Box contains pasta, sauce and seasonings. The ingredients are 100% pure and natural.
8. Borges Penne Rigate Durum Wheat Pasta
If you are health conscious and always want the best in quality for your family then the Borges Penne Rigate Durum Wheat Pasta is a great choice. This supreme quality pasta is made from 100 percent durum wheat (semolina) which is known to have high protein content. It contains zero trans fat so you don't have the risk of getting high cholesterol by consuming this product. It is made using the prest form of natural products. It makes for a perfect snack, anytime. It is easy to cook and healthy for the entire family. Add lots of fresh vegetables to increase the overall value of the product and for extra flavor you may use olive oil for cooking.
7. Disano Elbow Durum Wheat Pasta
The elbows pasta are perhaps the best of all and quite convenient to cook too. They take less time to boil and get ready to cook. This is a product of Spain and it is made from the most handpicked ingredients to give you the taste of Italy right here. This is a purely vegetarian food and the shelf life of the pasta is 730 days.
6. Yippee Tricol Pasta Creamcorn 70g
What we really love about Yippee Tricol Pasta is of course its multi color styling. It is not only delicious to eat. Besides tantalizing your taste buds, they also look really amazing. This is a ready to cook pasta that contains natural colors derived from pure and real veggies. It is the perfect healthy snack for little ones when they are hungry at odd hours of the day. It comprises of an amazing blend of wheat and delicious natural veggies. You cannot beat this incredible pasta in taste and looks.
5. Weikfield Penne Pasta, 500g
This pasta comes from the house of Weikfield, one of the popular food brands in India. The pasta is made from high protein durum wheat. It is purely vegetarian and does not contain fat so there's no risk of getting cholesterol. If you are health conscious then this light and healthy snack will help you stay in shape. Instead of munching on unhealthy fried an oily food, make it a habit to enjoy the Weikfield Penne Pasta. You can add fresh vegetables and sauces to further enhance the taste and aroma of the pasta. Cook it in your style and give your family a truly delectable Italian treat.
4. Disano Fusilli Durum Wheat Pasta
Disano Fusilli Durum Wheat Pasta comes from the house of Disano, a brand that has become popular in India for its amazing range of food. This is a product of spain and you can feel the international quality as you boil these luscious and delectable pasta. You may add your choice of vegetables (tomato, capsicum, beans, carrot), sauce and cheese to make your pasta more delicious to taste. This is a completely vegetarian dish and it has a shelf life of 730 days.
3. Sunfeast Pasta Cheese, 70 g

If you want to taste the Indian version of pasta then check out Sunfeast Pasta Cheese. This is an instant, ready to cook pasta that can be prepared within minutes. You can serve it within a matter of minutes and enjoy a hot bowl of delicious pasta. This product is made from the purest and most natural ingredients particularly whole wheat. This is a healthy and delicious snack option for kids and adults too. So, instead of eating oily and friend foods when you feel the hunger cravings at odd hours, try a delicious bowl of pasta and let your senses soak in the pleasure.
2. Gustora Foods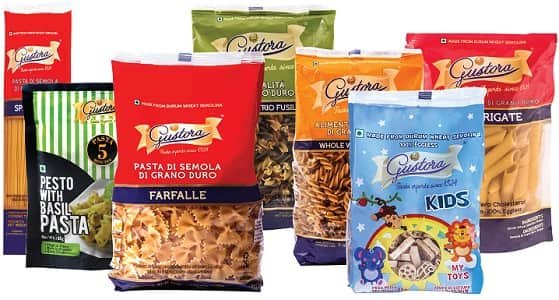 Jointly promoted by Rustichella d'Abruzzo of Italy and the Goyal Group of India, Gustora Foods Pvt Ltd is a fine example of excellence through Italian DNA and Indian know how. The flagship product of Gustora Foods is dry pasta which is made from high-quality durum wheat semolina and is currently available in 11 shapes. Product Innovation is a part of the Company's DNA. The recent launches include Kids Pasta (in 24 varied shapes), Pasta 5 Min, Whole Wheat / Quinoa / Multi Millet / Fortified Pasta & Drinking Pasta Straws. Sensitive to Indian preferences, Gustora's product range is 100% eggless too. Gustora uses pure bronze dies, which gives the pasta desired roughness & texture for perfect sauce absorption. Once extruded, Gustora pasta is slow dried for 18 to 22 hours that ensure the pasta does not break/stick & retains its shape. Slow drying also ensures that Gustora pasta retains all the nutrients & is rich in fibre & protein. All these make Gustora truly an "Artisanal" Pasta Brand!
1. Maggi Pazzta Masala
Who doesn't love maggi? We have all been maggi fans since our childhood and the recent range of Maggi Pazzta Masala has taken that bond a step ahead. Those who love Italian pasta have a new reason to cherish their love for Maggi. You can enjoy a hot bowl Maggi pazzta ready in minutes when you are feeling hungry. It is ready-to-cook and it includes the taste maker. So all you need to do is boil the pasta and add the taste maker to enjoy a delicious treat every time.
That's all from our end in the top 10 best pasta brands with price in India. Stay tuned for more informative articles like this.