When it comes to the safety of babies, parents try to find the best in class product to ensure a comforting use. Needless to mention that the baby care industry is flooded with numerous brands, some of great whereas some are just acceptable. If you particularly look into the baby stroller industry, there are more than thirty brands to choose from.
Luvlap is considerably a leading stroller brand in India with its top-tier build quality, quirky features and affordable price point. Choosing Luvlap strollers seems like an easy option and we are discussing the reasons to choose the Luvlap brand further in this post. As if you are also familiar with this brand and want to choose a stroller from the same, the variety might be confusing.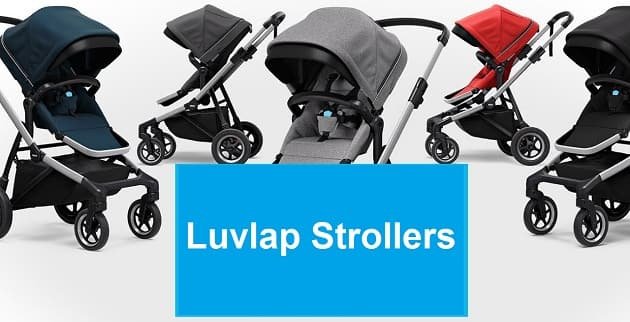 There are more than ten different baby strollers offered by the manufacturer and all of them are offering a great value for money deal. Each product comes in a different price category with a set of features to ensure that you get a quality deal. After testing all the excellent options and learning about their reviews, we picked the top 6 best selling Luvlap strollers in India. Let's get started and learn about the easy to choose options –
Best Buy LuvLap Stroller Reviews
1. LuvLap Sunshine Stroller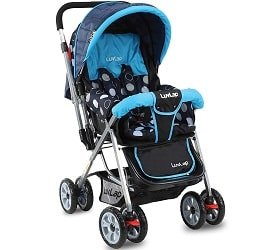 No doubt that the Sunshine stroller from Luvlap is a popular choice among buyers due to a wide number of reasons. The use of aluminium in the manufacturing of this stroller is ensuring lightweight, perfect build quality, easy to assemble, and better usability. There are eight impressive colour options available in the same.
There is a five-point safety harness to make your baby sit comfortably in the position and reduce the chances of falling. The implementation of a reverse handlebar offers better functionality while picking up the stroller and using it in most cases. The seat can recline to three positions and in our use, we found all the claims up to the mark.
The detachable cushions ensure an easy to wash experience in every use. Considering that this stroller comes under a price point of 4,000 rupees, it is a good go choice for most buyers.
Pros –
The brake and wheel locking mechanism enhances the overall use.
The wheels are offering 360˚ rotation for better comfort.
The five-seat harness and three reclining positions help with usability.
You can choose between eight impressive colour options.
Cons –
2. Luvlap Starshine Stroller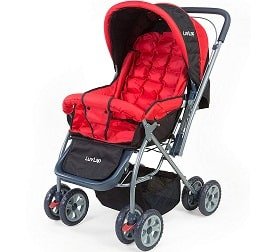 Luvlap is one of the leading brands in the baby stroll industry due to its Luvlap Starshine Stroller. It is a well-designed baby stroller, which has plenty of features. The soft padding is top-notch and offers a comforting experience to the baby. Even on touch and push, the stroller feels reliable. The breathability is making this material highly reliable.
Even on a long sleep of baby in this stroller, the baby will not sweat at all. The experience is going to be comforting in all cases due to the premium build quality. Eventually, the long-term warranty ensures that this is a good go choice. Most buyers find this stroller comfortable due to its safety features also.
The clutch for safety and the shock absorber is going to come in handy. You can lock the wheel at one place and use the brake when you walk at a higher speed.
Pros –
The shock-absorber shockers enhance comfort for the baby.
The stroller is easy to walk with smooth-running wheels.
It folds into a small size for easier storability of the stroller.
It comes with one year of warranty to ensure the best purchase.
Cons –
3. LuvLap Galaxy Stroller
In the premium category of baby strollers, LuvLap Galaxy Stroller might seem like a highly reliable option. This baby stroller is designed perfectly to provide all the safety features along with top-notch comfort to the baby. The primary factor in a quality product is appearance, and you will love the fact that this stroller is available in four premium colour options.
This stroller is European Standard EN 1888 Certified, which ensure that all the safety measures are taken into consideration during the design and manufacturing process. The wheels are heavy-duty to last long and provide a perfect balance. You can fold this stroller into a small size with easy to fold latch.
There are wheels locks, a safety harness, recline mode and many other features that you can find in every Luvlap stroller. However, all the features are better with this stroller so you can have better functionality.
Pros –
Follows the European Standard EN 1888 which ensure safety.
All the necessary safety features like wheel lock, the five-point safety harness is installed.
You can recline the seat to three different positions and get better usability.
There is a looking window in the canopy for the baby to have a better view.
Cons –
Slightly expensive option.
4. LuvLap Joy Stroller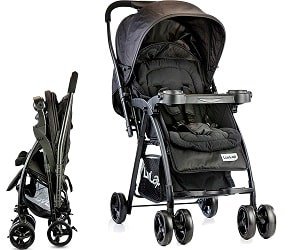 In the mid-range category, you can find LuvLap Joy Stroller. This baby stroller comes with almost every safety feature that you can find in other options available from Luvlap. You are getting a better colour option with this stroller and the overall build quality is also similar. There is a total of six impressive colours that you can choose from.
If you look forward to the key difference, then you can find the difference with wheels. There are sturdy 360˚ rotation wheels that gives you ultimate comfort while taking your baby outside the home. There is a braking mechanism so that you can hold the stroller comfortably on a sloppy road (avoid sloppy roads with strollers).
One more thing, which grabs everyone's grab on this product is the wheel locking mechanism to keep the stroller in one place. Overall, this is a great unit to take into consideration for the price point.
Pros –
You can choose between seven incredible colour options.
The build quality is genuine and the material feels premium.
Cleaning the stroller's cushion and pad is easy by removing them.
You can use the stroller in three reclining positions for a better experience.
Cons –
Require some strong efforts to unform the stroller.
5. LuvLap Tutti Frutti Stroller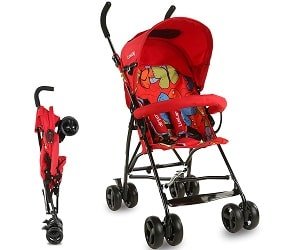 In the affordable price category, there are a bunch of impressive options, but no one is as appealing as LuvLap Tutti Frutti Stroller. This baby stroller comes for a lower price, but still have the same weight of 8 kg, which is similar to a premium baby stroller. The very first thing that you will love about this product is its build quality.
The aluminium pipes are sturdy and feel premium. There is the same type of 360˚ rotation wheels installed in this stroller to provide perfect use. You can carry your baby anywhere with the help of this stroller and without having any problem at all. There are all the necessary safety features also.
You are getting a quality braking system and a wheel lock. The best part is, you are getting five impressive colour options even in this price category.
Pros –
Easy to fold and unfold design.
Comes in five impressive colours.
360˚ front rotation wheels.
A great value for money deal.
Cons –
Cushion padding is slightly difficult to wash.
6. LuvLap City Stroller/Buggy
A baby stroller with all the necessary safety features, an excellent design and a pocket-friendly price point is eye-catchy. Well, the same goes with LuvLap City Stroller/Buggy. This baby stroller is well-designed with perfection to provide all the key features in one place.
In terms of appearance, you can choose between three colour options and all of them look great. This stroller is perfect for babies between the age of 6 months to 36 months. The safety harness and the wheel locking mechanism is ensuring perfect usability over many other options available in the market.
Overall opinion regarding the build and key features fall into the positive category, which can ensure a perfect purchase for every parent.
Pros –
The build quality of this baby stroller is genuine.
The padding is soft and provides extra cushioning.
The overall weight capacity of this stroller is 15 kg.
There are looking window canopy for the comfort of the baby.
Cons –
No major cons were found regarding the key features.
Why choose Luvlap strollers for your babies? – Five Key Reasons
No one can hold the baby in their arms and take him to the park, malls, and streets, strollers are very helpful in this case.
Well, Luvlap a popular brand that provides a wide range of products for baby care, presents very high quality, safe and secure, multipurpose strollers for babies. Luvlap assures that every baby will feel good and love these strollers in the garden and rooftop.
Here are some impressive features are written below which help you to trust and buy the Luvlap strollers easily –
→ 1. Reputation
Luvlap is an excellent brand worldwide that offers a great range of products for newborn babies. This brand is world-famous for the style, safety, and budget of baby care products. Rather than these things, one important factor to trust the brand is, it is an Indian brand. Luvlap brand was established in the year 2013. Now, this brand is widely famous for its quality product and better services, and customer care. Thus, Luvlap is a trustworthy and well-reputed company.
→ 2. Extra features
Luvlap brand manufactures a wide range and variety of products for their customers. They sell buggies, car seats, baby carriers, strollers, travel seats, etc. in the Luvlap stores. All these products have some excellent features in them. The stroller contains handlebars with rubber on them for the comfort of the parents.
There is a cotton canopy that resists the heat more than plastic, a basket that helps take some food and other things for the baby; brakes and locks to slow the stroller in the slope, and for stopping it respectively, and shock absorbers and safety clutches are also provided by the company.
→ 3. Higher build quality
In the manufacturing of baby strollers, Luvlap uses only high-quality materials like stainless steel, soft and non-poisonous plastic, scratchproof and heat resistant rubber, and use pure cotton to soften the sitting area of the stroller for the baby. The brand also takes care of the baby's comfort and safety, so they also use high safety gear. So, this brand is good at providing better-built quality.
→ 4. long term warranty
Warranty is also given by the Luvlap, on most of their products, including the baby stroller. Luvlap offers a 3-month to 3 years warranty on the products. Sometimes brand gives a warranty at the door, which is the wow factor of the Luvlap.
Luvlap is giving such a long-term warranty like three years because they know that their product is highly durable and will not damage easily in any hard condition.
→ 5. Easy to use
Luvlap makes products that are not complicated in the general uses. They know that if they add the typical feature to their product, parents will not able to handle the stroller, so that's why the company adds quirky features to their product, they always regard the easy-to-use factor, which shows the care of the company toward the parents.
Luvlap says that it is most important for the brand to manufacture products that are easy to use, if the use of the stroller is hard, or complicated then everyone cannot be able to use the product of the company. Thus, this is an important factor.
Conclusion
The selection is going to be easier based on the impressive build quality and Luvlap's credibility in the Indian market. Safety features like harness, 360˚ wheels, braking system and wheel locks ensure a quality baby stroller. If you are willing to buy the best in class product, Luvlap is good to go choice for sure.
We hope that you have a great experience while purchasing a baby stroller from Luvlap. In case of any problem or query, you can contact Luvlap customer support at contact@luvlap.com or dial 9821486487 to eradicate all your problems.