Gulkand is this sweet, rose petal jam that doesn't just tickle your taste buds, it's loaded with a treasure trove of health benefits. That makes it a shining star in the Ayurvedic medicine world. But Gulkand isn't just about health, it's kind of a cultural phenomenon in India. India's love for this delectable sweet treat runs deep, it's not just enjoyed straight up, but it also plays a starring role in many of our sweets and desserts.
As people are becoming more conscious of what they're consuming, there's been a surge in demand for the best of the best when it comes to Gulkand brands. But hey, with so many options out there, picking out the best one can get a little tricky. But don't you worry, we've got you covered. We've put together a list of the top 10 Best Gulkand Brands in India to help you out. It's your one-stop shop for finding the ultimate Gulkand, offering the true taste of tradition with the quality you can trust. So let's get down to it without further ado.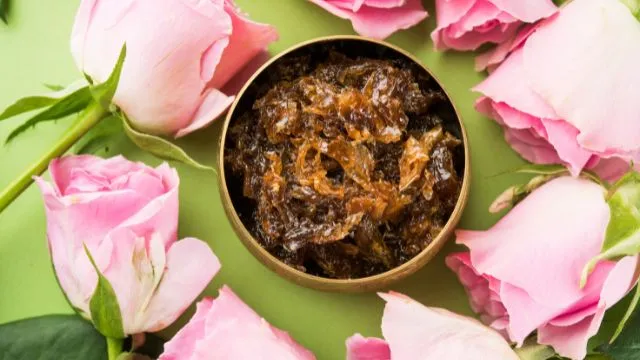 List of Top Gulkand Brands In India
1. Vanalaya
Popping onto the scene in 2017, Vanalaya has been all about dishing out top-notch goods to their quality-loving fab base in India. Their Rose Petal Jam is the crown jewel, a delicious blend of organic rose petals, honey, and sugarcane, leaving your taste buds jazzed and your senses invigorated. Spread it on your morning toast, plop it onto desserts, or jazz up some fresh fruit, it's a guaranteed flavor elevator. The Vanalaya secret sauce? It's their unwavering commitment to pure, top-tier ingredients. With each jar of Rose Petal Jam, they're saying "Hey, we only use the best stuff!"
2. Mr. Gulkand
Next up is Mr. Gulkand, the brand that promises a sensory overload of indulgence and wellness. Savor the authentic flavors that promise a sweet, refreshing ride while treating you to the magic of Gulkand benefits for your skin, hair, and tummy. It's the ancient wonder you never knew you needed! Mr. Gulkand is a legacy of pureness and sweetness. All thanks to the founder who put his heart and soul into crafting this fantastic brand. With Mr. Gulkand, you're not just tasting something, you're embarking on a journey to discover the "DAMASK" Roses' essence, handpicked from the lush lands of Pushkar, Rajasthan.
3. Organic India
Organic India started as a green dream in 1992 and blossomed into a pioneering force in the farming world of Rajasthan, India. Their approach to combat water scarcity and agricultural difficulties was groundbreaking. By promoting organic practices and getting an esteemed certification from Control Union, they're like the "Organic Soldiers". Organic India's core value is simple: delivering 100% organic, dependable, and genuine foods. Their Gulkand is the talk of the town, meticulously crafted with the best organic ingredients, it's a nourishing delight in a jar. Count on Organic India to meet the growing demand for clean, nutrient-dense food, serving up delicious, healthy Gulkand that redefines excellence.
4. Keynote
Keynote, a standout Gulkand brand blending rare global ingredients with a strong commitment to fair trade. Chefs, sweet makers, and cocktail wizards around the world are hooked on Keynote's Gulkand for its unrivaled taste and top-tier quality. What makes Keynote's Gulkand special? It's the addition of Praval Pishti, a natural calcium source offering multiple health benefits. So, with every spoonful, you're not just satisfying your sweet tooth, you're contributing to your health! Plus, there's not a whiff of additives, preservatives, or artificial stuff. Just pure indulgence that's as good for your body as it is for your taste buds.
5. Kapiva
Next up is Kapiva, a celebrated brand that has Ayurvedic masters, nutritionists, and scientists all under one roof. They are all about natural and organic goods, simplifying your search for purity. Their Gulkand is prepared using a unique sun-cooked method that locks in the nutrients to give you nothing but the best. You may be wondering what's in Kapiva's Gulkand. Indian damask roses, organic mishri, and unrefined sugar crystals, a recipe that sings authenticity, all while keeping the taste and quality intact. Kapiva's Gulkand promises a divine flavor experience and a journey of tradition, purity, and wellness with every delicious spoonful.
6. Vediko Origins
This brand's not just about tantalizing taste, but it's got a heart for the environment and farming community too. With an unshakeable belief in organic farming, Vediko Origins isn't just any brand; it's an ally to farmers, guiding them towards healthier and more sustainable farming practices. Vediko Origins doesn't just deliver Gulkand to your doorstep but ensures that every spoonful has been grown with love, care, and a clear conscience. The roses they use are grown organically, free of any harmful chemicals. Therefore their Gulkand that's not only delicious but is also packed with health benefits. It's an all-in-one remedy for digestive issues, heat-related problems, and more.
7. Baidyanath
Next on our list is Baidyanath, a legend in the world of Ayurveda. This company has harnessed the wisdom of this ancient science, providing healthcare solutions that are effective and safe. One of their star products is their Gulkand, made from the choicest Indian Rose Petals, and lovingly prepared using age-old methods. Baidyanath's Gulkand isn't just another sweet treat; it's your personal bodyguard against heat and a calming balm for your mind. What's the secret ingredient? It's Prawal Pishti, which amps up the health benefits.
8. Urban Platter
Urban Platter, established in 2015, has taken the gourmet world by storm. It started off as a curator of unique food experiences and has now become a trusted name with its own line of branded products. And guess what? Their tantalizing Gulkand is one of them! Whether it's a divine Rose Milkshake or an irresistible Paan, Urban Platter's Gulkand adds that magical touch to any culinary creation. The best part? It's as pure as it gets, with only two ingredients, Rose Petals and Sugar, and absolutely no artificial additives. Presented in a chic pouch with a handy zipper, Urban Platter ensures that your Gulkand stays fresh and delicious.
9. Heritage On My Plate
Are you ready to be swept away by Heritage On My Plate, a Gulkand brand that's been creating a stir since its inception in 2010? Balancing tradition with a contemporary twist, they breathe new life into traditional Indian recipes and ingredients. For those of you who love all things organic, Heritage On My Plate's Gulkand is a must-try. Prepared with organic ingredients, their Gulkand is a sensory delight that takes you on a trip down memory lane. The brand ensures the quality and authenticity of its products, making them a beloved choice for Indian cuisine enthusiasts.
10. Sandu Pharmaceuticals
Last on our list is Sandu Pharmaceuticals, aka Sandu Ayurveda, is a name to be reckoned with in India's Ayurvedic healthcare landscape. Committed to making Ayurveda accessible to everyone, Sandu Ayurveda has earned its reputation as a trusted brand. One of their standout products is the Sandu Gulkand. Crafted from organic roses and enriched with Praval Pishti, this Gulkand is a powerhouse of health benefits. From quenching thirst and dealing with heat-related troubles to tackling constipation and other health issues, it's got you covered. But it's not all business, this Gulkand knows how to please the palate too.
Conclusion
So there you have it. Gulkand, with its rich health benefits and its starring role in so many of our favorite treats, has certainly made itself at home in Indian hearts and kitchens. And you can go with any of these brands listed above, and you'll be good for the most part.