Delhi is the capital city of India. Not only that, we know that Delhi provides some of the exotic markets for shopping. It is a shopper's paradise and people from all over the North India flock to Delhi when it comes to shopping. The reason for it is that you can experience shopping from flea market to big malls and from economy stores to luxury boutiques and from shopping arcades to designer stores. When it comes to fashion and style, Delhi has it all.  So we can safely presume that it is the fashion capital of India.
This post is about the Top 15 Best Fashion Designers Boutiques in Delhi. If you are looking for stores and boutiques where you get the perfect tailoring as well as the brand tag, then read it on.
15. MadsamTinzin
Madhuritu Dutta started this venture with her dreamy and unique designs for astute and elegant women. Her label has a substantial presence on online portals as well as the flagship stores are Delhi. She has a great knowledge of fashion and her expertise has also displayed elegant colors on the ramp. Her collections are a tales of their own, the embroidery skills are an inspiration from the various parts of the nation. Modern, classy, contemporary and elegance are synonymous to her designs.
14. Ornate
If you are looking for sarees and lehengas then check out Ornate at the HauzKhas village. This place is nothing short of a dreamy tale for women who want to shop till they drop. You would find the dresses very unique and different. The Indian designer dresses are given a contemporary touch. You would love the elegance and sophistication in the dresses and the best part is that they are not very expensive. People love this place.
13. Qbik
One of the loveliest stores in New Delhi. You can find authentic Indian ethnic dresses for men and women alike. Not only sarees but Anarkalis, Salwar, lehengas for women are available. Also they design dhoti dresses, skirts and sarees. The clothes fall in the expensive price range but are a treat to own. You would look the Nehru Jackets, skirts and dhotis in Qbik.
12. Rahul And Anushka Laul
If there is anyone making use of vibrant colors and embellishments they are Rahul And Anushka Laul. Their collection RAN radiate the global feature with Indian lucidities. The duo has made it large on the ramp. Their collections "God's must be crazy", "God made me FUNKY" and "God's new avatar" has broken all the stereotypes and have been greatly appreciated at the Lakme Fashion Week and India Premiere London Fashion Week. The price range in mid-level and you can find fusion of Indo-western dresses.
11. House Of Blondie
What good dresses be if there are no jewelry and other accessories to team them up. House Of Blondie houses all such add-ons and interestingly they are gathered from around the globe. The USP of this store is the vintage touch that they give to everything. Dresses, accessories, lehengas are amazingly elegant and you would love the bridal wear.
10 Regalia
One of the top boutiques in the capital where you would find high-class designer wears. The lehengas,anarkalis, sarees and gowns are all highly fashionable. Apart from that, you would find exotic and luxurious bridal accessories for Hindu and Christian weddings. The exclusive line of bridal collection and designer clothing are worth the money.
9. White Champa
Powerful and famous label White Champa was founded by Anjana Das. She has been a traveler and she puts all her traveling experience into the clothes she designed. She designs dresses for women who have a sharp fashion sense and those who love experimenting with fashion and have a love for quirky art and rich pastels. The basic motive is to create iconic pieces. You would find amazing handbags, clutches and Kaftans.
8. Purple Jungle
Next time you visit Delhi, make sure you have this store on your travel itinerary. Boho, Indie, home décor and chic travel accessories are housed here. Established by a French couple in HuazKhas area of Delhi, you would find exotic pieces of digital print, accessories, bags and soft toys etc.
7 Niharika Pandey
Niharika Pandey has been a well-known name in the fashion industry. Her talent of designing clothes has been featured in a number of fashion and lifestyle magazines. Also she presented her collection at the Wills Lifestyle India Fashion Week. She has a lot to offer from and you would love the collection of suits, lehangas and Indo Western outfits. The price range is also quite high.
6. Ogaan
Multi-designer boutique in HauzKhas Village of Delhi. Some of the big shots of fashion industry house their collection at Ogaan and that too before it has even reached other stores. This is literally a one stop shop for you if you are looking for khadi, handloom, couture, luxury and bridal wear.
5. House Of Ombre
A smaller designer boutique as compared to the big shots in Delhi but surely it does offer the unique collection which would not be that expensive and yet look exotically gorgeous. The floor length anarkalis are the main attraction of this boutique store.
4. Neeru's – Indian Ethnic
Exquisite designs not only for brides but their families and families to be. It caters to the needs of brides to be, women, men and children. Broad range of clothing line is available and the recently launched Royal Collection is totally true to its name. The shoppers would love the lehengas, sarees, bridal collection and also party wear under one roof.
3. Lola's World
Another famous designer boutique in Delhi's HauzKhas Village is Lola's world. It was founded by Chloe Le Bonnois who was a French adventurer. She named her boutique after her daughter. You would find irresistible varieties of clothing, toys and accessories for children and adults. And for the ones seeking a hint of fashion, you would be able to find delicate chiffon apparels, silk skirts, cotton kurtas, pashmina leggings, trousers, and cardigans.
2. Nappa Dori
Gautam Sinha established India's first boutique and do you know who he was? He was NIFT alumni. Among the first few fashion designers of the Nation, Gautam made it big with his boutique named Nappa Dori. The items that you cannot miss out on are vintage graphics and hand-made fabric prints. The meaning of Nappa Dori actually means Leather and thread. Gautam has been the most talented Indian designer to blend leather and artisanal craftsmanship and then giving it a global touch. Wallets, bags, backpacks, trunks etc. are designed and surely cannot be missed. If you feel that you take all the decisions in an instant then try this place.
1. Shivan And Narresh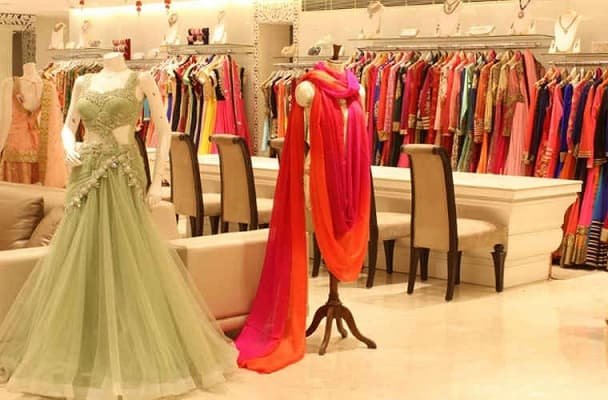 Are you ready to get spoilt? Are you planning for a cruise vacation? Do you love jumping in the pool and sun kissed beached then try Shivan and Narresh. You would love their luxury swimsuits and bikini saree collection and that too in attractive designs. This is the first brand of Indian origin to present their work at Mercedes-Benz Fashion Week. The price ranges from mid-level to higher end.
Conclusion
Okay so lot of choices isn't it? Well there is surely no doubt about why Delhi beng given the Fashion Capital Status. The talent is huge and Delhi houses it all. Check out the HauzKhas area and GK for such exotic designer boutiques. Surely you will drop while you shop.