Over the centuries, people have been obsessed with their skin, regardless of their gender. As you read this, you are also looking for the best skin care product; if so, Aloe Vera is the best option.
Indeed, we find aloe vera in our surroundings. This ingredient is in most women's beauty closets, whether homemade gel, pulp, soap, or cream.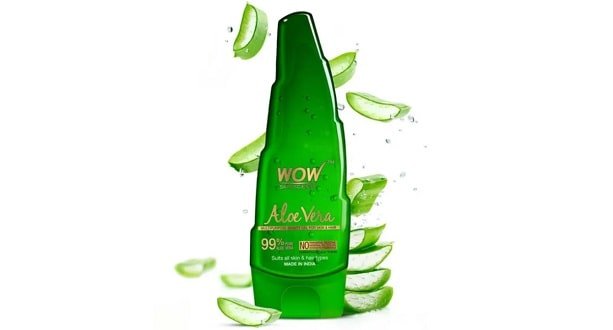 Aloe vera suits every skin type. The market surges with aloe gels, bars, and creams. Some contain pure aloe gel, while others are mixed with different ingredients. While each has its benefits, to help you decide which one to buy, here is a list of the 10 best aloe vera brands.
Why Are Aloe Vera Products Best For The Skin? 
One of the best organic substances for skin care is aloe vera. Aloe vera is well recognized for its bacterial and anti-inflammatory qualities, which help to heal damaged cells and lessen inflammation and redness. Aloe vera also has antioxidants that make the skin seem younger and smoother by shielding it from environmental harm.
Additionally, aloe vera products are gentle on the skin, making them ideal for all skin types, even those with sensitive skin. Therefore, aloe vera gel is the best choice for anyone looking to hydrate, safeguard, and provide their skin with enzymes and other nutrients. The antibacterial and anti-inflammatory properties of aloe vera are well known for healing damaged cells and reducing inflammation and redness.
Aloe vera also contains antioxidants that protect the skin from environmental deterioration and help it look younger and smoother. Aloe vera products are also gentle on skin, making them appropriate for all skin types, including sensitive skin. Therefore, aloe vera products are the best choice for anyone looking to hydrate, safeguard, and improve their skin.
10 best Aloe Vera Skincare products
1. WOW Skin Science
The first and foremost WOW Pure Aloe Vera Gel is the Multipurpose Beauty Gels by Wow. It has nourishing and hydrating qualities that care for your skin and hair. It has many different minerals and vitamins A, C, E, B12, and folic acid.
Their products, which contain aloe vera gel, were carefully packed after being hygienically harvested from mature, firm, and succulent aloe vera leaves to preserve their natural healing and rejuvenating benefits.
2. Himalayan
The regenerating and healing powers of Himalayan aloe vera products are well recognized. Their pure, natural aloe vera gel is created using only the finest leaves. These leaves are then meticulously collected and hygienically packaged to retain their therapeutic properties. Himalayan aloe vera moisturizers are recommended because they are natural and healthy.
3. Mamaearth 
Mamaearth Aloe Vera Gel for Face provides moisture while preserving health and brightness. The best aloe vera gel eliminates the need for reapplication by continuously hydrating the skin all day and night. Their products include all-natural ingredients like aloe vera, cucumber, and witch hazel that are added to the formula and are known to nourish the skin and leave it feeling soft and smooth.
All skin types can use the gel because it is free of harsh chemicals. Aloe vera's cooling and antibacterial qualities also soothe irritation and maintain scalp condition. Finally, vitamin E nourishes the scalp while strengthening and enhancing hair.
4. Urban Botanicals
You will find this aloe vera gel of the highest caliber without unpleasant additives. 99% pure aloe vera, vitamin E, and natural emollients are the main ingredients of Urban Botanicals.
It is an all-arounder that offers tremendous advantages for both hair and skincare. It is entirely safe for kids, as it contains no harmful chemicals. The brand's donation of 1% of sales to the Indian Army is what I like most about it.
5. Pure Roots 
Pure Roots Aloe Vera Cream and Lotion protects and soothes your skin with natural and organic ingredients. While providing a protective layer without being greasy, the lotion's creamy texture hydrates and nourishes the skin. Aloe vera, known for healing skin, is an ingredient in the cream and lotion. With Pureroots Aloe Vera Cream and Lotion, enjoy the best skincare experience ever.
6. Bonsoul  
Bonsoul Pure Aloe Vera Gel for Face Organic is among the finest aloe vera gels, with no artificial fillers or extraneous additives. This product contains 95% pure aloe vera, purified water, xanthan gum (a natural thickener), and malic acid (a fruit-derived preservative).
This gel treats all skin conditions, including wounds, cuts, burns, rough skin, aging, and wrinkles. It hydrates, soothes, heals, and heals. The organic gel is non-sticky and easy to absorb. It is appropriate for the body, face, and hair.
7. Asta Berry 
The natural aloe vera gel is abundant in minerals, vitamins, and antioxidants and is 99% pure aloe vera gel. Aloe vera skin gel is natural and paraben-free. Their products, including the best aloe vera lotions and moisturizers, nourish and cool the skin. Scars, blemishes, and age spots can all be treated. They are suitable for the body and face as well.
After a satisfying sunbath, their products offer high levels of hydration and purity. It provides nutrition for all skin types and adds a natural shine. The anti-inflammatory and antibacterial qualities of aloe vera skin gel prevent acne and enhance skin tone and texture.
8. Plum
Plum Aloe Vera Gel for Face and Hair that is also vegan and fragrance-free is called Hello Aloe Just Gel, along with Rose Flower Extract, Glycerin, and 94% Aloe Leaf Juice Extract. The gel creates a layer of protection on the skin, aids in moisture retention, and speeds up skin healing. Make sure you apply a layer of it before applying makeup to prevent any adverse effects.
9. St. Botanicas
St. Botanica's brand provides aloe vera face wash containing natural ingredients such as avocado, cucumber, butcher's broom, and clary sage extracts. It is safe to use every day since it is refreshing. It promises to make the skin more radiant and guard against wrinkles, age spots, and other signs of aging.
10. Organic
Organic Netra Aloe Vera Gel is USDA-certified organic aloe vera that soothes your skin and leaves it calm and refreshed. This aloe vera gel for face texture is light and non-greasy. It absorbs quickly into the skin and evenly distributes moisture while repairing cracked and dry skin. This gel is fantastic for treating razor bumps and first- and second-degree sunburns since it soothes and speeds up skin tissue regeneration.
Conclusion 
Aloe vera and its variants are extremely helpful in treating sunburns and breakouts. Furthermore, aloe vera has multiple skin advantages beyond its calming properties, and its uses improve above gels and moisturizers for the whole body. It is advised that you experiment with various products made from aloe vera to find the best option for your unique skin type.