CISA, also known as a Certified Information Systems Auditor, is one of the most sought-after certifications in the field of Information technology and Information security (IT/IS).
The CISA certification awarded by Information Systems Audit and Control Association (ISACA) is globally recognized. It provides the edge required in not just IT/IS but also in the cybersecurity domain.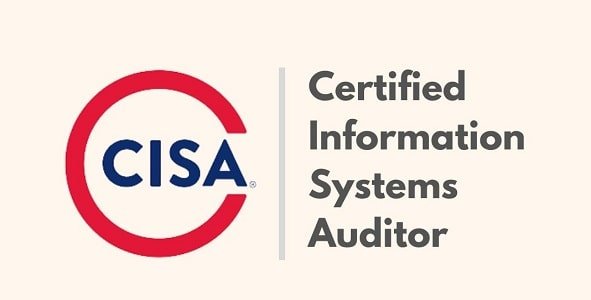 Significance of CISA certification:
To add a CISA certification to your list of credentials fortifies your place in the cybersecurity industry. For example, CISA-certified Auditors can operate as Risk Analysts, Cybersecurity Consultants, Information Security Auditors, IT Managers, and System Analysts.
CISA certs occupy some of the highest-paying positions in the IT/IS field.
According to statistics provided by ISACA, these individuals get a 20% pay boost and a 70% on-the-job improvement.
CISA certification can also improve team efficiency in assessing, controlling, and calibrating systems. In addition, it has helped teams build comprehensive and detailed solutions for companies and enterprises, thus valuing customer insights, thereby improving the market image.
Advantages of being CISA certified:
Enables you to assert expertise and knowledge in the industry and offers a competitive advantage over the non-certified personnel.
Validates your experience with Audits, Control, Risk management, and monitoring a company's information systems.
Professionals with CISA certification can further their careers with new opportunities or grow within their present organization.
According to industry stats, CISA professionals have seen steady growth in job opportunities and a lucrative pay scale.
Steps to get CISA certified:
The very first step in your journey in the certification process will be the exam.
The CISA exam lasts for four hours with an MCQ-based test. In addition, 150 case-study-based questions require in-depth industry knowledge, theoretical and practical.
It is available in 10 languages, including English, Korean, Japanese, Italian, Turkish, French, German, Spanish, Chinese Mandarin – Simplified, Chinese Traditional.
It tests your knowledge based on these work-related topics:
Information Systems Audit Process
IT Governance and Management
Information Systems Acquisitions, Development, and Implementation
Information Systems Operations and Business Resilience
Protection of Information Assets
The gradation of the test occurs on a scale of 200-800. To pass the test, you must score 450 or above (56%).
CISA Certification Costs and Exam Fees
CISA certification cost is as follows:
Exam: 
760 $ (non members)
575 $ (members)
Certification Maintenance: 
85 $ (non member)
45 $ (member)
Certification Application Fee: 
50 $
ISACA Membership:
135 $
Finally, after the exam, you will have to submit your certification application. So, before you begin, make sure you have all of the prerequisites in place.
Eligibility Criteria for Certification:
Applicants should have a minimum of five years of full-time work experience in Auditing, control, and monitoring. However, numerous substitutions can reduce the work experience required by a maximum of three years.
Substitutions and Waivers for Professional Experience Required for Certification:
One year of Auditing, control, and monitoring experience in Information Systems can substitute for one year of full-time work experience.
A Bachelor's or Master's degree from an institute recognized by ISACA can substitute one year of full-time experience.
A Masters degree in Information security of Information technology from an ISACA-approved university can substitute for one year of full-time experience.
Two years of University instructor in IT/IS related fields can substitute one year of full-time experience.
One of the main reasons CISA stands out in all the certification degrees in IT is ISACAs continuing professional education policy (CPE).
This policy ensures that CISCA certified candidates have up-to-date and relevant knowledge in the field of security. In addition, it adheres to the standard Information Systems Auditing policies, including the ISACA code of professional ethics.
These guarantee a standard of skill and proficiency from all the certified candidates.
Preparation Strategies for CISA Certification Exam:
Industry statistics suggest the passing rate can be only 50%. However, due to the application-based nature of the test, it can be seen as complex.
There are multiple courses available online that can help you prepare for the exam. A dedicated few months can benefit you in the long run.
These platforms help you maintain your technological edge over other competitors. Since the exam can be pretty thorough with the questions, meaning practice is crucial.
After registration on the ISACA website, you can pick any time slot in a 12-month period that you find ideal.
Work After CISA certification:
Organizations look for CISA certification for positions like:
Senior IT Auditor
IT Manager
Internal Auditing Manager
Informations System Auditor
Internal Audit Director
Audit Manager
Security Consultant
System Analyst
Cybersecurity Professionals
Companies generally expect candidates to have the skill to run multiple operations, audit or non-audit. With the expanding IT and Data-driven operations in the financial industry, CISA certification is critical. In addition, it puts you on a global radar with other top auditors.
Conclusion:
India is one of the leading nations in IT security and has seen a surge in CISA recruits. Indian Banks give preference to CISA auditors for projects like the Y2K audit. Top recruiters for CISA certs include J.P. Morgan, Accenture, EY, American Express, Deloitte, etc.
CISA certification is a worthwhile investment in your cybersecurity career to boost your skillset and earn an industry-recognized credential to add to your repertoire.