Among dozens of paint brands in the Indian market, Asian Paints and Berger Paints are some of the top brands that stand out from the rest. With a combined market share of over 60%, these brands have solidified their place in the industry as trustworthy and reliable options for homeowners, architects, and contractors alike.
We assume that you must be at the stage where you are finding yourself really confused to pick one brand to go with between Asian Paints and Berger Paints. But don't worry now because, in this informative and in-depth article, we'll explore the similarities and differences between Asian Paints and Berger Paints. We'll take a look at different aspects of these giant paint brands in India, and what actually makes the leaders in this specific industry. Therefore it is safe to say that by the end of this article, you'll have a better understanding of which brand might be the best fit for your needs and preferences. So let's get going now.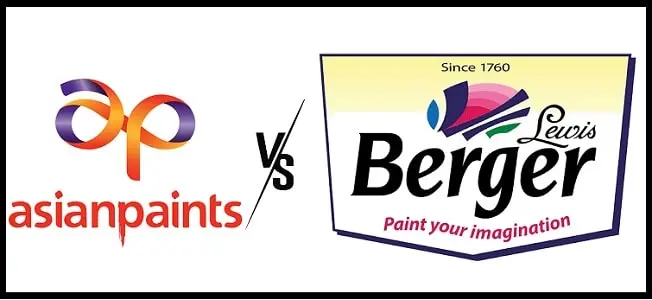 Brand Background
Asian Paints was founded back in 1942 by a group of visionary entrepreneurs, Champaklal Choksey, Chimanlal Choksi, Suryakant Dani, and Arvind Vakil. Initially, they focused on manufacturing and selling industrial coatings. But later in the 1950s, they entered the decorative paints market and quickly became a household name. Today, Asian Paints is the largest paint company in India and has a strong presence in over 20 countries across the globe. Berger Paints, on the other hand, has a slightly longer history. It was established in 1923 by a gentleman named Lewis Berger. From humble beginnings as a small paint shop in Kolkata, the company gradually expanded its operations to become one of the leading paint manufacturers in India. Known for its innovation and customer-centric approach, Berger Paints has firmly established itself in the Indian paint industry.
Range Of Products
Asian Paints and Berger Paints both offer a diverse range of products to cater to your painting needs, whether it's for interior or exterior walls, wood, metal, or waterproofing solutions. When it comes to quality and features, both brands have their unique strengths. Asian Paints is known for providing an unbeatable finish, superior coverage, and long-lasting durability, while Berger Paints takes pride in its quick-drying properties, stain resistance, and weather-resistant products. Additionally, both brands offer different finishes, from matte to high-gloss, to suit various preferences and applications.
Regarding availability and pricing, you can easily find both brands' products through their wide network of dealers and distributors spread throughout India. Although the pricing may vary depending on the region, product type, and quality. But generally, Asian Paints products tend to be pricier compared to Berger Paints products.
Ultimately, both brands offer a broad range of high-quality paints and other related products. Choosing between them will depend on your specific needs and preferences, including the desired finish, application, durability, and affordability. Whatever your choice may be, you can trust that both Asian Paints and Berger Paints provide excellent products that cater to different requirements.
Special Things About The Brands
In recent times, people have started to pay more attention to the impact that various industries have on the environment, and the paint industry is no exception. Fortunately, both Asian Paints and Berger Paints have taken the necessary steps to prioritize sustainability and environment-friendly practices. Asian Paints has made a commitment to becoming carbon-neutral by 2025, and they have implemented several measures to reduce their carbon footprint. They have also released a range of water-based paints that contain low levels of volatile organic compounds and are safe for the environment.
Berger Paints, on the other hand, have launched the Breathe Easy range of eco-friendly paints that contain low levels of VOCs and are safe for the environment. Additionally, they have invested in renewable energy sources and have set a target to reduce their carbon footprint by 30% by 2022.
It's encouraging to see these paint companies taking the initiative to prioritize sustainability and eco-friendliness. By choosing a brand that has made such efforts, consumers can not only make their homes look good but also contribute towards a healthier and more sustainable environment.
Brand Reputation and Customer Reviews
Asian Paints is considered one of the most reliable brands in the Indian paint industry. It has garnered numerous awards and accolades for its quality products and excellent customer service. The brand's reputation is solid, and it is a go-to choice for both homeowners and professionals alike. On the other hand, Berger Paints has built a positive reputation in the market, too. The brand is known for its customer-focused approach and has earned awards for its innovative products and marketing campaigns.
When it comes to customer reviews, both brands have received glowing feedback. Asian Paints customers have raved about the quality, durability, and finish of the brand's products. Similarly, Berger Paints customers have commended the brand for its excellent coverage as well as affordable product options.
Verdict
To sum it all up, both Asian Paints and Berger Paints are well-known brands in the Indian paint industry, each with its own unique advantages and disadvantages. When choosing between the two brands, it's crucial to consider your individual requirements and personal preferences. If you're looking for top-notch quality and durability and are willing to pay a premium price, then Asian Paints might be the ideal choice for you. On the other hand, if you're looking for a more cost-effective alternative without compromising too much on quality thing then Berger Paints may be the better fit. We hope that this comparison has helped you in some way to choose the right paint brand for your paint project.