Amrapali Dubey Wiki, Age, Height, Biography, Net Worth, Boyfriend
Amrapali Dubey is an Indian actress who received a lot of fame after working in Rehna Hai Teri Palkon Ki Chhaon Mein. She later entered Bhojpuri film industry and with that, her popularity grew by many folds.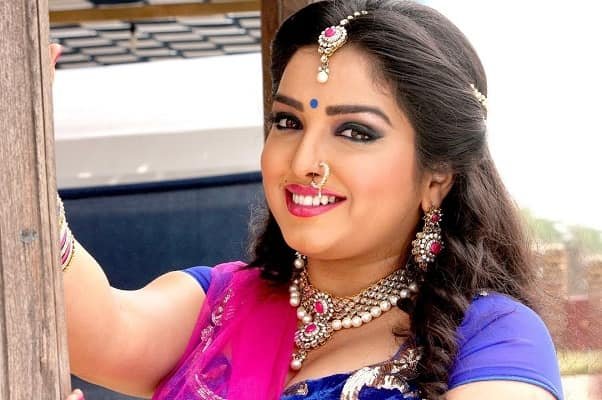 Net Worth
The net worth of Amrapali Dubey is not known
Income Source
The main source of income for Amrapali Dubey is the fee she receives for her work in movies and TV shows. She also receives a major portion of income for singing songs.
Real Name
The real name of this actor is Amrapali Dubey
Date of Birth: 11th January 1987
Age: 32 Years
Height/Weight
Amrapali Dubey has an average height and she is 5 feet and 6 inches tall. In addition to this, she weighs about 60 Kgs.
Marital Status
Amrapali Dubey is presently unmarried.
Personal Background
Talking about the personal background of Amrapali, it is known that she was born in Gorakhpur in Uttar Pradesh. She completed her schooling from Gorakhpur and she later moved to Mumbai for her graduation. She completed her graduation from Bhavan's College in Andheri in Mumbai. There is not much of information available about her family and the name of her parents is not listed on the web.Talking about her personal relationship, she is presently unmarried and as per the information available, she is presently single. As per the information available, she was not very good at studies and hence she had to drop her dream of being a doctor. It was at this time when she decided to be an actress and she certainly got a good start.
Career
Amrapali started her career in 2008 and the first show that she worked in was Saath phere: Saloni Ka Safar. The show was aired on the TV for almost a year but this helped her in getting a platform for her future. In 2009, she was signed for another TV show called Rehna Hai Teri Palkon Ki Chhaon Mein and she was working as the lead actress in this TV show. She portrayed the character of Suman. The same year she worked in another show and the name of the show was Maayka. This show was aired on Zee TV. In 2010, she signed another show called Mera Naam Karegi Roshan. She gained a lot of popularity on the small screen and in the later years, she decided to enter into Bhojpuri film industry. The first Bhojpuri movie she worked in was Nirahua Hindustani and this movie was released in the year 2014. Amrapali is also quite fond of singing and she released two albums until now. The name of these albums is Kanwar Ke Power and Aawa Ae Amrapali Nirahua Rang Dali. It is also known that she received Bhojpuri  International Film Awards in 2015 for her work in Nirahua Hindustani and this was certainly a great motivation for her.
Properties and Cars
The details about Amrapali's cars and properties are not listed.