Watercolor paintings are one of the most delicate and subtle forms of painting, known for their thin washes and transparent colours. This painting process involves mixing pigments with water to create stunning works of art that capture the essence of a subject. Traditionally, watercolor artists work on paper, which can vary in tooth and texture, allowing for unique elements to be incorporated into each painting.  
Although watercolor paintings are often associated with a light and airy feel, they can also be made opaque with the addition of Chinese white.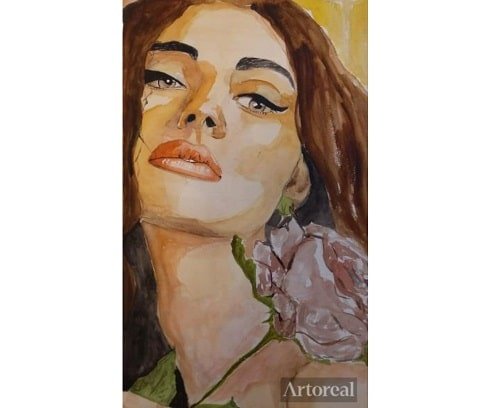 What is the guide to buying watercolor paintings?
Do you love it
?
When it comes to creating watercolor paintings, this rule becomes even more critical. The transparency and fluidity of watercolors demand a certain level of passion and dedication from the artist. Therefore, only by loving this technique can an artist truly unlock its full potential. Even if you have to compromise with your partner or take a moment to reflect on your feelings towards watercolors, always remember that passion is the critical ingredient for any successful artwork. 
Watch your space.
Browsing into an online art gallery with a plan can help you visualize how the piece will fit into your lounge or room. Whether you're looking for a big statement piece to complete a room or something more subtle to serve as the perfect finishing touch, knowing where the artwork will go can help guide your decision-making process. Take time to visualize how the watercolor painting will interact with the other elements in the room and which colors and styles will best suit your aesthetic. With this strategic approach, you're sure to find a piece that perfectly fits your vision. 
When it comes to collecting art, size matters!
 While having a collection of small pieces may be fine, large artwork may pose a challenge. If you already have wall lights in the room, you must ensure that the painting's size fits your space's dimensions. It is always recommended to have a maximum size in mind before purchasing artwork. If you plan on picking up the painting yourself, knowing the largest size that can fit in your car can save you from delivery or shipping costs. If you want to buy a larger piece online, don't worry; many artists offer shipping arrangements for their clients. 
Are they Eye catching?
Watercolor paintings are known for their vibrant and eye-catching use of color. As mentioned, sometimes, our natural liking for a specific color palette comes through effortlessly. Whether you're drawn to bright and bold hues or more subdued tones, watercolor paintings can add that perfect punch of color to any space. And the best part is, they don't have to match perfectly with your existing furniture or wall color. They can be an intentional contrast. Remember to follow fashion trends and go with what speaks to you. Let your taste and creativity shine through with beautiful watercolor paintings that bring joy and life to your home. 
When purchasing art, one can easily get intimidated by the price tag.
This is an excellent opportunity for art enthusiasts to own an original piece, such as watercolor paintings, that is unique and adds character to any space. Don't let the misconception that the art world is only for the wealthy. So deeply research various online art gallery sites, see their prices, and proceed. 
When it comes to watercolor paintings, quality is critical.
 The pigments in the watercolor painting must be strong enough to create vibrant and long-lasting colors. The delicate brushstrokes and subtle colour gradients of watercolor paintings make them a timeless and elegant addition to any art collection. But not all paintings are created equal, and discerning collectors know that quality is key in purchasing. From the choice of paper to the type of paint used, every element of a watercolor painting impacts its overall appearance and durability. So if you're in the market for watercolor paintings, prioritize quality above all else – your collection (and your wallet) will thank you. 
As an art collector or enthusiast, you must be aware of the significance and value of watercolor paintings
.
These delicate and intricate pieces require special care and attention to maintain their beauty for years. When buying watercolor paintings, it is crucial to take extra precautions to ensure they remain in good condition. To begin with, make sure to handle them with clean hands and avoid touching the surface directly. Displaying them away from direct sunlight and moisture-prone areas such as bathrooms or kitchens is also recommended. Additionally, consider framing them with UV-protective glass and acid-free materials. Regular cleaning and maintenance will also help preserve the vibrancy of the colors in your paintings. By implementing these practices, you can rest assured that you are looking after your art investment in the best possible way. 
There's no need to fear being a numpty when buying watercolor paintings
.
 Watercolor paintings are an aesthetically pleasing addition to any space, but purchasing them can be intimidating, especially if you need to familiarize yourself with the process. From researching artists and galleries to negotiating prices, ensure your experience is as smooth and enjoyable as possible if you buy it online. Not only will you be able to appreciate the beauty of the artwork in your home or office, but you'll also have the satisfaction of supporting talented artists in their craft. 
Summary: Artoreal understands the importance of art in adding a touch of personality to our living and working spaces. The platform is a haven for art enthusiasts who appreciate the finest works from emerging artists and photographers. The collection includes some of the most exquisite paintings and photographs that will add colour to your walls. Whether you're a fan of abstract pieces or prefer something more traditional, we have something for everyone. As experts in the field, they use evolved technologies like AR to help you visualize your chosen watercolor paintings on your walls before they are customized and delivered right to your doorstep. They take pride in discovering new talents and sharing their best work on the platform with their clients. With Artoreal, you can count on us to provide you with the finest art collections that will add life to any space.