When you cook your own food, you are sure of what you are putting into whatever you are about to eat. That way, it makes it easier to cut down on fat and calories because,  you have the control over the ingredients you are using. If you are new in the kitchen, it might be overwhelming, but with the best kitchen gadgets, you will be able to experience both healthier and easier time in the kitchen.
Here are our top 20 kitchen gadgets that will make healthy eating or living:
20. Dual Julienne And Vegetable Peeler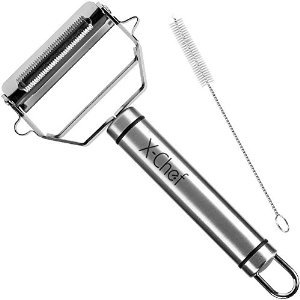 With this gadget, you will be able to peel your vegetables super fast.
19. Reusable Meal Prep Containers
They come in handy when it comes to preparing your lunch and dinner ahead of time and keeping it in the fridge or freezer until when you are hungry.
18. Electric Citrus Juicer
It will enable you to make fresh citrus juice to make a flavorful marinade. You will be able to enjoy fresh orange juice in the morning.
17. Farberware 4 Cup Egg Poacher Skillet
Use this awesome gadget to poach the eggs. It makes the egg poaching easy.
16. 2 Tier Microwave Steamer
This gadget makes steaming in the kitchen a child's play.
15. Collapsible Silicone Measuring Cups
They will save you the drawer space as they come in super fun colors.
14. Food Huggers
With the super gadgets, you will be able to keep your half used vegetables and fruits fresh for quite a long time.
13. Salad Dressing Shaker
With this shaker, you will be in a position to make your own healthy vinegar and oil based dressings. It has an airtight seal which helps it keep longer in the fridge.
12. Handheld Immersion Blender
With the handheld blender, you will be able to cook homemade soup and blend salad dressings and sauces.
11. SaladLunch Box, Tupperware
With the box, you will be able to keep a pre-mixed salad without it going soggy before lunch time.
10. Herb Grinding Mill
It will save you the time to finely chop fresh herbs with a knife.
9. Herb Keeper
If  you can manage to keep the herb fresh, then you will have an amazing flavoring alternative to salt. Keeping the herb fresh is possible with the herb keeper.
8. Egg Separator
With an egg separator, you will be able to separate the egg whites before preparing omelettes and other lighter baked goods.
7. Flavor Fusion Water Bottle
With the flavor fusion water bottle, you will be in a position to make your own delicious flavored water containing fresh ingredients instead of getting the sugary sodas and juices.
6. GreenPan Non Stick Frying Pan
The pan has a nonstick coating which allows you to cook with less fats and oils. It doesn't consist of any harmful chemicals and it doesn't peel or chip.
5. Mini Rice Cooker
This mini rice cooker will be able to prepare your rice and other grains like couscous and quinoa. It comes with a plastic steamer basket where you can use to cook vegetables.
4. 2 Serving George Foreman Grill
This gadget will allow grease to drain out from your food while keeping the flavor intact. It is small in size, thus easy to store on the counter.
3. Magic Bullet
It is a little blender which makes smoothies in the shortest time possible. When it comes to cleaning, you will do it with a  breeze.
2. Oil Mister
With the oil mister, you will be able to keep from going overboard with the oil. Fill it with your customized oil, add spices and fresh herbs.
1. Silicone Steamer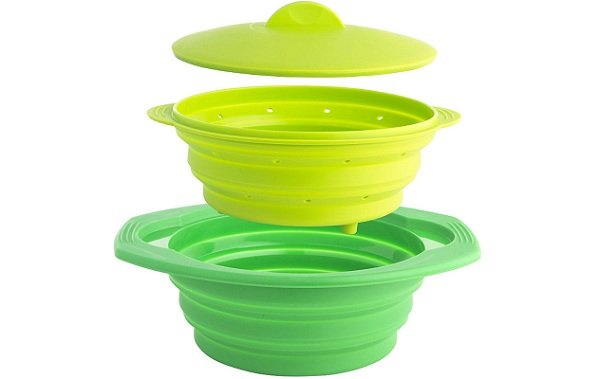 This gadget will enable you to cook vegetables, meat and other foods with ease. It is also easy to clean.
With the aforementioned kitchen gadgets, you will be set to make a healthy eating style. Share with your friends so that they will be able to live and eat healthy too.