Top Ten Best Credit Cards in India 2016
Credit Cards are nowadays the easiest way to shop or buy tickets and etc. It is handy and there is no threat of losing money. Before taking a card in India, one has to be aware of what exactly it is providing and then only go in for its purchase. There are a lot of people who have faced some bad experiences and it is your duty to be aware and not fall into the trap. There are various cards available for shopping and is beneficial in a lot of ways to the customers. Just so you know, the bank always charges a certain amount of interest on the credit cards, and if you wish to change or renew the cards, you will have to pay a little extra to the banks for their services. Here is a list of top ten best Credit Cards available in India in 2016.
10. IRCTC SBI Card
This card is especially made for those, who travel by train very frequently and you can get this card made by paying 500 rupees and Rs. 300 annually. You get one point on every 125rupees spent. It is accepted across the world and you can pay all your bills using this card. If you spend Rs. 500 or more within 45 days, then you get a reward of 350 points which is really beneficial.
9. HDFC Solitaire Credit Card
Designed for the shopaholics, this card is beneficial for those who spend in shopping. The annual fee for this card is Rs. 999, but there are no joining charges. You get 1000 Rs. Gift voucher every six months and if you spend Rs. 50,000 on the card you get Rs. 4000 cash back instantly.
8. HDFC Platinum Plus Credit Card
This card comes with no liability and you earn 2 reward points on spending 150 Rupees. The card provides you with 50 days interest free credit commencing from the date you have purchased it.
7. Yatra SBI Credit Card
This card is good for bill payments and for buying tickets for your travel. On joining this card, you get a voucher worth Rs. 8250 from yatra.com. Paying bills from this card is extremely easy and you can also redeem your points whenever you want. It has a joining and an annual fee of Rs. 499.
6. SBI Gold Credit Card
This card is good for paying bills and the flexi options allow you to pay the bills even in instalments. This card is accepted across the world and the joining fee is of Rupees 299 and an annual fee is Rupees 299, with an interest of 3.35% pm.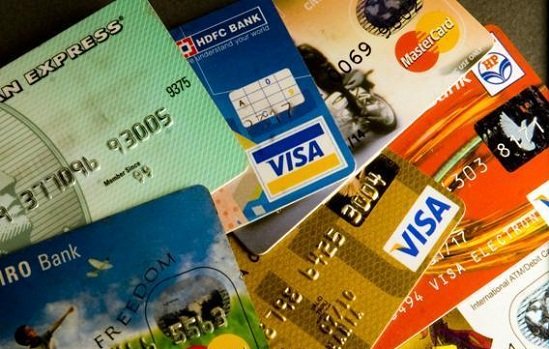 5. Indian Oil Titanium Citibank Credit Card
An annual fee of rupees 1000 is charged, if the subscribers fail to spend a minimum of 30,000 Rupees in a year. You get up to four points for Rs.150 on every time you dill fuel from Indian oil, which you can redeem whenever you want.
4. Citibank Platinum Credit Card
There is no joining fee or annual charge on this card, but an interest of 3.25% is charged per month. You earn 1point on every Rs. 125 spent on this card. There are also special discounts on travel, entertainment and dining.
3. Standard Charted Inner Circle Titanium Credit Card
If you subscribe to this card, you get a voucher of Rs. 2500. There is no joining or annual fee, but there is an interest of 3.1% pm or 37.2% annually. The points that you earn can be easily redeemed at the Lifestyle store across the country.
2. Standard Charted Platinum Reward Credit Card
There is a joining fee of Rs. 399, and there are no annual charges for the first year, but in the second year, they charge a renewal charge of Rs. 750. On spending Rs 150 you get 5 points on fuel.
1. ICICI Instant Platinum Credit Card
You can easily subscribe this card, against the security of fixed deposit of minimum 20000Rupees, which you have to maintain for at least 3 months. This card is ideal for shopping and you also get Rs. 200 off on movie tickets every month.