Top 10 Longest Sea Bridges in the World 2015
There was once a time in history, when man could not even imagine crossing the seas and oceans, let alone building bridges to span them. But as man has made tremendous progress over a period of time, he has been able to bridge the gaps between oceans and seas by constructing some amazing bridges over sea water.
Here is a list of top 10 longest sea bridges in the world:
10. Third Mainland Bridge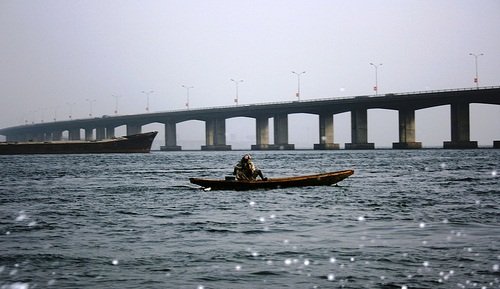 The number 10 spot on this list is occupied by Third Mainland Bridge, which spans a total length of 11.8 km, making it the longest bridge in Lagos, Nigeria. Its connect Lagos Island to the mainland.
9. Confederation Bridge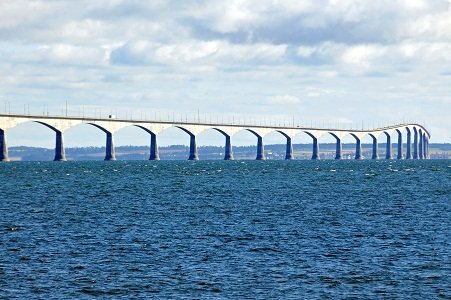 The next name in this list is that of Confederation Bridge in Canada, which links the Prince Edward Island with the mainland New Brunswick. The 12.9 km long bridge, which was opened in 1997, is built over Abegweit Passage of Northumberland Strait.
8. Tokyo Bay Aqua-Line
The Tokyo Bay Aqua-Line or the Trans Tokyo Bay Highway is a 14 km long bridge tunnel combination built of the Tokyo bay in Japan. It constitutes of a bridge of length 4.4 km and tunnel measuring 9.6 km and joins the cities of Kawasaki and Kisarazu.
7. King Fahd Causeway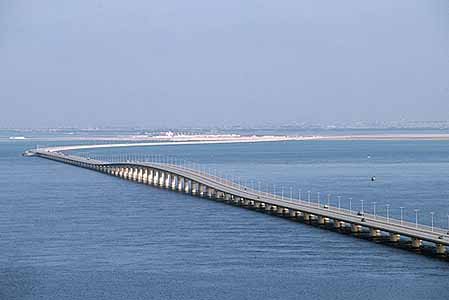 The 25 km long King Fahd Causeway, which established a link between Saudi Arabia and Bahrain, comes next in the list of top 10 sea bridges in the world in 2015. It is a series of bridges and causeways, which was opened for the public in 1986.
6. Jintang Bridge
The next name to make it in this list is Jintang Bridge in China, which connects the Jintang Island with Zhenhai, Ningbo. This is a highway bridge with a cable stayed portion and its total length is 26.5 km.
5. Chesapeake Bay Bridge-Tunnel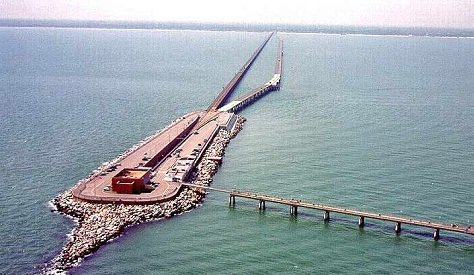 Chesapeake Bay Bridge Tunnel in USA figures on number 5 spot in the list of top 10 longest sea bridges in the world. This 4 lane bridge spans the Chesapeake Bay and connects Virginia Beach to Cape Charles, covering a total length of 28.3 km.
4. Donghai Bridge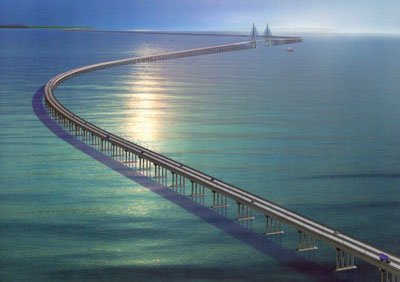 Donghai Bridge, also called the East China Sea Bridge, is the fourth longest sea bridge in the world, with a total length of 32.5 km. This bridge links Pudong New Area in mainland Shanghai with the off shore Yangshan Deep Water Port in Shengsi County of Zhejiang.
3. Hangzhou Bay Bridge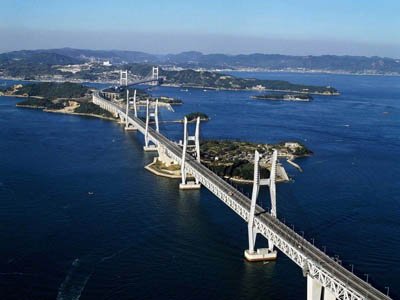 The 35.673 km long Hangzhou Bay Bridge in China features next on this list. This highway bridge connects Jiaxing and Ningbo municipalities in Zhejiang province, spanning the Hangzhou Bay. This bridge cut short the distance between the two ends from 400km to 180 km, saving two hours of travel.
2. Qingdao Haiwan Bridge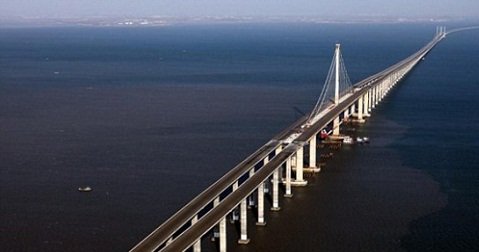 Qingdao Haiwan Bridge or Jiaozhou Bay Bridge is a part of the Jiaozhou Bay Connection Project, which spans a length of 41.58 km, making it one of the longest sea bridges in the world. The bridge was opened in June 2011.
1. Overseas Highway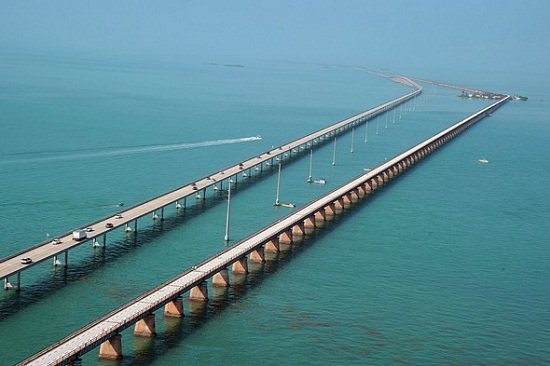 The Overseas Highway in USA is the longest trans-oceanic bridge in the world in 2015, which traverses an amazing length of 205.2 km. It is a coastal highway between the cities of Miami and Key West in Florida and is considered as one of the best and most scenic of highways for travelers.
Some other sea bridges which are acclaimed for their length are Haicang Bridge, China (5.926 km) and Golden Gate Bridge, USA (2.737 km).