The World's Top 10 Largest Yachts in 2015
Yachts were created for leisure and entertainment. They can be measured either according to their expense or size, with the size usually dictating a person's wealth. Belonging to some of the richest men in the world, this list takes a look at the ten largest yachts in the world. Yachts were not always as enormous as they are today. Through the years they have grown in size, luxury and entertainment value. Here is our list of the top ten biggest yachts in the world.
10. Al Salamah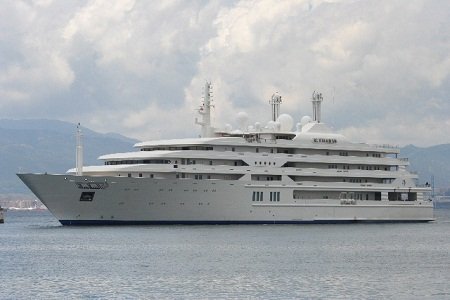 The tenth biggest yacht in the world is Al Salamah. It was built in Germany in 1999 and measures 456 feet in length. The interior includes a swimming pool, helipad and glass roof. While built it was code named Mipos, meaning mission possible. Al Salamah is owned by Prince Sultan bin Abdul Aziz of Saudi Arabia; the Saudi Arabia's defense minister and the nation's crown prince.
9. Ocean Victory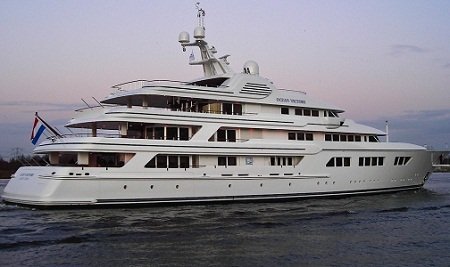 The Ocean Victory is a seven deck yacht with six swimming pools. It was built in 2014 in Italy and measures in at 459 feet.   Not much more is known about the Ocean Victory, as it is veiled in secrecy.
8. Yas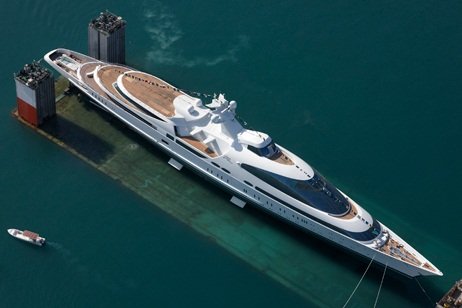 As the biggest launched yacht in 2011, Yas measures up to 462 feet. It was built in 1978 and fits 60 guests comfortably. The interior boasts a swimming pool, spa, helipad, entertainment system, and a garage full of water toys. Its owner is Hamdan bin Zayed bin Sultan Al Nahyan.
7. El Horriya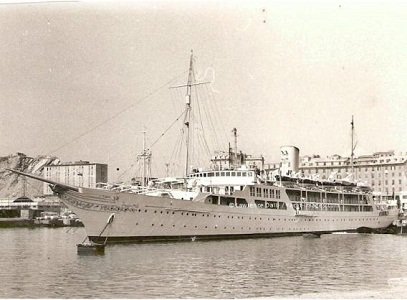 Coming in as the seventh biggest yacht is El Horriya. This yacht was custom built in 1865 and is 478 feet in length. The oldest and largest of the super yachts still in operation was originally built for the King of Egypt. El Horriya is cared for by the Egyptian navy and used as a presidential yacht.
6. Prince Abdulaziz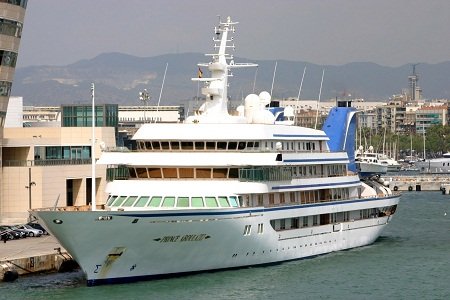 Built in 1984, the Prince Abdulaziz measures in at 482 feet. This yacht can accommodate 64 guests and 65 crew members. Originally belonging to the late King Fahd, it is now the yacht of King Abdullah of Saudi Arabia. The interior on the yacht is both ancient and modern. Prince Abdulaziz has a mosque, cinema and fully equipped hospital within its interior. Interestingly enough, the inside lobby was designed to replicate the Titanic. With its ultra modern stabilization system, prepare for smooth sailing ahead.
5. Topaz
The third largest yacht launched by the German shipyard Lurssen is Topaz. Measuring in at 482 feet, this yacht is the fifth largest yacht in the world. The owner of Topaz is a member of the UAE elite, Mansour bin Zayed Al Nahyan from Cayman. Not much else known about the Topaz since its construction was kept very secretive.
4. Al Said
With a length of 508 feet, Al Said is the fourth biggest yacht in the world. Built in 2008 and owned by the Sultan Qaboos bin Sa'id Al Said of Oman, this yacht is veiled in secrecy. It can accommodate 70 guests and has a crew of 154 people, creating an extremely memorable experience. The interior of Al Said contains a concert hall for a fifty piece orchestra, helipad, cinema and six decks.
3. Dubai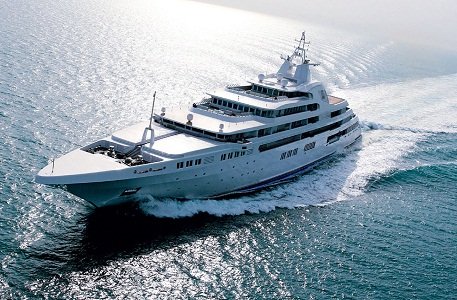 The third largest and most expensive yacht in the world is Dubai. Measuring 533 feet in length, this yacht was launched in 2006 and originally built for Prince Jefri Bolkiah. The current owner is Sheik Mohammed bin Rashid al-Maktoum of Dubai. Dubai's interior boasts a swimming pool, barbeque area, cinema, helicopter pad, gym, disco, a submarine garage and many water toys. Interior wise, this Yacht is most famous for its amazing staircase. Dubai is so large it can comfortably accommodate 115 people.
2. Eclipse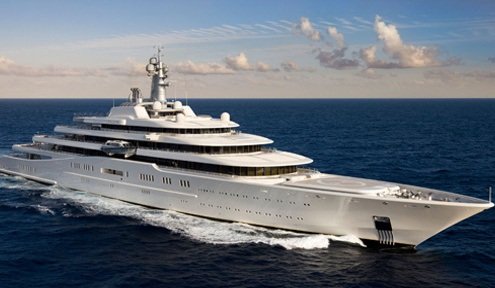 The second largest and most expensive yacht in the world is Eclipse. This yacht measures in at 536 feet long. Launched in 2010, the Eclipse's owner is Roman Abramovich. It can accommodate 36 guests and 70 crew members. The extravagant interior includes a leisure submarine, two swimming pools, one being the largest swimming pool of any yacht, and a dance floor. It also houses three helicopters.
1. Azzam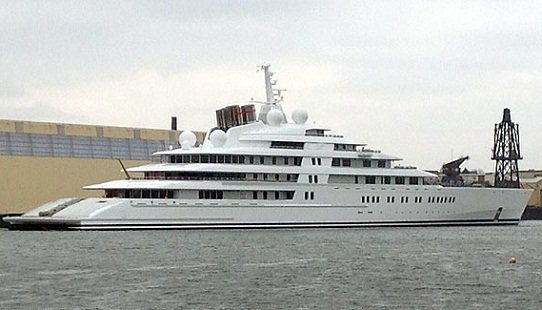 Azzam is the world's largest yacht measuring 590 feet in length. The owner of this incredible yacht is Khalifa bin Zayed Al Nahyan. The Azzam's interior is Empirical French style, with the most challenging and complex technology, dimensions and performance of any other yacht. Launched in 2013 by Lurssen, the world's best shipyard for building luxury yachts, Azzam is truly enormous.
The smooth rides, luxury accommodations, and massive storage areas make these super yachts a desire in everyone's hearts. Jealous much?