Top 10 Delicious Wraps & Rolls Food Recipes
If you want to have some foods in your hands while doing some office works or school assignments, then the wraps and rolls dishes may be the ones that you should consider preparing. The best thing about these recipes aside from being so quick to prepare is they can be eaten any meal of the day. Many countries are already making their own versions of wraps and rolls.
Here are 10 delicious wraps & rolls food recipes that you'll surely love eating:
10. Vietnamese Cold Spring Rolls
An authentic Vietnamese flavor will certainly be marked in your palate when you take some of Vietnamese Cold Spring Rolls. Tiny sliced fresh vegetables are loaded in this particular dish, along with some pieces of shrimps. In just a maximum of 30 minutes, it can already be served on your dining table.
9. Falafel with Pita Bread
This particular delicious and famous wrap & roll recipe is the favorite appetizers of many people. As its name suggests, this dish needs pita bread that is stuffed with falafel. This is a very popular snack in the Middle East. In just 30 minutes, you'll done preparing this dish.
8. Paneer and Salsa Tortilla Wraps
45 minutes is the maximum amount of time needed to prepare this particular dish. Of course, crispy tortilla wraps are needed in this dish. The wraps are filled with tangy salsa along with cottage cheese. For its tangy salsa, you need spring onion, daikon radish, onion, English cucumber, and tomato.
7. Hazelnut Asian Lettuce Wrap
Tender lettuce leaves are the nutritious vegetables used as wrappers in this dish. 30 minutes is the maximum time needed in cooking this delicious wrap and roll food recipe. Romaine leaves are the wrappers of the chicken meat here. However, the chicken is cooked first from the zesty sauce with coleslaw and hazelnuts.
6. Paneer Tikka Kathi Roll
Made from a fresh dough, egg parathas are used to be the wrappers of this dish. Green chutney and the juicy paneer tikkas are what you can find inside the wraps and rolls. For you not to spend too much time in cooking it, you must be ready with the dough in advance.
5. Chicken Shawarma
If you want a healthy snack, then why not go for a low-fat chicken shawarma. All you need here are chicken chunks, vegetable oil, lemon juice, paprika, allspice, black pepper, salt, cinnamon, cayenne, garlic, and yogurt. Just make sure to marinate the chicken in advance.
4. Mutton Kathi Roll
Originated from Kolkata, India, kathi roll is known to be a street food. In this recipe however, the kathi rolls are stuffed with a handful amount of mutton. This is perfect for all those meat lovers out there. A maximum of 1 hour and 20 minutes is the time needed for this recipe.
3. Burritos with Minced Meat Filling
This is actually one of the mouth watering delicacies originated from Mexico. In this wrap & roll recipe, a mixture of minced meat flavored with mild spices is stuffed in the flour tortillas. There's now ay your taste buds cannot be blown away by this delicious snack.
2. Quesadilla
Quirky tortillas are the ones used as the wrappers in this great food. What are being wrapped here are mushy mixtures of spices, beans, and fresh veggies. By the way, there is still one important ingredient you should not forget, and this is the cheese.
1. Do-It-Yourself Tacos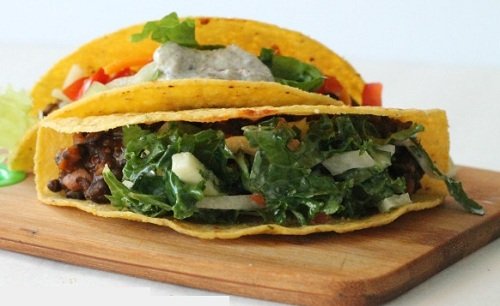 As its name suggests, this worth-savoring snack uses crispy taco shells where a few of fresh spices, vegetables, and cottage cheese are stuffed. A green tomatillo salsa, sour cream, and a lime are then drizzled in the dish. 30 minutes is all you need in preparing this delectable dish.
These are the 10 mouth watering wraps & rolls food recipes you should try eating. You can have them in any meal you want to; snack time, lunch, dinner, or breakfast time.