Looking for the best Udupi recipes? Are you in love with the rich heritage of Udupi flavors? Then you are at right place. I am going to give you a list of the top best 10 recipes of the small state of Karnataka, that is known as the vegetarian hub of India and Karnataka. The Udupi cuisine is obsessed with the smell of the tempered mustard seeds, fried red chilies and hint of jaggery.
It is the time to try the best Vegetarian Udupi cuisine in your own kitchen. Here is the list of the best 10 dishes of Udupi cuisine:
10. Rawa Upma
While you are on the verge to have the delicious and the tempting Udupi recipes, then here is the dish that you can try. Rawa Upma is basically a typical breakfast recipe that the people of Udupi love to eat but this can also be a part of your meal time as I is a complete package. The dish is made from the goodness of semolina along with the virtue of crunchy, healthy veggies and topped with coconut.
9. Allugedda
Allugedda or the mashed masala potatoes is the next dish on the list that is having a massive fan following in the district of Udupi. The name of the dish describes all. Mashed masala potatoes are a flavorful combination of the mashed potatoes along with the typical Indian masala. This dish gives the most pleasure full experience when you have it with poori or paratha.
8. Murukku
Next on the list is another really tempting and the delicious recipe that have won the hearts of millions of people of South India is Murukku. Murukku is a type of the snack that is made from the lentil. The mixture of lentil along with some spices gives the crispy and the put of the world flavor to its lovers.
7. Sambar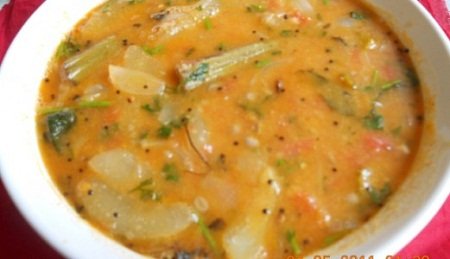 Another signature dish that is the true representative of the Udupi cuisine is the Sambar. Sambar is the true indulgence of the hot lentil along with the drumsticks and the flavor of coconut and tamarind. This dish perfectly matches the weather of winter so get ready to experience the flavor on the cold night of winter with Sambar.
6. Masala Rava Idli
If you are not yet filled with the amazing mentioned South Indian dishes, then I guarantee that this recipe could win your heart. The Masala Rava Idli is one of the most liked Udupi recipes that are made from Rava or semolina. With the added flavors of peppers and mustard seeds, this dish gives you out of the world flavor.