Top 10 Best Prawn Food Recipes
Prawns are actually pertaining to large swimming crustaceans, or simply called shrimps. Prawns are the term widely used the United Kingdom and many Commonwealth nations. These are very delicious ingredients of a certain recipe if cooked well. Prawns are also extremely nutritious, so these are something that you must consider cooking. In relation to this, here are 10 best prawn food recipes that you should check out:
10. Spicy Sriracha Prawns with Basil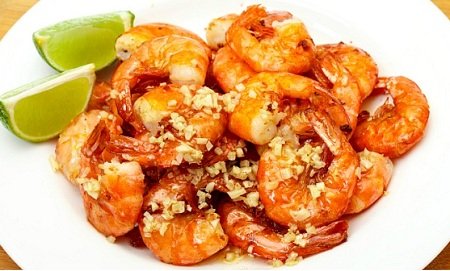 You only need 20 minutes in order for this prawn recipe to be served on the table. The deshelled prawns must be cooked in a number of spices and some other ingredients such as crunchy onions, soft basil leaves, fish sauce, sriracha chili sauce, and green chili.
9. Kerala Fried Prawns
As its name suggests, the delicious fresh prawns are fried with the use of coconut oil. It is a signature dish of the beautiful Indian state of Kerala. In order to make this dish very aromatic, mustard seeds are added to the dish. Some other important ingredients are turmeric, chillies, and curry leaves.
8. Koliwada Prawns
The delicious fresh prawns here are fried in order to become crispy. They are dipped into batter in order to make them tasteful. Of course, this dish can never become world-class mouth-watering dish without the other ingredients such as lime juice, carom seeds, garlic, ginger, and cayenne pepper.
7. Prawn Pollichathu
The main secret in order to unleash the delicious taste of fresh prawns in this dish is the marinating of prawns in a few fresh spices and also lime juice. Afterwards, the prawns are cooked with the use of coconut milk, some fresh herbs, and some masalas. This would only take you around 35 minutes.
6. Spicy Prawns with Sweet Dipping
Tiger prawns are the main stars of this mouth-watering dish. These prawns are tossed with white wine, chili, and white onions. In terms of cooking time, this is such a quick recipe since you will only need about half an hour. To make this recipe extra delicious, it must be served with an orange marmalade sauce.
5. Prawn Balchao
In this very delicious prawn recipe, de-shelling and cleaning the prawns well is very important. With the use of masaledaar paste, the prawns must be cooked together with some Goan fenni and onions. Some other important ingredients for this dish are oil, garlic, black pepper, curry leaves, tumeric, cumin seeds, vinegar, ginger, and salt.
4. Malai Prawn Curry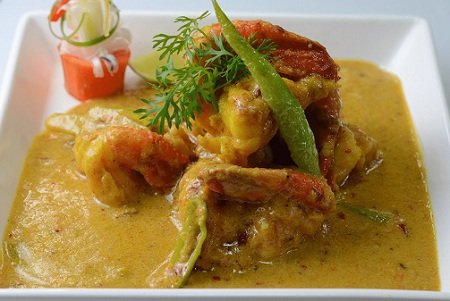 In this delicious prawn recipe, marinating the prawns within one hour is very important. When marinating, the salt and the tumeric are the two very important ingredients. After that, the prawns will be ready to be tossed in yogurt, fresh ginger, and coconut milk.
3. Prawn Pulao
Prawns, green chillies, garlic, ginger, red chillies, coriander leaves, lemon juice, mint leaves, rice, coconut, onion, cloves, cinnamon, green cardamom, salt, coriander powder, tomato, tumeric, and vegetable oil are the important ingredients for Prawn Pulao recipe. What happens here is that the rice is cooked together with the ingredients, especially the prawns.
2. Guilt-Free Karwari Prawns
For 25 minutes, this dish is ready to be served on the dining table. What you will love in this dish are the marinated prawns that are fried to become crispy. Medium-sized prawns are the ones needed here. These prawns should be coated with tamarind water, fennel powder, turmeric, and lime juice. Afterwards, the prawns must be dipped in semolina.
1. Prawn Curry
What you need in this mouth-watering prawn food recipe are red chillies, garlic, salt, vegetable oil, turmeric, coriander seeds, coconut, green chillies, onion, tomatoes, and prawns. If you already have these important ingredients, then you are ready to cook with Prawn Curry. The maximum time needed would be 30 minutes.
These are the 10 best delicious prawn food recipes you have to try. Their tastes are absolutely heaven in your palate, and there's no way your family or guests won't like them.