Top 10 Best Kerala Food Recipes
Kerala a most beautiful land of India, and its cuisine is one of the best tasting food recipes that you can ever taste. The thing is, most of the world-class Kerala food recipes are non-vegetarian. But those who don't have any issue in eating meat, then there is no way you will not love the flavorful and zesty Kerala dishes. In relation to this, here are the 10 best Kerala food recipes that you should try:
10. Pomfret Moilee
As its name suggests, this Kerala food recipe uses Pomfret fish as the main ingredient. Its creamy gravy is attributed from the coconut milk being added to the dish. Turmeric, tomatoes, curry leaves, and mustard seeds will complete the delicious dish. In just a maximum time of 30 minutes, this dish can already be done cooking.
9. Cheera Thoran
This delicious Kerala food recipe is cooked through stir-frying. This is very healthy since the main ingredient here is the nutritious spinach. It has a simple flavor that will go well with malabar paratha, dosa, appams, and rice. To enhance its flavor, you can add grilled meat or curry, depending on your preference.
8. Erissery
The main important ingredients of this delicious Kerala food recipe are coconut and the pumpkins. It is a famous traditional dish of the Keralan people, which is usually served during festivals and wedding ceremonies. It can be prepared fast since you will only need 25 minutes.
7. Karimeen Pollichathu
Pearl Spot fish is the main protein in this mouth-watering dish. Before cooking, the fish needs to be marinated for certain time duration. When the fish is ready, it is put in the banana leaf and covered. It will then be cooked in the steamer. With a cup of parboiled rice, Karimeen Pollichathu can be greatly enjoyed.
6. Chicken Stew with Appams
This dish is best to be served while it is still hot. A spicy coconut gravy will be bathed into the chicken meat. If you want to savor it with some partners of foods, then you can do so. It is rest assured that its flavors will blend to any food items you want. In just 1 hour, you can be done cooking it.
5. Kerala Fish Curry
Any kind of fleshy white fishes can be used as the main ingredient in this delectable Kerala food recipe. Smearing it with some chopped onions, together with coconut paste, green chillies, garlic, and tomatoes, is all you need to do. You can also add some curry leaves and tamarind extract.
4. Kozikode Biryani
This special Keralan food recipe is a traditional dish of the said Indian state, which is widely cooked in the Malabar area. One egg that boiled perfectly, a little amount of chilli, and several spices will complete the entire extremely mouth watering recipe. This Biryani dish will only require you 1 hour and 30 minutes in cooking.
3. Chemeen Pollichathu
In the English term, Chemeen Pollichathu simply means "pan seared prawns". The extremely flavorful prawns are marinated first in several fresh spices along with some amount of lime juice. It is then cooked with the use of a creamy coconut milk. For 35 minutes, this dish can already be served on your dining table.
2. Meen Murringakka Curry
In just 45 minutes, you can cook this delicious Kerala food recipe. Sardines are the main ingredients of this dish, which are marinated in turmeric powder and salt. This dish is also added with murringakka (drumsticks), coconut, and tamarind. Partner it with steamed rice, and you're good to go.
1. Fish Mappas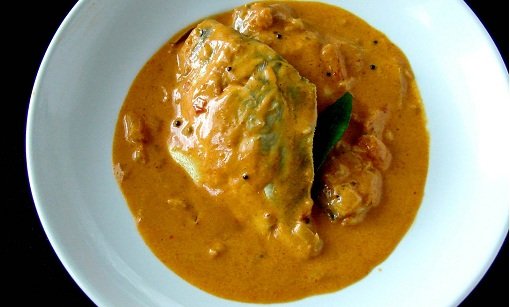 This is one of the world-class fish curry recipe that originates from the Indian state of Kerala. Of course, it is cooked with a creamy bowl of coconut milk. Some other ingredients it has apart from the fish are shallots, garlic, fish stock, tomato, coriander leaves, onion, and ginger.
These are the 10 best Kerala food recipes you should try eating. Rest assured that you will not regret eating them.