Top 10 Best Kebab Food Recipes
Kebab is a Middle Eastern, South Asian, and Eastern Mediterranean recipe that is already popular in the entire world. As a matter of fact, a lot of famous and luxurious hotels and restaurants worldwide are serving this mouth-watering dish. The main ingredient in this dish can be vegetables, meat, or fish that is skewed and grilled to perfection. In relation to this, here are 10 best Kebab food recipes that you should taste:
10. Chatpattey Coconut Kebab
The important ingredients of this Kebab recipe are fresh vegetables. A mélange of spinach, carrots, and potatoes will be covered with dessicated coconut. After that, it must be friend until the desired level of crispiness is reached. A pine nut sauce will complete the great flavor of this dish; not to mention the minty flavor of the sauce.
9. Potato Mushroom Kebabs
For just an hour, you can already savor the delicious taste of Potato Mushroom Kebabs. For those people who don't want to eat meat but still want to enjoy the deliciousness of kebab recipes, then this is the perfect dish for them. It is only made from vegetables namely potatoes and mushrooms.
8. Murg Palak Ke Korma Kebab
This is another 1-hour Kebab dish that you will surely love eating. Spinach, assorted masalas, and minced chicken are the major ingredients in cooking this recipe. Before serving it on the dining table, make sure to make delicious sweet date chutney and sour-spicy yogurt chutney first.
7. Yogurt Kebab
If you are looking for healthy Kebab recipe makeover, then the Yogurt Kebab is something that you should consider. All you need here are oats, raisins, almonds, yogurt, and cottage cheese. What you will love the most about it is its texture that will be melt in your mouth.
6. Pyazi Kebabs
This is actually an appetizer Kebab dish that many people love the most. This onion Kebab originally came from Pakistan, but it is already copied all over the world. Lemongrass and mint are two good additions to its ingredients. With the light oil, all the ingredients are cooked in a pan.
5. Rajma Ke Kebab
Kidney beans are the main ingredients in making this delicious Kebab dish. This is an inventive dish firstly made by Indian people. On the inside of this dish, you will love its soft texture and tangy flavor. On the outside on the other hand, what you will love it its crispiness and its golden brown color.
4. Hara Masala Kebabs
This garden fresh Kebab recipe is perfect for all those vegetarians. The vegetables needed here are spinach, potatoes, and green peas along with some fresh spices. The maximum time needed in cooking Hara Masala Kebabs is only 30 minutes. Hence, when you are in a hurry but you still want to eat a certain Kebab dish, then Hara Masala Kebabs would be great.
3. Seekh Kebabs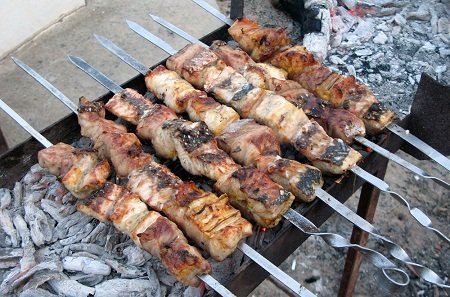 With the help of the skewers, this Kebab dish can be grilled into perfection. The main ingredient in making this delicious dish is the minced meat. Char grilled flavor is packed in this dish. It will be perfect to prepare when you are having a dinner party with your loved ones, friends, or work colleagues.
2. Chakhle's Shami Kebab
Finely minced meat is the important ingredient in this particular Kebab recipe. It is said that it is the best food eaten by the royal family during the Mughal era. In just 35 minutes of time, Chakhle's Shami Kebab can already be served and eaten with your loved ones, friends, and guests.
1. Galouti Kebab
Originally, this delicious Kebab dish came from the land of Lucknow, India. Minced meat is the main ingredient for this recipe, which is cooked with Nawabi style masalas. In just one hour, Galouti Kebab can already be served on your dining table and be enjoyed by your family.
These are the 10 best Kebab food recipes that you can consider recreating and eating. For sure, you will love their amazing rich flavors.