Top 10 Best Capsicum Recipes You Should Try
Without the presence of capsicum in a lot of recipes, the dish would certainly become distasteful. Capsicum is actually a genus of plant that originates in the continent of America. There are so many different versions of capsicum these days. They are even cultivated in the four corners of the world. Two good examples of capsicum are the green bell peppers and the red bell peppers. In this regard, check out these 10 best capsicum dishes that you will definitely like:
10. Roasted Red Pepper Soup
If you think that red peppers can only be used as spices for a certain delicious dish, then you are definitely wrong. Red peppers can also be the stars of the dish. One good example is the Roasted Red Pepper Soup. This would be very perfect, especially on cold seasons. Preparing it would only take 35 minutes.
9. Mushroom and Pepper Salad
This salad recipe that made peppers as the stars will definitely blow your mouth away. This is simply because it is very delicious, aside from the fact that this is very nutritious. In just 20 minutes, you are done with this recipe. Just make sure to get all the ingredients namely mushroom, peppers, wine, soya sauce, cashew nuts, spring onion, honey, garlic, and olive oil.
8. Greek-Style Stuffed Capsicums
Actually, the colorful capsicums are just made to be the containers of the Greek-style minced beef in this recipe. But the thing is, the amazing taste of the capsicums will absolutely blend to the beef making it extra delicious. When serving this mouth-watering recipe, salad leaves must be used.
7. Bhavnagri Pepper
This is a very simple capsicum dish that only involves simple and readily accessible ingredients. The ingredients needed are breadcrumbs, salt, paprika, jalapeno, olive oil, cheddar cheese, coriander leaves, black beans, corn, garlic, spring onions, and bell peppers.
6. Pepper and Broccoli Salad
The maximum amount of time needed by this capsicum recipe is around 20 minutes, plus extra time for chilling time. Tasting this salad recipe will certainly make you feel very healthy because of its healthy pieces of ingredients. These are black pepper, mustard powder, sugar, salt, lemon juice, broccoli, carrot, bell pepper, and celery.
5. Paperonata
In this capsicum recipe, the bell peppers are mixed together with olive oil, vinegar, spices, herbs, olives, and tomatoes. This dish is actually just an accompaniment for your main dish. It can also be the perfect partner for your breads. Preparing it will only require you around 45 minutes.
4. Baked Mushrooms and Capsicums
This is a very quick-to-prepare capsicum recipe that will surely be loved by the crowd. 30 minutes is the maximum time needed here. What you need to do is mixing the ingredients well. Don't stop stirring so that lumps can be prevented. Some of its ingredients are cheddar cheese, condensed milk, all-purpose flour, mushroom, and tomato.
3. Simla Mirch Aur Aloo
The sweet and tangy flavor of this dish is the one that will surely blow your mind away. This is a very easy and quick-cooking dish for any mealtime. What you need to do is to sautee the potatoes in the pan with oil, together with the capsicums and some other fresh spices. 30 minutes is the maximum cooking time for this capsicum recipe.
2. Peach and Bell Pepper Chutney
This is another capsicum dish that can be prepared in just a very quick time. 25 minutes is enough time for it. What is the best about this recipe is the fact that it can be partnered with some other food items.
1. Bharwan Simla Mirch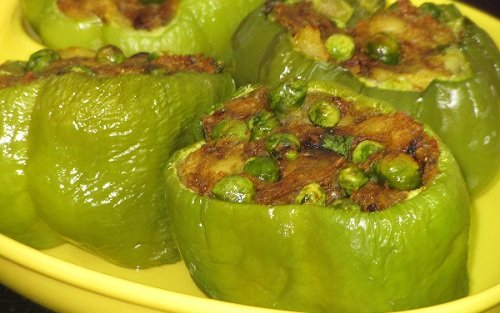 In just 40 minutes, you can already taste the goodness of this capsicum recipe. You just have to bake it actually. Just get bigger size green bell peppers and try to de-seed them. After that, put the raisins, cashews, cottage cheese, and mixture of potatoes inside them.
These are the 10 best capsicum food recipes you must try. They are absolutely delicious that you can't resist eating them.