Top 10 Most Delicious Biryani Recipes
Biryani is an Indian dish that is made of rice, vegetables, meat, and spices. It is one of the best tasting aromatic Indian delicacies. Mughals were the ones who brought Biryani in the North India. In South India, Arabs were the ones who introduced this delicious dish. These days, there are different versions of Biryani dishes in the world. In this regard, here are 10 best Biryani food recipes that are worth-tasting:
10. Makhni Paneer Biryani
This is a hearty mix of local spices and rice, together with tender pieces of paneer. Because of these pieces of paneer, dish best-tasting Biryani dish will have a creamy texture. In just a maximum time of 1 hour, this Biryani food recipe can already be served on your dining table.
9. Hyderabadi Biryani
This is amongst those most famous Biryani dishes available not only in India, but in the entire world as well. This is a classic dish in the southern part of India, particularly in the city of Hyderabad. Some of the important ingredients of this Biryani dish are cinnamon, cumin seeds, mutton, onion, clarified butter, and saffron.
8. Keema Biryani
With the aromatic spices incorporated in Keema Biryani, there's no way you will not be enticed to eat it. Adding to the delicious flavors of this dish are the crunchy nuts and minced lamb (keema). In just 1 hour and 20 minutes, you can already enjoy eating it.
7. Awadhi Mutton Biryani
This extremely delectable Biryani dish is actually a royal dish that can be cooked in just 1 hour. Even so, the mutton must still be marinated well; around a maximum time of one hour. Some of its ingredients are cumin seeds, coriander seeds, cinnamon, green cardamom, and garam masala.
6. Machchli Biryani
The essential ingredients of this Biryani dish are vegetable oil, fish fillet, hung curd, garam masala, cumin seeds, coriander leaves, turmeric, ginger, coriander powder, green chillies, cinnamon, black pepper, green cardamom, milk, salt, cloves, and rice. It can be cooked in just 45 minutes.
5. Chicken Biryani with Coconut Milk
This is another aromatic Biryani dish with a creamy texture, and this is all because of a coconut milk added into it. Mixed in the rice are chicken chunks, several kinds of fresh spices and condiments. The marination time of the chicken meat is around 3 hours, and the needed time for the preparation of this whole dish is 45 minutes.
4. Murgh Ki Kachchi Biryani
For one hour and 30 minutes, this Biryani food recipe can already be served on your dining table. However, this recipe requires one up to four hours of marinating the chicken meat. The rice then needs to be cooked well in the slow cooker together with some masalas, saffron, and curd.
3. Scheherazade Biryani
This is an Iranian Biryani food recipe that is filled so much flavors. The rice here is cooked together with the succulent fish pieces and some amount of crunchy nuts. This will be layered with fried onions. Moreover, the fish pieces should be marinated first before combining them into the rice.
2. Calicut Chicken Biryani
A lot of spices are the secrets of this particular Biryani food recipe, apart from its main ingredients, chicken and rice. It can be prepared in just a maximum time of 1 hour. Some of its main ingredients are bay leaf, turmeric, lemon juice, nutmeg, coriander leaves, yogurt, mint leaves, star anis, onion, clarified butter, cumin seeds, ginger, garlic, green chillies, cloves, tomato, and green cardamom.
1. Chicken Reshmi Biryani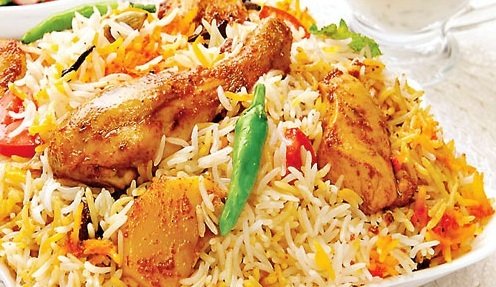 The aroma of the different spices used in Chicken Reshmi Biryani are simply irresistible. The kick of the chillies will definitely be a good feeling to all chilli lovers out there. The chicken will even taste heavenly due to its marination time, which is around one to four hours.
These are the 10 best Biryani food recipes that must be tried by everyone. For sure, those rice, herbs, spices, fish, and chicken lovers will love them.