Android smartphones are available in almost all budget range, which enables most people to buy one. As the most amount of smartphone user density belong to the Android users group, user privacy and security is a hyped concern these days. As per Google Play Store download statistics, antivirus apps occupy a higher popularity than many other categories and people tend to rely on both free and paid apps, although the free apps are mostly popular with general users. For enterprise users who need added security in their Android devices typically go for the paid apps, in some cases the organizations they work for buy the antivirus app licenses in bundle. Speaking of the general aspects however, the free Android antivirus apps are most popular in the market.
10. Eset Mobile Security and Antivirus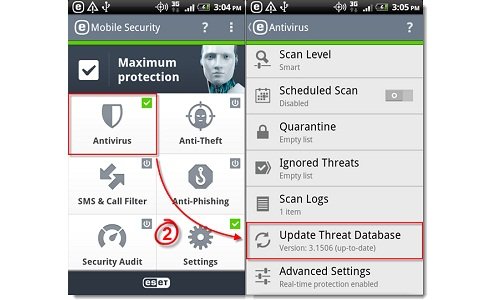 Nod32 is the manufacturer of Eset Mobile Security and Antivirus, the initial impression for Eset Mobile Security and Antivirus is in the higher range in terms of consumer satisfaction. All traditional antivirus features are available in the Eset Mobile Security interface, as well as few advanced features for the price. $9.99/year is the standard payment option. Download.
9. Dr Web Security Space
Among the paid android antivirus app range, Dr Web Security Space doesn't cost a whole lot. The licesing would cost $9.90/year or $75 for lifetime. All standard features are there – real time protection, memory scanning, phone management and anti-theft etc. Download.
8. Bitdefender Antivirus Free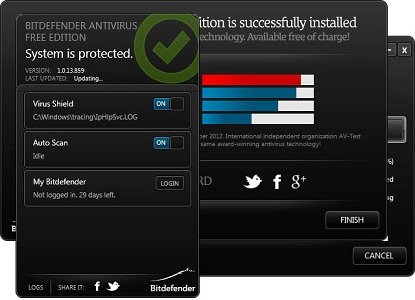 Bitdefender is one of the most lightweight antivirus apps available for the Android ecosystem as of yet. Having this app on-board almost feels like no security app is occupying the RAM! Real-time protection of Bitdefender Antivirus is significantly good. The user interface is very intuitive and easy to understand. Bitdefender has paid versions of Android security, however this version is free. Download.
7. CM Security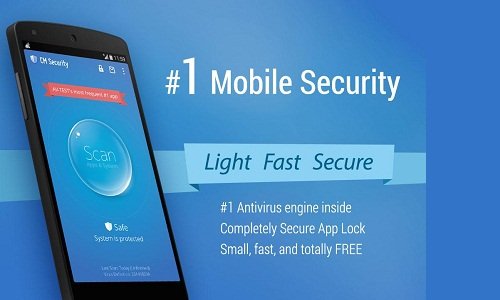 CM Security used to be very commonly known antivirus app for Android because when it was launched, there hadn't been many other competitions at that time. However, the AV-Test ranking for CM Security is quite high. There are impressive anti-malware features like memory scan, real-time protection, anti-theft protection and device management etc. This app is free despite having plenty of advanced features. Download.
6. AVG Antivirus Security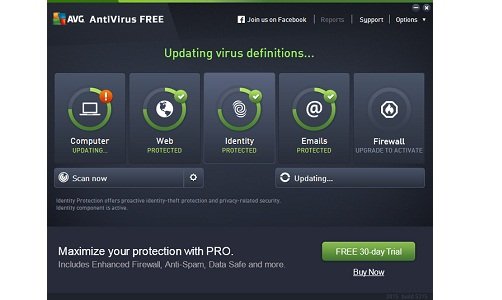 AVG is also known better for the desktop counterpart, however the Android app is also gaining popularity. AVG Antivirus has more than 100 million downloads and an average 4.4 rating in the Google Ply Store. The features include real-time protection and virus scan of all sort, yet very lightweight. There's a free version and paid version costs $3.99/month or $14.99/year. Download.
5. Androhelm Mobile Security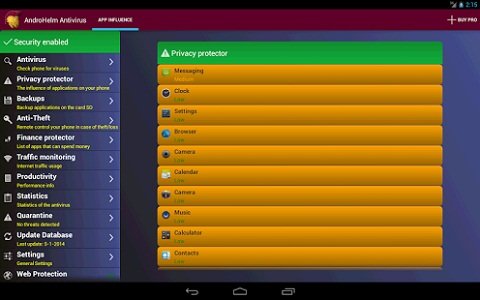 Andro Helm isn't much heard-of, but this app is very expensive comparing with the other options an Android would have at any given time. The security features are indeed top-notch and can outrun the other security apps available in the Google Play Store. The features are – real-time protection, quarantine, backup, frequent virus database update etc. The payment options are $2.59/month, $23.17/year or $119.85 for lifetime. Download.
4. Trust Go Antivirus and Mobile Security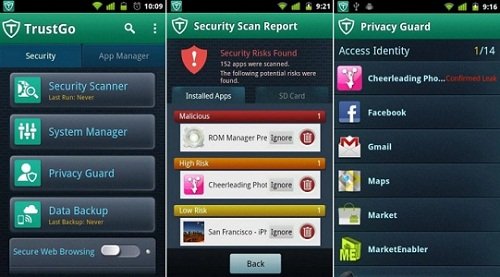 The Trust Go Antivirus and Mobile Security app is based on the principle of offering free yet strong malware protection for Android users. The features range from pretty basic range to an advanced level like real time protection, privacy guards, app permission manager, anti-theft and phone locating option, system manager etc. TrustGo is comparatively lightweight than many other Android antivirus apps. Download.
3. Avast Mobile Security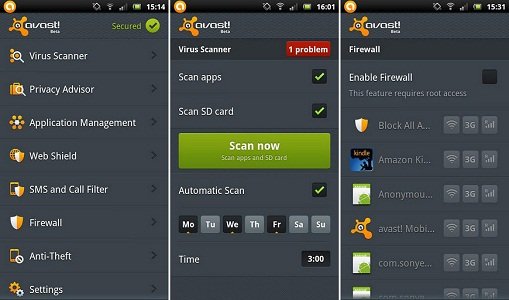 People who rely on free antivirus programs in their computers, would certainly recognize Avast. Initially the free antivirus products from this company were most trusted, eventually they moved into the paid software market and people also put their faith in the branding. However, Android version has earned more than 100 million downloads and more than four million people has average-rated Avast Mobile security with 4.5 rating. The paid version of Avast costs $1.99/month or $14.99/year. Download.
2. Avira Antivirus Security
Avira antivirus is popular for Windows platform, but they have an Android app too. Although this app is lesser known, yet the performance output is excellent. Avira Antivirus Security for Android isn't really free, users has to pay $11.99/year for the license renewal. However, for the investment customers get real-time protection, device storage scanning, privacy options, call blacklist and whitelisting features and admin level control over an Android device. Download.
1. 360 Security – Antivirus Boost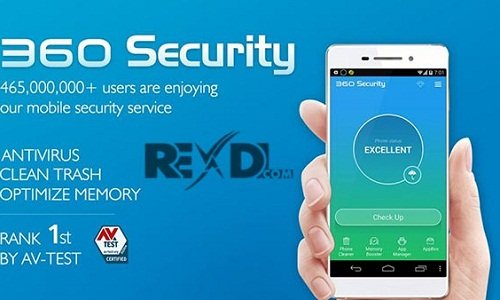 Among many, 360 Security remains one of the popular Android security apps. Speaking of the numbers, 360 Security has 100 million downloads by the active users and the overall rating of this app is 4.6. More than 10 million people has rated this app and such a huge customer response certainly indicates a great consumer level experience. 360 Security is an anti-malware app that comes with features like device scan, app scan, real-time protection and anti-theft; all these are standard features. It's free! Download.
 Conclusion
These are the 10 best and most trusted antivirus apps available for the Android ecosystem. As the list includes both free and paid options, readers will be able to find the most suitable one.
Save
Save