Taarak Mehta ka ooltah chashmah (SAB TV) Serial Wiki, Story, Timing, Cast Real Name
Tarak Mehta Ka Oolthah Chashmah is the longest running sitcom in the history of Indian television. The show first aired on 28th July 2008 and has completed a decade.
The show has consistently received high ratings from the audience due to clean comedy and powerful performances by the cast.
Wiki
Asit Modi is the producer of the show under the banner of Neela Telefilms. The lead roles are played by Dilip Joshi and Disha Vakani supported by Shailesh Lodha, Amit Bhatt, Mandar Chandawarkar, Neha Mehta, Gurcharan Singh and others.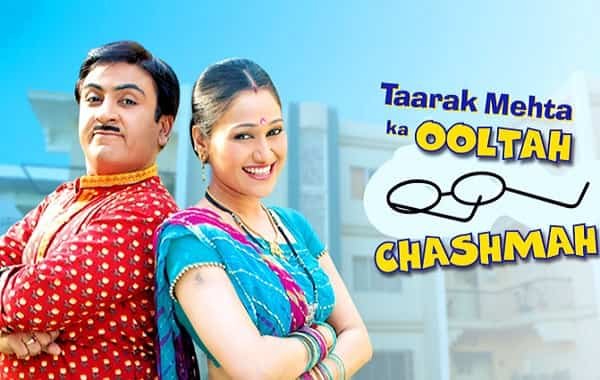 Story
The story is based on the column Duniya Ne Undha Chashma penned by late Gujarati play writer Taarak Mehta. Asit Modi, the producer, has adapted it for television.
The plot revolves around a residential society named Gokuldham Society and the daily lives of eight families residing in the society. Apart from Gada family which plays the pivotal role in the show, other families such as Bhides, Mehtas, Aiyers, Sodhis and Hathis add to the comedy cocktail. The reluctant bachelor Popatlal, the band of kinds called Tapu Sena, shop owner Abdul and the employees Natukaka and Bagha working in Jethalal Gada's electronic shop add to the fun of the show. Taarak Mehta is the narrator of the show and the troubleshooter for the society especially the Gada family.
Timing
The show airs from Monday to Friday at 8:30 pm. Till date, the show has completed 2611 episodes.
Cast Real Name
Dilip Joshi as Jethalal Gada
Disha Vakani as Dayaben Gada
Amit Bhatt as Champaklal Gada
Raj Anadkat as Tipendra Gada
Shailesh Lodha as Taarak Mehta
Neha Mehta as Anjali Mehta
Mumnun Dutta as Babita Aiyer
Tanuj Mahashabde as Krishnan Aiyer
Gurcharan Singh as Roshan Sodhi
Jennifer Mistry Bansiwal as Roshan Kaur Sodhi
Sonalika Joshi as Madhvi Bhide
Mandar Chandawadkar as Aatmaram Bhide
Nirmal Soni as Dr Hansraj Hathi
Ambika Ranjankar as Komal Hathi
Samay Shah as Gulabkumar Hathi
Nidhi Bhanushali as Sonalika Bhide
Kush Shah as Gurcharan Singh
Shyam Pathak as Popatlal
Sharad Sankla as Abdul
Ghanshyam Nayak as Nattu Kaka
Tanmay Vekaria as Bagha