Difference Between Single Door Vs. Double Door Refrigerator
Refrigerators have become a necessity in every house. It helps to preserve prepared food and vegetables & fruits for few days without losing the nutrients. This helps to keep your health in check and you do not need to visit market daily to keep your vegetables fresh. You can buy them in bulk to be sufficient for 1 week and store them in fridge. These remain fresh at least a week. Because of the increasing demands, companies are thriving to add different features giving consumers more choice. Buying the correct type of refrigerator which suits your needs is very important. The size of the refrigerator, capacity and type become important in selecting your refrigerator. There are many recent refrigerators which have 4 doors or even more. However, the most popular refrigerator types is the one with single door and double door.
Difference Between Single and Double Door Refrigerator
Some important factors need to be considered when you choose between the two. In this article, we will list the factors and based on the factors we will let you know which one to choose. Let us get started.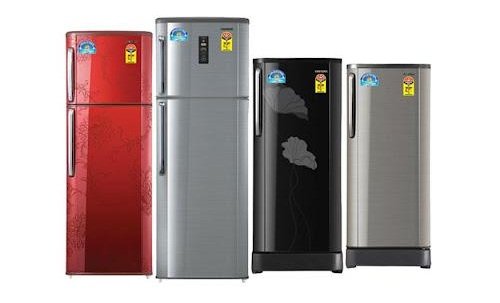 Family Size: The main factor to consider to decide between single door and double door is the size of your family. If yours is a small family with 2 or 3 members, then a single door refrigerator suffice your needs. Your daily dietary items can be stored in single door fridge quite comfortably and you might even be left with space. On the other hand, if you have a medium sized family may be like 3 to 5 members, a double door refrigerator is the best choice.
Capacity: Another factor to consider is the capacity of the fridge that you are going to use. A single door fridge capacity is smaller than the double door one. Single door fridge have a capacity of 50 to 250 liters whereas double door fridge have 235 to 495 liters capacity. Single door fridge contains same door for freezer and general refrigerator. For the double door, you will get separate doors for freezer and the refrigerator. The capacity that you need to select need to be decided by the quantity that you need to store. If for example, you are a small family and wants to store and stock food for 1 or 2 months or you need more space for preserving food, then a double door refrigerator suits you better.
Technology: The single door refrigerator's freezer comes with direct cool technology. You need to clean the ice that forms in the freezer manually each time it forms. If you have a power cut, few refrigerators keep your food fresh for hours. This is an advantage. With the double door refrigerator, you do not need to clean the ice as it doesn't form freezing ice. They come with electric fans and circulate cool air.
Price Budget: The most obvious factor that you need to consider is the budget. If you want to buy a fridge within less range of budget, then single door fridges are the best. If you can go higher and can invest money in the refrigerator and want to have more capacity, then double door fridge is your best choice. A single door refrigerator costs 6000 Rs to 20000 Rs on an average whereas a double door refrigerator ranges between 20000 Rs and 55000 Rs.
Space: The space inside the refrigerator also plays a role in deciding between single door and double door refrigerators. If you have a smaller family and wants to store more you need to go with double door. Single door fridge doesn't have a lot of shelves and cannot accommodate bigger vessels and bottles. Some double door refrigerators can convert freezer to normal refrigerator and can use the extra space as well.
Power Consumption: Regarding power consumption, a single door refrigerator usually consumes lesser energy and saves you the power bills. Double door refrigerator, on the other hand, requires more energy for functioning. Also, while opening and closing the doors of the fridges, an additional amount of energy is required to cool down the fridge. For this also, double door fridge requires more amount of energy.
These are differences between single door and double door refrigerator. If you consider these factors before buying the refrigerator, you will be able to decide the best one for your requirement.